"Since childhood, we have been surrounded, motivated and influenced by the environment in which we live. As an adult, you need to create the conditions for your lifestyle and design. So that we like to enrich our partners or family life with the imprint we are provided with from our youth, and thus we influence our living and coexistence, "says councilor JUDr. Petr Lachnit.
And it is only in the post-productive age that we often become aware of and appreciate an oasis of peace and security, the motto of living, of course, if we are lucky and live well. Thus, the housing cycle also has its order and the time in it is relatively relentless. Therefore, the phenomenon of housing becomes a key need, especially at the age when the first health problems are heard, there is a risk of self-sufficiency or a feeling of loneliness, loss of life partner, family deficit, and the solution of apartment accessibility. Then we are looking for a sense of security, security, support and the need for social inclusion, and last but not least, a good, supportive neighborhood.
Where seniors live well
In Prague, in cooperation with the Center for Social and Nursing Assistance in Prague 5, po (hereinafter referred to as CSOP), in 2014 it acquired and gradually reconstructed one of the most beautiful houses right in the center of Smíchov, near Arbesova náměstí, at Zubatého Street 10. This house is surrounded by and a rich history, which dates back to the turn of the 16th and 17th centuries, when there was a manor house with the estates Prstenka and Maxmiliánka. In 1891, the location of Zubatého and Arbesova náměstí streets became the most beautiful square in Smíchov. This house is used for comfortable senior living with a range of care and other support services.
Flats integrated in apartment buildings in Prague 5 were gradually integrated into the senior housing system. The city district thus created the first comprehensive housing complex offering housing for the elderly with the possibility of supporting and using care and other services. There are 34 special-purpose flats in the nursing home, Zubatý 330/10. There are ten flats of special purpose in the apartment house Štefánikova 259/51, in the apartment house Štefánikova 249/28 there are two flats of special purpose in the apartment house Štefánikova 249/30 there is one flat of special purpose. All these special-purpose flats are owned by the Prague 5 City District and CSOP provides care services to the tenants.
survey
Do you think Czechs are a nation of racists?
voted: 15652 people
Special-purpose flats do not replace hospital facilities or residential social services (eg a home for the elderly or a home with a special regime). On the contrary, only independent living with the support and use of care services, so that seniors can stay as long as possible in a natural home environment, which has a positive effect on their quality of life. Seniors, if their health and personal situation allow it, prefer independent living with the use of other support services to permanent residential facilities.
In the apartments of special purpose, which are small (1 + 0.1 + kk, 2 + kk), there is a kitchen with accessories, in the hallway there are built-in wardrobes and a specially adapted shower. The great advantage of this form of housing is that special purpose apartments are furnished by the tenants with their own furniture and other furnishing items. The lease agreement for special-purpose flats is not transferable to another person or persons whose situation is covered by the relevant provisions of the Civil Code. Each tenant uses the apartment on the basis of a rental relationship under the conditions defined in the lease agreement. If the applicant owns pets, a dog or cat, etc., he can take it with him, which is very important for such a person. Exactly the day when your residents of special purpose, who are also clients of care services, can use the contracted care procedures. On behalf of clients of the care service, if necessary, they monitor a social worker who helps them to deal with various matters and to advise them in solving difficult situations.
Nursing home in Zubatý 10
Wide range of additional services
To make the living of seniors even more comfortable and the services, especially for the senior public from Prague 5, to be more comprehensive, we also have a wellness center for seniors in the basement services of DPS. You can choose really everyone from the menu: we offer swimming in a special bathtub with a side entrance and a hydromassage, it is a separate assistance. Very popular services are massages, pedicures, manicures, paraffin hand wraps. The operation of the wellness center for seniors is provided by the PCB service on the telephone 257 319198 or 775613519, the head of the house Mrs. Vápeníková, e-mail: [email protected]. We perform massages on the basis of the client's wishes, from classic massages of the whole body or by arrangement with a masseuse, massages of various parts of the body can be provided, to massages with lava stones, lifting facial massages and peat wraps. Massages are performed by professional masseuses.
We provide pedicures for seniors from Prague 5 on the basis of a previous order, pedicurists either directly to the wellness center. or to clients' households. Pedicure is also provided to seniors and clients of care services who are hospitalized in hospital facilities. In addition to body care, you can of course use other "soul care" offers in the wellness center. You can also choose from activation programs, memory training, reminiscence sessions, art workshops, travel programs, or you can use a PC and the Internet. And those who like the garden and gardening can sit and relax in our community garden, which you will find right on the ground floor.
Additional housing for the elderly in Raudnitz's house
In the autumn of this year, the Prague 5 district, in cooperation with CSOP Prague 5, after, launched another important senior housing project with the opening of Raudnitz House, Hlubočepská 2/33, Prague 5. One of them is also a historical gem of Prague 5, which the city district chose for senior living, and is situated in the most beautiful area of ​​the protected area of ​​natural and cultural monuments of Prague 5, so lovers of history and nature will really get their money's worth here. The chateau called Raudnitz House is located on the site of a fortress, founded in 1571 by Jan Kutovec of Úraz. In 1623 the building was bought by Pavel Michna from Vacínov. His son then got into debt and Hlubočepy was pledged by the Jesuits, who in 1669 rebuilt the building into a chateau. During its existence, it changed the form, scope and use. Its older northern part served from the end of the 18th century as a manor house, after reconstruction in the 1840s as a private country residence in the late Classicist style.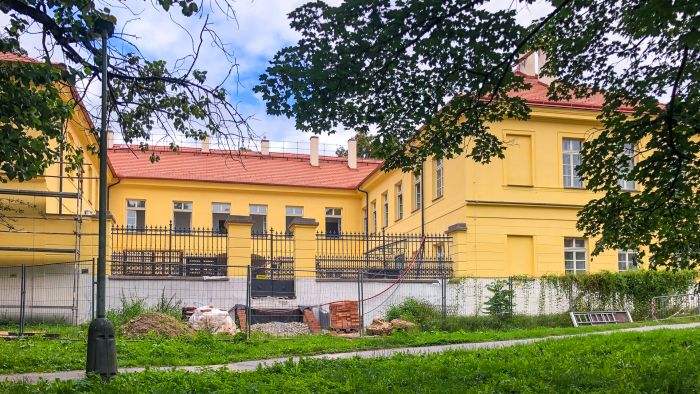 Nursing home Raudnitz ° in du ° m
The chateau was reconstructed and building modifications were carried out for the purpose of new use for comfortable living for seniors from Prague 5. A total of 22 small flats were built here, 2 + 1,1 + kk with barrier-free modification. Tenants will have the opportunity to use other services directly in the house, such as nursing service, pedicure, massage, on the ground floor of the house will be a general practitioner's office. A community center will also be opened here, which has offered activation programs both for the tenants of the house and for the general public from the surrounding area.
"We anticipate and welcome the participation of local associations, the development of neighborly relations and intergenerational meetings. There will be social halls with a tea kitchen for social events, a winter garden with seating, the south courtyard will offer outdoor seating in the courtyard with elevated flower beds for growing ornamental and useful plants, "says Councilor for Social Affairs JUDr. Petr Lachnit. According to Deputy Mayor JUDr. Tomáš Homola, further construction of senior flats is planned in Hlubočepy, on the site of the former medical center next to Raudnitz's house, and also in the locality of Motol, in Poštovka.
Do not hesitate to contact
If you are interested in senior housing and are considering it, go to our website www.csop5.cz, where you will find all information about special purpose flats, principles for allocating special purpose flats and applications with attachments. Or you can contact us by phone at 775 788 003 or visit us in person at CSOP, nám. 14. října 11, Praha 5. Social workers in the care service provide more detailed information or issue an application, including appendices in printed form.
Are you a politician? Publish everything you want without editing. Register HERE.
Are you a reader and want to communicate with your representatives? Register HERE.