The traffic situation in Prague has become one of the pre-election topics. The desperate situation was also noticed by President Miloš Zeman, who wrote an open letter to Mayor Zdeněk Hřib (Pirates). The letter included a call for Mushroom to consider resigning. Do you also consider the state of traffic in the capital to be so serious that the mayor should leave?
survey
Are Czech Roma oppressed?
voted: 7952 people
I am a person who respects democratic principles, so I am fundamentally convinced that free elections should decide on the cast in elected bodies. However, in the case of Mr Hřib, I also think that the resignation would be appropriate, because three years of experience with this mayor from Slavičín is deplorable, and it is currently the most striking responsibility for transport.
But is Boletus really the main culprit of the situation? The name of the deputy for transport, Adam Scheinherr (Prague to himself), is more often used. Prague itself is a project of Jan Čižinský…
So, of course, there are more culprits. And as you correctly state, it is Deputy Scheinherr who is the person who is responsible for the state of transport in Prague. I go to ZHMP meetings on behalf of our association almost regularly to interpellate in matters of transport, and logically our critical comments and suggestions are directed to Scheinherr. And again, it is clear that he always acts in accordance with his party boss Čižinský, whose hostility to cars and motorists has previously manifested itself in traffic measures in Prague 7, where he is mayor. So Prague certainly has a significant mark on the ideological concept of transport in Prague, but the fish stinks most from the head and that is the pirate mayor Hřib.
Where did the old … turning lane go? It was covered by a pedestrian extension adjacent to the tram island. Photo by Mojmír Mikuláš
Do municipal politicians have it easy in Prague when you need help with transport? We remember how Pavel Bém caught criticism from all sides because of the Blanka tunnel complex. So isn't it a problem in us too? And which of the modern mayors of Prague, in your opinion, helped the transport in Prague the most?
Your question is a bit instructive and the answer will start from the end. From the question of "which mayor helped the transport the most", it can probably be said from the point of view of motorists that it was Pavel Bém. It says nothing about all the circumstances and contexts of his time at the municipality, but the Blanka tunnel complex was considered to be the most fundamental transport construction in the last 30 years with a dominant, positive effect on the flow of traffic.

And to those communal politicians. From the position of city districts, it is difficult to demand fundamental things for transport, especially investment in transport infrastructure. Because the communication belongs to the capital and the administration performs the authorized city shareholder TSK. The decisions of Prague are thus in a dominant position vis-à-vis city districts. And that is one of the things that is being called for loudly during this period, so that there is sufficient consultation of all the plans with the affected city district. In reality, this is not the case and the municipality acts from the position of forces and transport measures are implemented despite the disapproval of the local government.
The last case is from Střelničná Street from Prague 8, previously it was Smetanovo nábřeží in Prague 1, Modřanská in Prague 12 or taken from D5 to Prague 13. These specific modifications were carried out without the consent of the city districts. Only the arrogance and unwillingness to accept the comments of the locals is ripe for the appeal of Hřib or Scheinherr.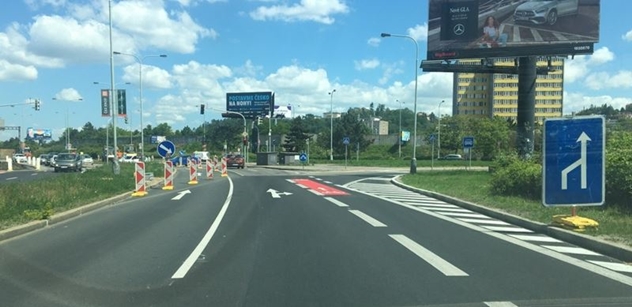 The entrance to the southern junction is newly crossed with a cycle lane. It's good idea? Photo by Mojmír Mikuláš

But there are also town halls for which the restriction of car traffic is still not very ambitious. Unfortunately, we in Prague 3 are experiencing this, where the Greens are in charge of transport, who have the majority support of Pirates, Top 09 and STAN for their anti-motorist ideas. The logical consequence of their local measures is the daily columns in our part of the city.
Prague is still desperately lacking in a functioning city ring and it is becoming increasingly difficult to park in the city, either due to new changes, during which parking spaces are disappearing, or simply because it takes only one to two monthly salaries to buy a car today.
The missing circuit is the Prague evergreen and you are right that it is desperately missing. And there is a general lack of major investment in transport infrastructure. I still feel that, in addition to objective problems, this is mainly due to the fact that politicians are fighting for fundamental decisions, delaying the development of backbone infrastructure.
survey
What do you want most from the next government?
voted: 24750 people
Boletus has a more comfortable Facebook policy, where he shares posts with a rainbow flag or demonstrated opposition to China, but where is there something for the real development of Prague? And how many and where new parking spaces were built? Parking is considered only in the level of restrictions, parking has become more expensive on P + R and there is an intention to increase the price of residential parking, but I do not see a bonus for Praguers there.
The traffic face of Prague is also changing activism. Auto * Mat, for example, organizes regular bicycle rides through Prague, lobbies for a more cyclist-friendly city, terms such as "sustainable transport" are falling, and ideas such as freight transport using bicycles are being promoted, which should partially supply vans and trucks. How do you view these matters?
To put it bluntly, from a motorist's point of view, Auto * Mat is actually a hostile organization. Even in that name, they are embedded that their purpose is to give cars a checkmate. This is not a positive message such as "We like to ride a bike". If it was really a non-profit that lives on membership fees and donations and carries out some educational activities, then of course it's okay. But they are already part of the octopus, which has ties to politics and officials. They draw subsidies from public budgets for their activities and logically, in return, form one of the chapels of the transport power.
In Prague 3, we also have a person on the transport commission who is an employee of Auto * Mat. No one elected him, but the Greens nominated him to this advisory body to the council. I consider his views to be more of an antimoto sectarianism than a balanced approach to transport.
And cargo transport using bikes and similar ideas? As a supplement in the supply system for specific smaller deliveries of goods, for example in the city center, maybe so. I do not consider this to be a real substitute for motorized deliveries.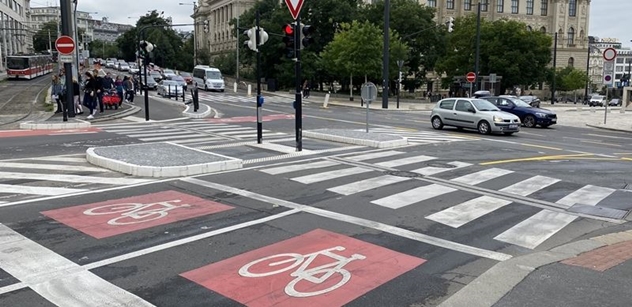 The Vinohrady crossroads with the main road is newly supplemented with richer longitudinal markings, protecting cyclists. And also more reminiscent of coloring books. In the background you can see a new crossing of the highway. Photo by Mojmír Mikuláš
Wider sidewalks and islands at public transport stations, more crossings, such as the one on the highway above Wenceslas Square. Do you think these changes are generally beneficial, or is it a case where behind a pleasing idea is the deterioration of the whole situation?
Pedestrians certainly deserve investments that would really increase their safety. But are the measures implemented really enough? The implementation of the mentioned crossing over the Museum led to the removal of the turning lane, and thus to a worse permeability of the intersection, in a place where a safe underpass under the main road has been operating reliably for years. And to do in all lanes in front of traffic lights space for cyclists. I do not think that targeted congestion in Prague can improve the situation.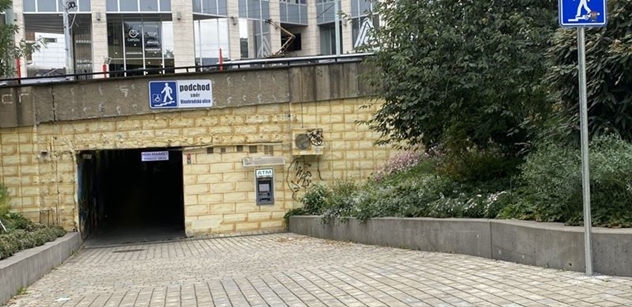 This subway under the main road has been working reliably for many years. Photo by Mojmír Mikuláš
In recent years, cycling infrastructure in Prague has been growing rapidly. These are not only cycle paths, but also cycle lanes on roads and now also so-called "cycle paths", where a cyclist can ride in the opposite direction otherwise in one direction through the street. In your opinion, will this lead to better comfort for all involved, or will it increase the risk of traffic?
I sometimes have the feeling that perhaps a Prague city politician or official is primarily rewarded for the number of meters of communication devoted to cyclists. Somewhere by building cycle paths and elsewhere at the expense of motorists in the form of cycle lanes on the roads. And then the cases are most provocative, when the backbone cycle path is supplemented by a parallel cycle lane on the road 10 meters further. Recently, the Podolské nábřeží and Modřanská sections have been known in the media. And there is really no longer a question of a balanced approach to all road users, but of an indefensible preference for cyclists. This is in a situation where bicycle transport is mainly a seasonal matter for a small number of people in terms of total transport.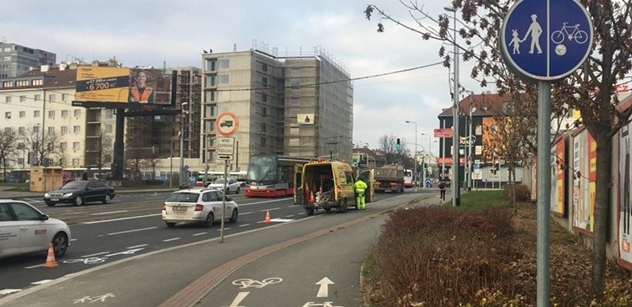 The local bike lane probably could not withstand the onslaught of cyclists, so it was painted on the adjacent sidewalk. Photo by Mojmír Mikuláš

Bike directions are another extension of that approach for me. The statistics of the traffic police show that many cyclists do not respect traffic regulations (this is a classic even according to BESIP statistics) and ride illegally in the opposite direction. And it occurred to someone unbelievably that we couldn't change their behavior and would legalize it for them. There will be no emergency about another dangerous situation on the road. I wonder if the same approach would apply if motorists thought of riding on bike paths.
"Humanization" of the city. Thus, recently, active activists refer to an activity that is changing the city's infrastructure at the expense of cars. Do you really see any humanization in that?
In the field of transport, I believe that we most often use the term 'traffic calming'. The strange words of humanization and appeasement do not evoke anything dangerous. But it is necessary to make it clear that behind these concepts there is a situation where perhaps the lane for cars disappears every week, bicycle lanes are painted, speed is reduced, parking spaces disappear, obstacles to traffic flow are created. So, really, it's an ideological bullying of motorists.
Are you a politician? Publish everything you want without editing. Register HERE.
Are you a reader and want to communicate with your representatives? Register HERE.