Theater newspaper > Stock exchange Festivals News
The 14th edition of the Middle East Culture Festival begins on Wednesday, November 23 A crescent moon over Prague. In the week until November 29, Prague and Pilsen will create a rich program full of theater, literature, music, dance, meetings with interesting guests and guests…
The name of the festival was inspired by a collection of love verses and confessions of a Prague poet Kharif Bahbouh. This year's program will mainly belong to women. Authors, actresses, directors, creators, intellectuals, journalists, heroines… The festival responds to the fact that women's voices are getting stronger all over the world. Women who yearn for equality, freedom, love, a life in peace and safety, joyful creation, respect, understanding… This year's program is primarily dedicated to them.
Women and femininity will be expressed in various forms – through songs and dances, theatrical productions or staged readings by authors and authors from Syria and Iran, by reading contemporary Emirati short stories… Visitors can expect five festival days filled with an exotic, original and maximally lively program.
///
Program
…
PRAGUE
Wednesday, November 23
17.00 Municipal Library in Prague, Mariánské nám. 98/1
Festive opening of the festival
Singing competition in Arabic. Music and dance performance: Marwan Alsolaiman and Kristýna Farag, Kat Bent Amor and Sharif Khlief, Sahara. moderates František Ondraš AND Adam Pospíšil.
Free entry. In Czech and Arabic. /Vice here./
…
Thursday, November 24
Na Pradle TheaterBesední 3, Prague 1
18.00 Small scene
Modern Arabic short stories
Reading and presentation of the first ever Czech edition of short stories from the UAE.
Prepared in cooperation with the publishing house Gift of Ibn Rushd and with the participation of female translators, translators and publishers Jaroslava Bičovska. moderates František Ondraš. They read Jan Sklenář AND Miroslav Zavicár. Musical accompaniment Marwan Alsolaiman.
Free entry. In Czech.
…
19.30 Big scene
Mustafa Tajuddin Al-Musa: Servant and family of poets
Theatrical premiere Arab non-theatre male and female students Department of the Middle East, Faculty of Arts, UK.
Oh, I've been here for a year and two months! misses the maid as she watches incomprehensibly the actions of a strange family of poets in an inhospitable, depersonalized town. Tormented by the constant recitation of poetry, we write letters to our grandfather, the only connection to our beloved home. A nostalgic sigh at the loss of rural purity from a young Syrian playwright is part absurdist drama, light conversational comedy and at times wrenching horror.
In Arabic with Czech subtitles. Entrance fee CZK 200 and CZK 150. /Vice here./
…
Friday, November 25
Kolowrat TheaterFruit Market 579/6
19:00 Mustafa Tajuddin Al-Musa: Girlfriend of the window
The premiere of the staged reading of the play and an online meeting with the playwright.
An orphaned and lonely young woman leaves her native village for the city to escape social pressures and start a new life as a teacher. She finds refuge with kind relatives, but her life is fatally affected by the image of a mysterious man hanging on the wall of her new room… Theatrical play, awarded the Sharjah Emirate Literary Prize in 2017, tells the story of the vulnerability of a sensitive soul that finds it difficult to live with its surroundings, and the destructiveness of loneliness .
Translation Petr Felčer. Directing Jakub Šmid. They play: Anežka Šťastná, Kristýna Dámová, Petr Pochop, Jakub Šmíd
In Czech. Entrance fee CZK 200 and CZK 150 on the spot.
…
Saturday, November 26
Theater On the Railing, Anenská nám. 5, Prague 1
15.00 Eliad's library
Niyaz Esmailpour: Paradise Lost
Drama performance.
Direction and Interpretation: Morvarid Ramezani.
Persian to English translation: Lida Fathi. Translation to Czech: Vit Paulíček.
The story of a woman who longs for a child. She is already forty years old and does not want to be with a man just to have a child. She wants someone to love and start a family with… This passion for a child causes a big problem and now she tells what happened, why she ended up in prison…
In Persian with Czech subtitles.
…

16.00 Rehearsal room
Meryam Heidari
A meeting with an author from Iran and a scenic reading of excerpts from her books.
moderates Zeina Kanawati. He reads Kristýna Frejová.
In English with interpretation into Czech.
…
17.00 Rehearsal room
Samar Jazbik: Voices of indomitable women
Reading from the book Samar Jazbik.
These days Deník N publishes the book in Czech in its Edition N (more here). In it, the Syrian writer wrote down the testimonies of nineteen women who took part in the revolution during the so-called Arab Spring of 2011, many directly on the front line, yet due to the changed circumstances they were suddenly not allowed to do almost anything. They were systematically silenced and had to fight not only against Assad's dictatorial regime and the Islamic State, but also against the men who were supposed to be on their side. They shared the dream of a free country that could lead a better life not only for themselves, but especially for their children, and often lost everything. The author gives these women their voice back. A voice of resistance and hope.
They moderate Zeina Kanawatico-worker of the organization Women nowfounded by Samar Jazbik, author of the book, and translator Petr Felčer.
They read: Kristýna Frejová AND Zeina Kanawati.
In Arabic and Czech.
…
18.00 Eliad's library
Azadeh Kangarani: Selfdoms of a Rainbow
An autobiographical play she wrote and below Azadeh Kangarani i'm performing
The stories he tells resonate with the stories of many migrants and refugees around the world. Kangarami has moved three times in her life. First from his native Iran to Dubai in the Middle East, then to the Czech Republic in Europe and finally to the USA. If this is her last migration… In her play she describes integration in her last host country, the US, captured by contemporary crimes against humanity by the Republic of Is in Iran. He compares the USA to a rainbow that consists of individual colors as the citizens of the country. Each color on its own, but the rainbow as a whole gives each color a stronger identity. Neither the entire rainbow nor each individual color is complete without the other.
In English with Czech subtitles.
Entrance fee: CZK 200 to CZK 150. The ticket is valid for the entire program. /Vice here./
…
Sunday, November 27
18.00 Kolowrat TheatreFruit Market 579/6
Dawn between the lines
A staged band of literary demonstrations of translations of modern Persian literature presented by Czech Iranists, students of the Middle East Department of FFUK, their teachers and Iranian friends.
What themes resonated in society before the Islamic revolution, during the war with Iraq, and today? What do female authors write about, what is taboo in contemporary writing, what are the tools of censorship? Persian literature, its strength and weaknesses. A subtly dramatic whirlwind with an attempt at an audiovisual podcast.
But Persian will not be missing in Czech!
…
19.30 Šahbánu-Náme: A princess epic
Nonverbal performance
The story of the Iranian women's revolution that began in September 2022, inspired by the myth of Zahhak from Firdausi's verse epic Shahnameh (Book of Kings). The story unfolds in two time planes that meet at the end. One goes through Iran's history since the revolution in 1979 in a symbolic and expressive way. It recalls the stories of women who fought for the freedom of speech for decades, and although they were forcibly silenced, they never gave up and resisted injustice. The second depicts the fate of an "ordinary" Iranian girl, inspired by the victims of the September Revolution.
Directed by: Soroush Sanaeinezhad
They play: Sorous Sanaeinezdah, Naghmeh Younesian, Andrea Günther, Mantra Radhakrishnan, Esther Thiesen, Natal Daftari, Arghawan Farsi
Entrance fee for the entire program: CZK 200 and CZK 150/more here./

///
PILSEN
TUESDAY 29/11
17.00 Study and research library – Education centerCream sets 2
Meryam Heidari AND Zuzana Křížová
A meeting with an Iranian author and a Czech Iranist about contemporary literature and theater and the role of women in art and society.
Free entry. In Persian with interpretation into Czech.
///
Guests of the festival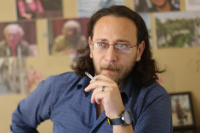 Mustafa Tajuddin al-Musa – Syrian short story writer, playwright and journalist from Idlib, graduate of media studies at Damascus University. His short stories and plays won several Arab and international prizes. A number of them are referred to as black comedy and in recent years have enjoyed great popularity among Arab and international readers. Since 2014, the writer has been living as a refugee in Turkey and works, among other things, as a cultural editor on Syrian television stations broadcasting from Turkey.
Meryam Heidari – Iranian Arab woman from Khuzestan province in Iran, poet, translator and journalist. She translates from Arabic into Persian important Arab poets, such as Mahmud Darwish and Sargon Boulus, and is also a translator of many Persian and Afghan poets and travel books into Arabic. She is the author of the collection Bab Muareb (A Door Ajar) and recipient of the prestigious Ibn Battuta Award 2018. She is the editor-in-chief of Raseef 22, Beirut's leading magazine on art, literature, history and politics. He lives and works in Tehran.
add comment
Don't forget to fill in the item marked with an asterisk.