As learning the English language becomes a necessity in an increasingly globalized world, the West Point bilingual school bases its educational program on learning in English and French, accessible from the age of 2. Interview with the principal of the school, Cindy Thomasset.
do you present your bilingual school located in Lyon?
Since its creation in 1980, West Point Bilingual School offers lessons in French and English to young children. We follow the official academic program, offering half of the courses in English. Our students also pass the "Cambridge Exam" which is an internationally recognized benchmark. This exam allows our students to be able to then integrate very good establishments, in France or abroad.
In our school, our students follow a half-day course in French, then the other half-day in English.
What age groups is your school open to?
We welcome children from the first year of kindergarten to the end of primary school, in CM2. However, we also offer a reception for children from 2 years old. At this young age, they absorb a very large amount of information, whether in terms of vocabulary or pronunciation. They are extremely sensitive to all of these elements; this is why it seems essential to us to be able to immerse them very early in bilingualism!
What other reasons motivate parents to send their children to your school?
When parents turn to a private school, they want to have a certain quality of education and comprehensive support. At West Point Bilingual School, we are committed to providing the best conditions for children: rigor, student monitoring and benevolence are the watchwords.
Our status as a private institution without contract allows us to have native English-speaking teachers. Our students can thus exchange with English teachers, but also Irish, Australian, or even Canadian; who pass on their own culture!
Another way of opening our students up to the world: our CM2s go to school for a week in London, and we welcome our Chinese correspondents from Shanghai. This bilingual education is therefore a real added value for the child.
In addition to opening students up to the English language and the different cultures of English-speaking countries, various speakers hold lessons in music, comics, digital, bilingual theater, Chinese, during school time. We also accept many extracurricular activities, which are also conducive to the development of children: fencing, hockey, handball, dance, piano, yoga, etc.
It is also advantageous to be able to take advantage of reduced class sizes within your establishment.
Indeed, we choose to offer classes with reduced numbers, which is an essential element for the quality of teachingbut also for the follow-up of the pupils.
In very small section, the class size is about fifteen pupils, for kindergarten, this figure is 22, then 25 pupils per class for the older ones. This allows more time to be given to each child, giving them a solid foundation before they enter middle school. We differentiate ourselves by a very good educational level.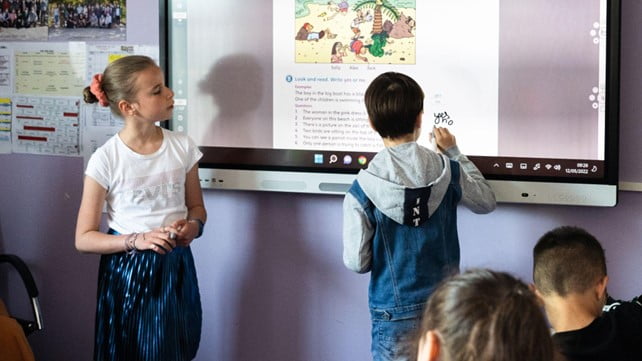 A few years, West Point integrates digital in the classroom. can you tell us more?
Society is changing rapidly and the school must know how to adapt its teaching to the needs of the younger generation. Digital and robotics are environments in which today's children will certainly work in the future. For example, we have integrated digital/STEAM (Science Technology Engineering Arts Mathematics) courses.
Also, we have equipped our classes with interactive whiteboards. They are particularly interesting for the class. They allow us to teach differently and take students further.
While numerous scientific studies have proven the effectiveness of learning a foreign language from an early age — very young children are in fact predisposed to learning a foreign language easily and naturally — the West Point bilingual school intends associate lessons in the language of Shakespeare, with educational values ​​around respect, open-mindedness, and tolerance, to allow children to create a solid background for their future.