Muhiba and Refik (without luggage, 50 and 64), healthcare worker and rejected

Muhiba keeps a close eye on the offers from the supermarkets. "You have such a special app for that. Everything is these days, you have to. We have just returned from vacation in Croatia. On the way back we did some shopping in Germany. Much cheaper than here. In the Netherlands I am regularly in the shops with something that makes me think: jesusmina, really!? An example: recently I only had 57 cents for crème frache, now it is already 99!"
They come from Bosnia and have lived in the Indische Buurt for a long time. Since he was rejected as a sheet metal worker, Refik and Muhiba often go shopping together. "A woman always wants a full cart," he says. But there is no longer a full cart these days, they explain. They do their shopping in supermarkets all over East. She: "Here this, there that. See where it's cheapest. That is how it is worn at the Lidl of the Aldi, but sometimes you have to be at Albert Heijn."
Don't want to put name and face in the newspaper (63), retired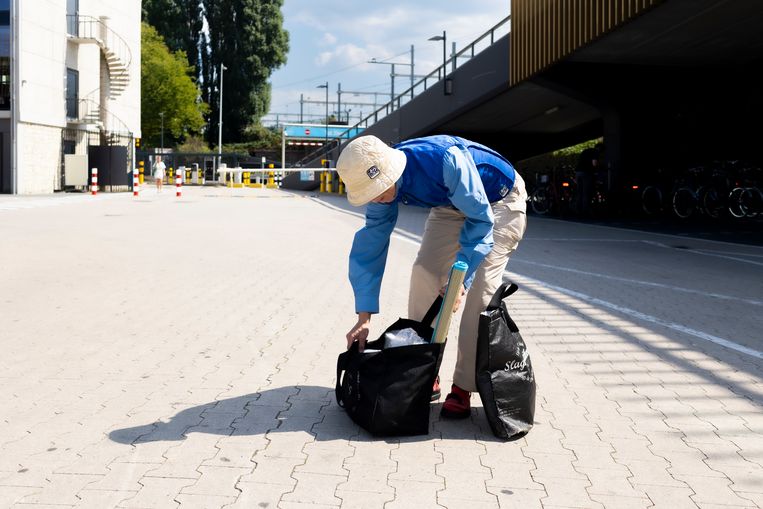 To cope with the heat, this lady does her shopping in a special cooling vest. The cap she wears is also made of cooling material. She shows what she has just bought at the large Albert Heijn in the Molukkenstraat. "A bar of organic chocolate, healthy yogurt, a bottle of rosé, alcohol-free beer… I'm having a visitor tomorrow, that's why."
With display of the last time of the price tags in the supermarket. "I go everywhere, AH, Jumbo, Lidl, Vomar… And it's the same everywhere. Everything is getting more and more expensive. It is especially bad with grain products. Good tea and coffee – which I get from Simon Levelt – are almost unaffordable anymore."
More than ever is keeping an eye on the offers. "When I was still working, I was an organizational expert. I did have a certain professional infatuation with that. I like to find out where products are the cheapest. But I'm single, I understand that you don't have the time for that with a busy family."
Sheldon Yu (29), software engineer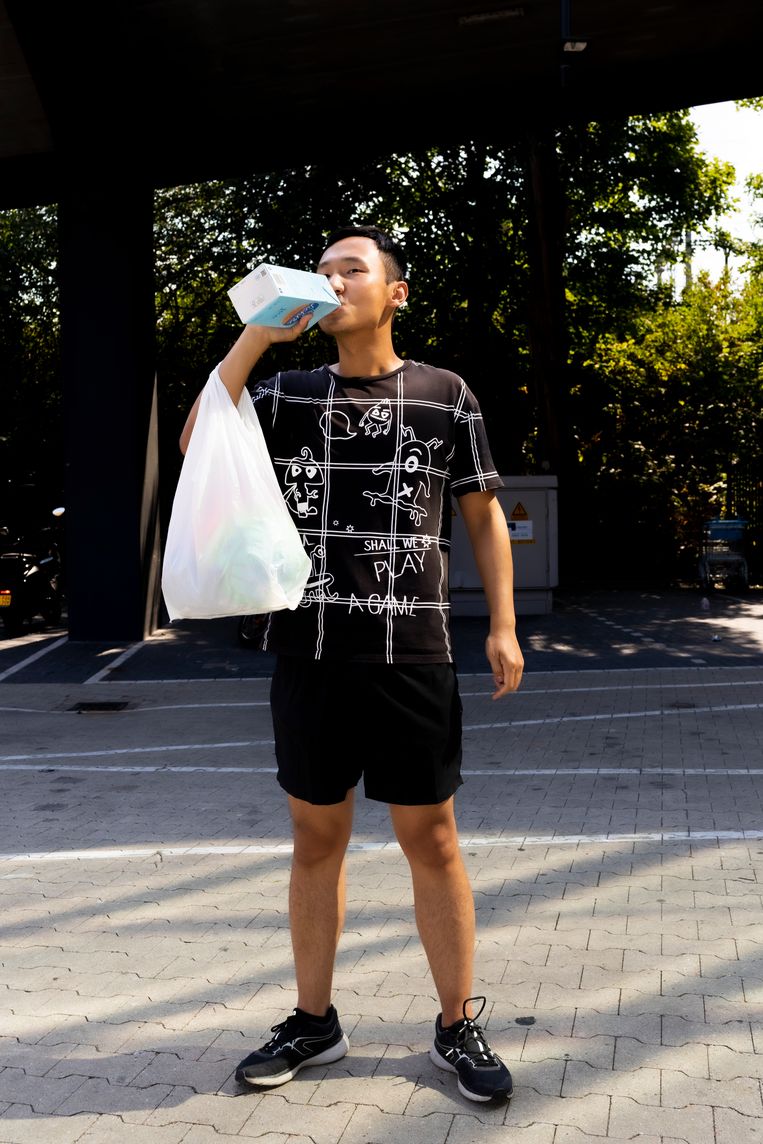 Sheldon Yu has modestly shopped at the AH. He has only bought a carton of soda, which he puts directly to his mouth. He also has a football in his bag, but he already had it. Yu is from China and after studying at the TU in Delft works in the IT business in Amsterdam. He lives in Southeast and is now in East because he is going to swim in the Flevoparkbad.
Does he notice much of the rising prices? "Well, I'm not all that price conscious, to be honest, but I do feel things are getting more expensive." Certain products particularly stand out to him. He thinks deeply. "Haven't fruit and vegetables become more expensive?" That pack of soda, what did he pay? "1.25 euros. That seems reasonable to me. Oh wait, it costs 1.95 euros. Well, I'm not that into it."
Marieke Schouten (42), provides training and education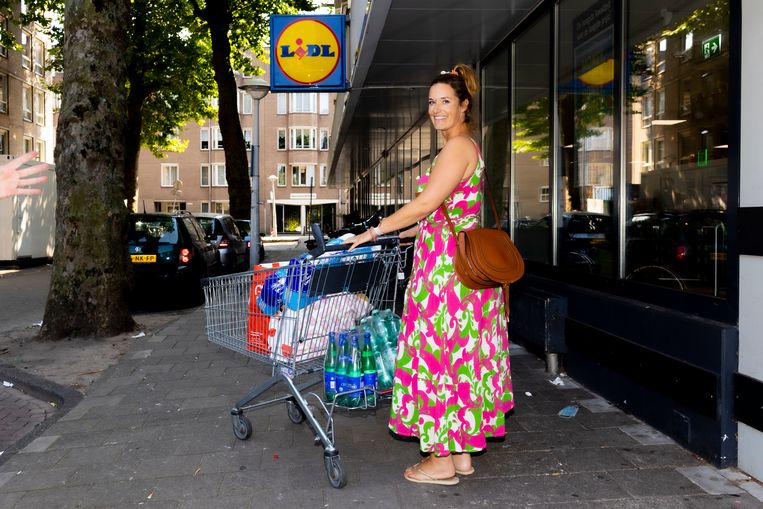 Marieke Schouten from the Watergraafsmeer, who visits Lidl in the Surabaya in the Indische Buurt with a full car, is not very fond of shopping. "During the corona time it was fun, then it was the only outing. At home we speak of going on safari. On such a safari we ended up here in the Lidl and we come here regularly. Recently on holiday in Spain, we also went shopping at Lidl."
Previously, we mainly dealt with groceries at Albert Heijn. "But the prices have risen so much there, you really come home with less." They notice that vegetables and fruit in particular have become more expensive. "It pays to even drive to Lidl for that. They have the basic things here, but you have to go elsewhere for gluten- or lactose-free products."
Mohammed Blal, 29, it specialist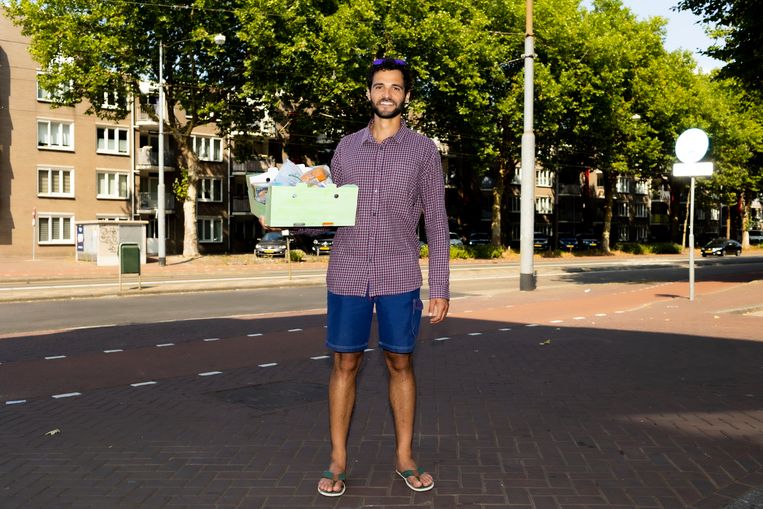 Mohammed Blal is from France, Strasbourg to be precise. Shopping is more expensive in the Netherlands than in France, he says. "I didn't know what I saw when I took some spring water here. Well, I won't buy that anymore. Tap water is also good to drink here. But you can't do without bread and that's really expensive here."
He has been living as an expat in the Indische Buurt for two years now. In the Lidl he just bought a survival package for the Sunday, such as his included. It contains juices, lots of fruit and ice cream of both the consumption and cube varieties. "I am alone. Well, I do have a girlfriend, but no family. I can manage as long as I avoid the Albert Heijn, but I can imagine that it is difficult to get by with those high prices if you have children."
Food more than 12 percent more expensive

The original in the Netherlands reached 10 percent for the first time since 1975, above the Central Bureau of Statistics (CBS) at the beginning of this month.
Consumers also saw prices rise in the supermarket. Foods were even more than 12 percent more expensive than a year ago. Especially products in which grain is processed, dairy products and, for example, ice creams have risen sharply in price.