Antwerp
–
It has been a year since Emilie Frans (30) from Antwerp started Wavetops, which supports a sustainable line with education in Nepal. Today Wavetops has a new collection. Thanks to Emilie, old wetsuits have a second life in the form of laptop sleeves, wallets, bags and key rings.
She started Wavetops after traveling to Nepal a few times, she says. "I was immediately captivated by the culture and the people and had been introduced to a day care center at the foot of the Himalayas. I wanted to do something for them and raised money through a cookie sale. But I didn't intend to bake cookies every year and actually do something permanently to support Nepali education."
That's how Wavetops came about. "I can put three things in it that I like to do: surfing, climbing and designing," she explains. "I started drawing designs based on oceans and mountains. Hence the name: Wavetops."
They then design them on clothing. "I buy the clothes myself. It is fair trade and made of organic cotton. It would be weird not to opt for fair working conditions being manufactured. And if you put yourself in this a little bit, then you notice how often the clothing industry really doesn't work properly."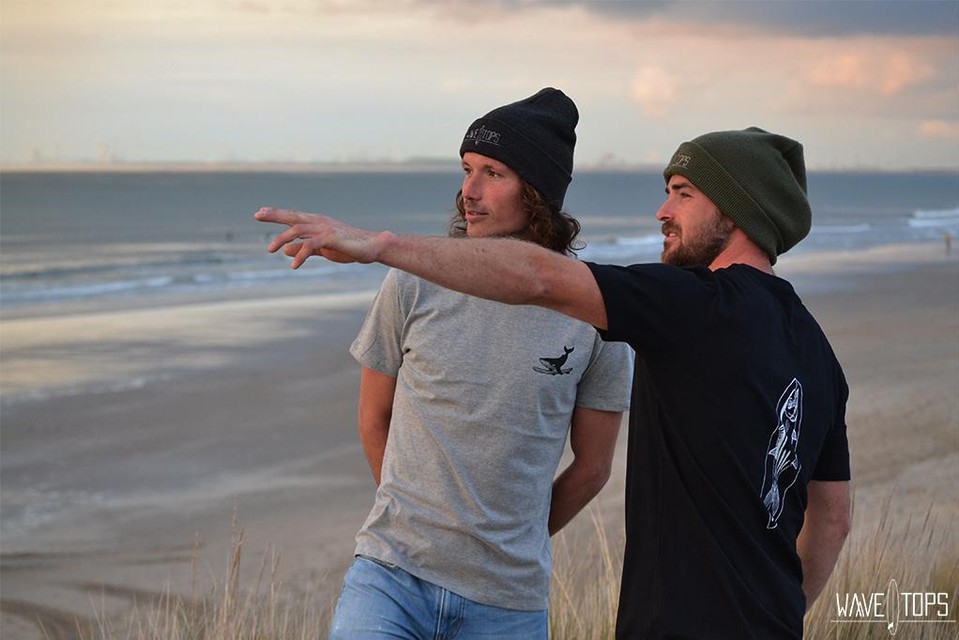 Initially, Frans sold T-shirts, hoodies, hats and totebags with Wavetops. Today, that collection is expanded with Wavetops Upcycled, a line made of recycled wetsuits. "When a wetsuit like this breaks, it's often a small hole where the seams meet. It almost never involves a hole in a large area of ​​the fabric. But the water eventually starts inside and that wetsuit then somewhere in the garage nothing happens anymore," says Frans. "That's a lot with myself, but also with my surf friends."
Do you want where to stay with such a wetsuit? "Wetsuits are primarily made of neoprene foam, which is a petroleum-based synthetic rubber that contains small nitrogen cells. Due to this composition, wetsuits are not biodegradable, difficult to recycle and neoprene waste is a huge environmental problem. However, the material is perfectly reusable and sustainable." That's how she got the idea to get started with those wetsuits.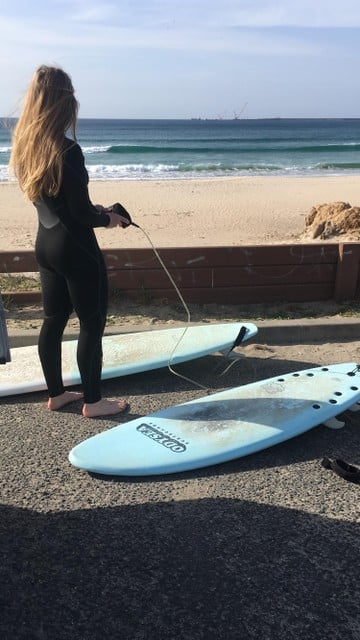 Reuse every piece of wetsuit
"Before collecting the collection, students from the Antwerp Management School from the International Fashion Management direction brainstormed for a trimester about the various possibilities of Wavetops Upcycled. The range contains four different products: laptop sleeves, wallets, bags and key rings. For sewing and stitching I get help from a friend of my mother. Every product is unique and we try to reuse almost every piece of the wetsuits, right down to the zippers."
The collection is currently for sale via the Wavetops webshop and will also be available in several Antwerp stores. "People are still allowed to send me their broken wetsuits. The collection will exist as long as wetsuits are sent to me. Because it would miss its purpose if I started buying wetsuits myself."
And here too, part of the proceeds goes to education in Nepal. "Currently, I still work with the daycare centers that I get to know locally. But I also collaborate with Belgian organizations that are active in Nepal. The aim is to build a sustainable partnership with an organization so that I don't always have to travel there myself."