25′ – Yellow – Senne Lynen
89′ – Yellow – Gyrano Church

85′ – Goal – Bart Nieuwkoop (1 – 0)

82′ – Cont. Michel Ange Balikwisha by Gyrano Church

80′ – Yellow – Jelle Bataille

76′ – Cont. Victor Boniface by Yorbe Vertessen
Croky cupfirst leg01-02-2023 20:47
Union has won the first clash with Antwerp towards the Heysel. In an underprivileged and closed game, the home team won thanks to a great header from Bart Nieuwkoop in the final phase. The return will be played on March 2.
Union – Antwerp in a nutshell:

Key moment: 5 minutes before the whistle, even if most think they have given up hope, the goal is anyway. Bart Nieuwkoop towered above half time and headed the 1-0 over Butez in a poor game.
Man of the Match: For not taking the goalscorer, the midfield of Union – with Lazare and Teuma – gets kudos. They were the concrete of the construction and the boys died every now and then something possible.
Statistics: Victory number 11 in 12 games for Union and the only team to beat Antwerp (2x) in the past 3 months. The excellent series is becoming more and more a delicacy for statistics.
Nieuwkoop keeps its head up

"The second leg will determine everything," said trainers Geraerts and Van Bommel in unison before the match.
The good listener did not need another word to fast-forward to minute 85 from then on. At that moment Lapoussin took out his brush, this time not to leave behind chaotic splashes.
The left back painted the leather on Nieuwkoop's head. The Dutchman towered over the Antwerp defense at the far post and actually headed the winning goal over Butez.
Everyone at Union is satisfied, wants to go to Antwerp next month with a bonus goal. The only thing both teams will do after a poor display.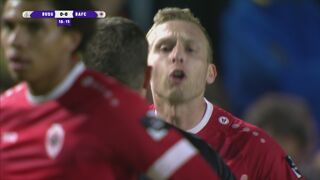 Janssen: "They with 12? Let themselves in goal"

Vincent Janssen (Antwerp): "We can't lose, but we will have to. Did Union play 12 against 11? No. Of course there are times when you are disadvantaged. Referees don't make mistakes on purpose either. There were some moments, but we live gave himself the goal away."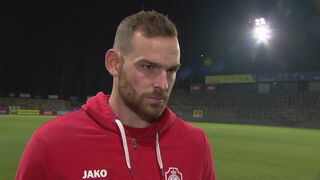 Geraerts: "Ref? Individual quality makes a difference"

Karel Geraerts (trainer Union): "It doesn't matter what the winner was tonight, the game will be decided in a month's time. I'm happy with it, but we have to put the bonus deep in our pockets. I can't add anything to Toby Alderweireld's opinion. I thought that individual skills make the difference."