Agáta Hanychová could not have wished for a better start to the summer. Again, she is being talked about everywhere, while many people already thought that she should not surprise with anything, and here she is! She wiped everyone's eyes with her relationship with Jaromír Soukup, shocked many, but she herself looks very happy and satisfied.
The media tycoon, who took his new love to Marbella, Spain, where he has a villa, purrs happily. There were also family meetings, not only Agáta's children came, but also mother Veronika Žilková, who wishes her daughter's new relationship very well.
Agáta Hanychová and Jaromír Soukup do not need Vary to be satisfied.
You are currently in depopulated Prague, which has become much more tolerable for those who don't like crowds with the start of the holidays and the necessary film festival in Karlovy Vary. And also crowds of curious people. That is if you are known as Agatha and her new boyfriend.
"The best flower today," the beauty commented on the bunch of spring onions in her hand and tagged it with the hashtag Soukupa.
And she wasn't even joking. Anyone who knows her knows that she's pretty good in the kitchen when it comes down to it. But he has to want to. And now it's going well, after all, he wants to make a good impression. Soukup also likes to cook and even has a show about cooking, so they have another great topic to talk about. That is, if they are not arguing at the stove, which no one suggests, because everything is bathed in the sun with them.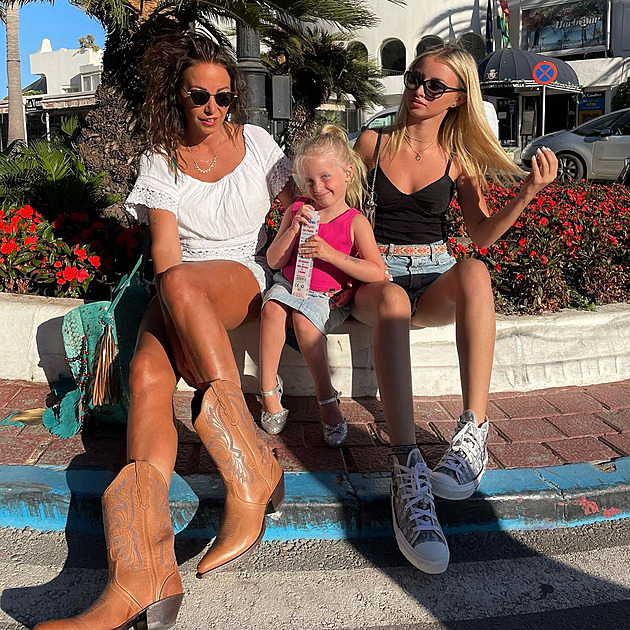 Agáta Hanychová in Spain
They also enjoyed the summer fun on pedal boats on the Vltava, which they exchanged for a jet ski, which they used to race around the Mediterranean Sea near the Spanish shores.
On that occasion, Agáta also tapped the film festival. She tries to be vague about it, but everyone knows very well that she is already very much looking forward to her visit with her boyfriend in the second half of Karlovy Vary. And this time she'll walk down the middle and down the red carpet and no one will throw her out.
In her wilder days, Hanychová caused an uproar here, and Jiří Bartoška was merciless. Hanychová then had a stop sign for x years.