The phenomenon began to appear about three years ago, but today it has alarming dimensions as our country is in danger of being left without agricultural production. The reason for the fact that there is no longer enough labor to adequately cultivate them fields.
The reason for this is the fact that as time goes by, an increasingly large wave of mass flight of foreign workers to other countries is recorded, as those who are in the vast majority engaged in the care of the land as Greeks prefer to be primarily employed in other forms of work in the secondary and tertiary production sector, i.e. industry and service sectors, such as tourism.
In Ierapetra, of the 10,000 land workers, there are 1,200 left
This situation has become even worse this year. It is enough to consider that while, for example, in Ierapetra Lasithi, between 8,000 and 10,000 were usually employed land workers, today there are hardly any left… 1,200. There is a corresponding decrease in Mesara of Heraklion, but also in most areas of the territory where there are large areas of cultivated land. Crete is a representative example.
Seven years to acquire Greek citizenship
As the general secretary of the Unified Agricultural Association of Ierapetra and member of the National Union of Agricultural Cooperatives Michalis Viannitakis reports, seven years will have to pass before an economic immigrant can move freely in Greece. Only after seven years can a beneficiary of international protection in our country who lives legally and meets the required conditions related to social integration, be able to apply for Greek citizenship (naturalization).
At the same time, in neighboring Italy, the corresponding process is completed in just three years. This is the main cause of the problem, say those in the know, and not so much the day laborers. Foreign workers employed in the fields are paid an average daily wage of 35 to 40 euros for eight hours of workwhile the majority secures a monthly salary of around 1,200 euros.
In Ierapetra all the previous time they were looking for workers to deal with the horticulture, such as tomatoes, cucumbers, eggplants and peppers, but no. And it refers to vegetables that cover the domestic demand but also are explained in the countries of the Balkan Peninsula as well as in other states such as England, Spain and Germany.
Applications now for 2023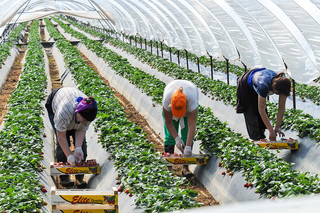 In fact, the Unified Agricultural Association of the said southeastern area of ​​Crete has already invited farmers to submit an application with the number of land workers they need for the new 2023-2024 growing season. make the crop It should be noted that Ierapetra is not a rural area, as it has 55% of the greenhouse facilities of our country.
From Imathia they went to Italy
But the problem is nationwide. According to reports, in Imathia, for example, around 3,500 workers are needed each year to cultivate and harvest nectarines, cherries, pomegranates and cherries. But so many people don't exist anymore. In the past you just found interested people, but there was also a surplus of labor that could not be used.
This year, however, most have gone to neighboring Italy and also to Germany which, in addition to everything else, the daily wages are better there – but the cost of living is also more expensive.
Who will take care of the cherries in Pella?
Pella is facing a similar, perhaps even worse, situation. About 10,000 workers, mainly from Albania, were employed in the production of cherries in the region, but this year not even half were available. The rest either left abroad, or preferred to find another job which is no less arduous.
"We recognize the problem and are doing what we can. We are trying with the relevant ministries and cooperatives to solve the problem, which is not easy» tells us the deputy governor of PE Pella and former MP of New Democracy, Iordanis Tzamtzis.
Reluctance to grow vegetables in Thessaly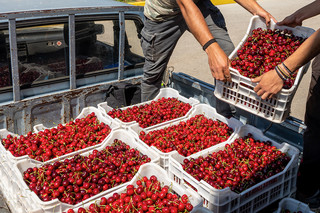 Correspondingly in Thessaly, there is currently a problem with fruit and vegetables due to the lack of labor. "Unfortunately, there is reluctance for foreign workers to come. If the problem is not solved immediately, in the coming years there is a risk of a violent restructuring of crops. Some producers are already thinking of reducing the cultivated acres of apricots and peaches and switching to almonds, which have the possibility of mechanical harvesting," highlights the president of the Makrychori Producers Group of Larisa, Nikolaos Mitsoyiannis.
In Messinia, producers "lend" workers to each other
The Endangered Species are the land workers in Messinia as well, resulting in problems in both cultivation and harvesting. There are times when derivatives "loan" workers to each other in order to get the job done on time.
As Giorgos Katsoulis, a member of the cooperative "Union of Messinia" and president of the temporary board of the Association of Agricultural Cooperative Organizations and Enterprises of Greece (SASOEE), said, "we have reached the point where derivatives are being loaned among land workers. They go so far as to take each other's workers in order to do their work. In the potato harvest there are days when they cannot harvest, since they do not have the required number of workers to meet their orders. The problem, as everything shows, will worsen in the future."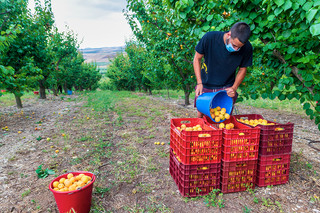 Albanians have been replaced with Bangladeshis
As a temporary solution, the experienced Albanians who were usually employed in the fields have been replaced by Pakistanis, Afghans, Egyptians and Bangladeshis and in recent months by Ukrainian refugees.
From the beginning, it had promised the agricultural cooperatives that it would ensure that 25,000 new jobs were made available for economic migrants throughout Greece. But this number is hopelessly small. It is enough to think that so many are needed only for the 12,000 hectares of tomatoes in Crete. At the moment in Greece there are approximately 66,000 registered refugees and immigrants working on the land. We are talking about laws, which have AMKA and pay the corresponding contributions to the state. The pool of these employed will be used for all agricultural work. From the picking of olives and cotton to the production of citrus fruits.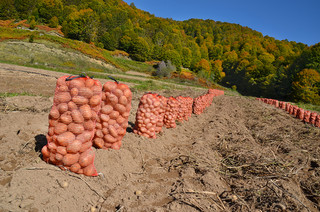 Forced fallow and new increased prices
If this situation does not change, the agricultural world turned to fallow. Fallowing is the deliberate temporary cessation of cultivation of a field in order to regain its productivity. It usually lasts a year and depends on the type of soil and the prevailing climatic conditions. It is more necessary in intensive monoculture fields, because of which the nutrients of the soil are "consumed" faster, so they let the field "rest". Unless something changes, he will inevitably be driven there.
But the one with chainsaws. As soon as there are no local products on the stalls of popular markets and supermarkets, imports will naturally increase (and of course exports will decrease). So we're going to have further price increases, so they're going down in price since you won't be buying as much as before. Everything is a circle.