Mieke Schauvliege pointed out earlier that the Flemish government should better protect the existing forests. Further analysis shows that trees are being cut down in Antwerp, in particular. Almost half of Flemish deforestation, 42%, takes place here. "Protect forests against drought and stress. Those advantages are being taken down with the chainsaw to make way for the luxury of the few", criticizes Schauvliege.
Between 2014 and 2020, 822 hectares of forest in the province disappeared, as much as 1,200 football fields or six times the Rivierenhof. From her questions, especially in municipalities such as Brasschaat, Schild, Kapthout andellen. Residential park areas once had a special status to regularize the villas in the green and it is also allowed to subdivide and build. "Of the 4,200 hectares of most valuable forest in Flanders, 20% is in residential park area," says Mieke Schauvliege. "Anyone who wants to cut down, first gets a permit for that."
(Click on the image to enlarge)
Stricter legal framework
It is the municipalities that issue these permits. The Flemish government only provides non-binding advice via the Agency for Nature and Forests, which would often only look at the regional plan. "Minister of environment Zuhal Demir is not doing anything about it," says Mieke Schauvliege. "The government should provide a stricter legal framework and make the agreements. Then a thorough investigation must be carried out into the value of a forest. This is already happening on other grounds."
Those who cut down have to plant older trees or pay a fee. "But for those who can build a spacious villa, that is no obstacle. And you don't just replace an old forest."
Mieke Schauvliege learned that in 2020, the most recent figure she received, dozens of permits were issued in Kalmthout, Kapellen, Schilde and Brasschaat, also in residential park areas. "Plotting in the residential park areas must stop and municipalities must be given leverage to do so."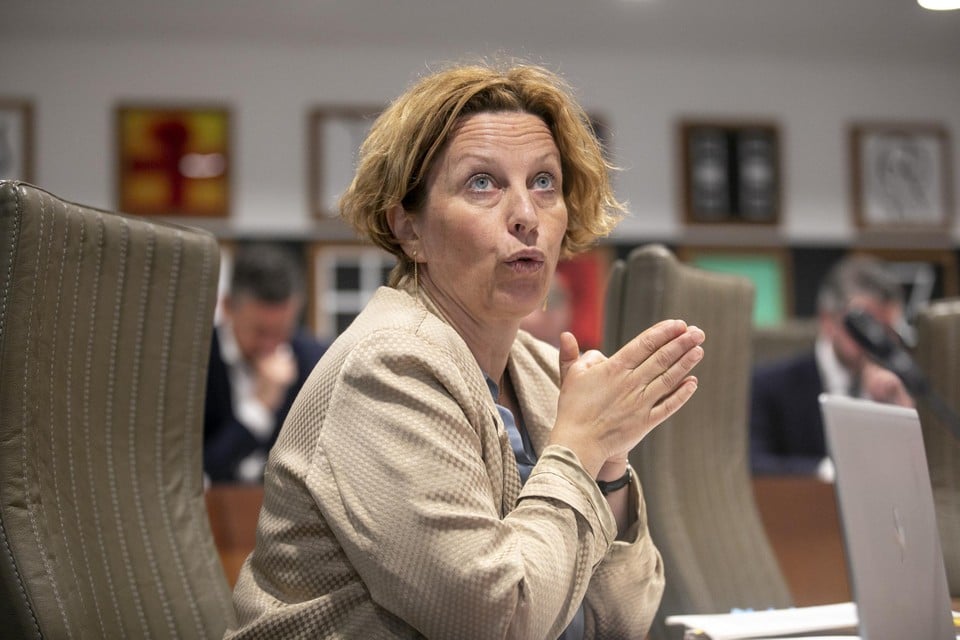 "murder"
An organization such as Bos+ has also been raising the issue of "creeping deforestation" for years. "In the form of hundreds of files for often small pieces of land, but it is a murder on the forest area," says Bert De Somviele. He does see a possible trend break under this Flemish government. "We don't have any hard figures to confirm this yet, but the value of existing forests will be taken into account more in the future. It is also clear that the Minister really takes the forest expansion to heart that it used to be a dead letter."
Municipalities are sometimes under pressure to issue permits. "On what basis could you have one allotment if you have allowed the other? A recent judicial announcement gives more leeway: a judge disputes a permit for a housing project in Rotselaar because nature was valuable there." Bos+ also sees the permits at the Flemish level. "Now you have 300 municipalities that manage that separately. That creates more local pressure."
Andy Pieters, of Minister Zuhal Demir, points out the responsibility of the municipalities: "The Agency for Nature and Forests sometimes also means negatively, but in 60% of these the municipalities still give a permit." And that the N-VA is sometimes part of those municipal councils? "The minister makes no distinction between party colors."
He also points out that in 2021 there will be a lot less deforestation than in previous years, 229 hectares, compared to 270 hectares in previous years. In the near future, it will also be regulation that the municipalities themselves must make the plantations themselves, in their own municipality or elsewhere. "Now Flanders still has that on its plate. This makes it easy to deforestation." The felling allowance also saves, from 3.6 to 5.6 euros per m²."
80% of deforestation occurs on land intended for construction according to the aforementioned. "If you don't do that, people will have to live in the elderly and you increase the pressure on the open space."
What do the mayors say?: "Afraid of losing building land"
Mayor Lukas Jacobs (CD&V) of Calmthout new date his municipality is wooded, "19%, double the Flemish area and 3% more than the word of the province of Antwerp."
About 200 hectares are residential area and residential park area. "That is a huge legal issue. Since 2017, the number of applications for deforestation has doubled, from about 20 to 40 files per year, because they unpacked with the forest map in that year. It became fast and then came the concrete stop. became afraid that they were going to start playing their building land. We are still quite strong, but if we have a permit, they will appeal to the province and they will be right there. We also try to cluster. But when apartment blocks arise in such a green neighbourhood, the other residents protest."
Incidentally, the fact that the province of Antwerp has a lot of forest, plus various desirable residential areas, may be a factor in the explanation that so much more is being cut down here.
In Chapels Mayor Dirk Van Mechelen (Open Vld) says that they have strict allotment standards. "In Kapellen, a plot must be at least 5,000 m² in size, and you may deforest and build on a maximum of 300 m². Groen uses gross figures for plots that say little about deforestation." Kapellen is wooded for a third. "And we are now seeing more villas being demolished and replaced by new construction, without deforestation."
In Antwerp Alderman for spatial planning, Annick De Ridder, informs that every project aims to make it greener and that the one figure that Green gives for the city, 225 hectares of deforestation, says little. "Last week we bought the historic Ferrarisbos in Wilrijk of 3.5 hectares for 3 million euros to protect it."