Smoke column over Fechenheim
Large fire at the recycling center in Frankfurt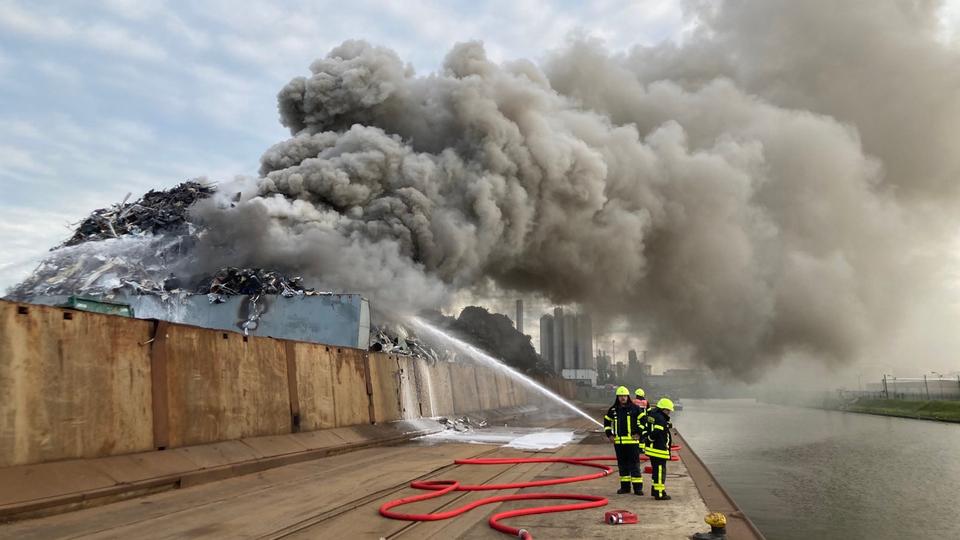 Scrap metal burned on a company site in Frankfurt-Fechenheim on Saturday evening. Smelly smoke moved into neighboring parts of the city. The fire brigade extinguished with a large contingent.
A fire broke out on Saturday evening on the premises of a recycling company in Frankfurt-Fechenheim. According to a fire department spokesman, a large mountain of scrap had caught fire. A huge column of smoke hangs over the area.
Stinking cloud in Riederwald and Ostend
The smoke moved in the direction of Riederwald, Ostend, Oberrad and also to the north of Offenbach. This can lead to an odor nuisance, said a spokesman. Residents have been asked to keep windows and doors closed. According to the fire department, a corresponding message was also distributed via the Nina warning app.
Volunteer fire brigades and the Frankfurt professional fire brigade were at the top with around 140 emergency services on site. They pulled the scrap apart to get to the embers. This has had an effect, the spokesman said.
The fire was under control by late evening. The post-extinguishing work could drag on until midnight or longer, it said. Nobody was injured in the fire. The fire and the extent of the damage were initially unknown.
additional Information
End of further information