Today, 9:34 pm | Stefan Berndl
It goes into the cabins. With a 0-1 deficit of the Austrians. It can only get better quickly.
Today, 9:31 pm | Stefan Berndl
There are 3 minutes on top. Then there is a break.
Today, 9:28 pm | Stefan Berndl
Counterattack by the Austrians. Grillitsch in forward gear, plays left on Grüll. This puts the ball back in the penalty area on Grillitsch, who, however, fails from close range to Marciano.
Today, 9:26 pm | Stefan Berndl
40 minutes have passed. Austria is 0: 1 behind here. The team cannot deny their will, it just doesn't really work with the implementation.
Today, 9:21 pm | Stefan Berndl
The Austrians do not want to let that sit on themselves, are now putting a little more pressure on again. First Grüll, then Sabitzer, give it a try. Almost 10 minutes remain in the first half.
Today, 9:18 pm | Stefan Berndl
32nd minute: That's when it happened. 0: 1 from the perspective of the Austrians. Bitton pulls away, Lienhart in the wall unhappily deflects the ball. Bachmann has no chance, is on the way in the other corner.
Today, 9:14 pm | Stefan Berndl
Free kick for the Austrians, from around 30 meters, half-right position. Alaba and Grillitsch are ready. Alaba brings him in, on Arnautovic. But only partially promising.
Zahavi goes down, he appears to be knuckled and is being treated.
Today, 9:09 pm | Stefan Berndl
Early change with the Israelis, captain Natcho has to leave, Gandelman comes into play. A debutante.
Today, 9:06 pm | Stefan Berndl
Played 20 minutes, the Austrians have now seized the command and more of the game. The Israelis don't care, one possibility is enough and Peretz gets the shot. The ball goes just past the goal to the left.
Today, 9:02 pm | Stefan Berndl
Grüll is lying in the Israelis' penalty area. He had been hit by Abu Abaid. But it stands again, it goes on.
Today, 8:58 pm | Stefan Berndl
Arnautovic, Grillitsch and Sabitzer in interaction. The Bayern legionnaire pulls out of the turn on the right. The ball goes to the side netting.
Today, 8:56 pm | Stefan Berndl
The first 10 minutes are behind us. There was already a good chance, everything was still very balanced. In any case, Israel is not hiding.
Today, 8:53 pm | Stefan Berndl
Israel presses early, the Austrians are playing around a bit in the back. Bachmann even has to make a hook in front of Dabbur. Luckily it's going well.
Today, 8:50 pm | Stefan Berndl
Arnautovic lets through to Sabitzer, who pulls off with his left. Marciano is down and holds safely.
Today, 8:46 pm | Stefan Berndl
Everything is set up for this penultimate World Cup qualifying game. Israel has kick-off, playing from left to right.
Today, 8:42 pm | Stefan Berndl
Israel was already allowed to, now it's Austria's turn. Land of mountains, and so on.
Today, 8:39 pm | Stefan Berndl
David Alaba is ready, I am ready. I hope you do too. It'll be serious in 5 minutes. Can the ÖFB team return the favor to Israel? We will see.
Today, 8:29 pm | Stefan Berndl
It starts in Klagenfurt in just under 15 minutes.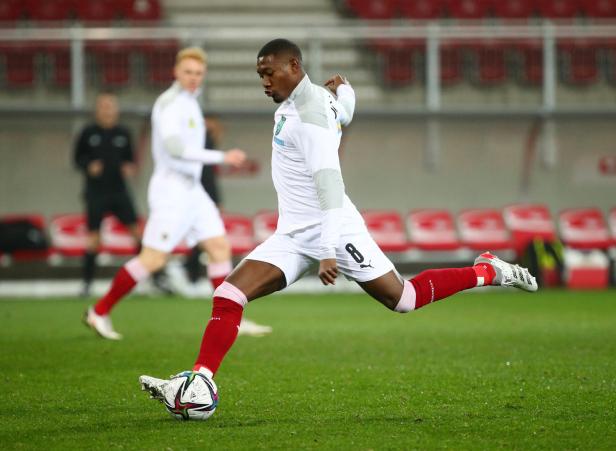 Today, 8:25 pm | Stefan Berndl
ÖFB star David Alaba subsequently accepted the trophy for Austria's footballer of the year 2020 on Friday (almost exactly 11 months later). The Real Madrid professional received the trophies for the World Cup qualifier against Israel from the new APA sports director Birgit Egarter. For Alaba it is the seventh award of this kind. The 29-year-old is the record winner of the election.
Today, 8:06 pm | Stefan Berndl
Scotland is the second place in the table in Austria group F can no longer be taken. The Scots prevailed 2-0 against the Republic of Moldova in Chisinau on Friday evening and fixed the play-off rank with 20 points after nine games. Nathan Patterson (38th) and Che Adams (65th) make the away win perfect. Moldova's Vadim Rata failed in the 82nd minute with a penalty from Scottish goalkeeper Craig Gordon.