Green party leader Imade Annouri questions the policy of mobility ships Koen Kennis (N-VA).
Photo: Joris Herregods
Antwerp-
That Voor Open Vld expresses itself somewhat in the criticism of Antwerp's road safety policy became apparent on Monday evening at the city council. The group leaders of both coalition parties do not reject mobility ships Koen Kennis (N-VA), but suggestions to do better. The intervention of N-VA faction leader Koen Laenens originated with some members of the coalition.
Almost a month after the fatal traffic accident in the Lange Leemstraat, the political debate took place in the Antwerp city council. It was already clear in the council committee that Groen, PVDA and CD&V ships will undertake Kennis.
Lise Vandecasteele (PVDA) felt that the intersection in Lange Leemstraat should be made conflict-free again. "In this way you send the signal that road safety is a priority for this city council," says the PVDA municipal councilor.
Ideological stubbornness
Green party leader Imade Annouri accused the ships of suffering from ideological stubbornness.
"It's kind of stubbornness where you can look at alternatives," Annouri says. "We have opted for car traffic at the expense of pedestrians, cyclists and public transport."
A feeling that also lives with CD&V municipal councilor Sam Voeten. According to him, district circulation plans are clearly a taboo for the ships. Only he also focuses on coalition partners Vooruit and Open Vld.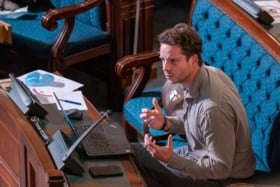 "Colleagues from Open Vld and Vooruit, I have to get this off my chest", says Voeten. "Your election program rightly pays a lot of attention to road safety and conflict-free intersections, but then you come to the council committee to ask questions about everything except the accident? I have a hard time with that silence, but also completely shifting responsibility for the lighting control. Do your job, don't wait for the elections in 2024."
crazy ideas
Antwerp N-VA faction leader Koen Laenens took on the defense of his ships and the policy. He documented this by going on the offensive against those who have meddled in this debate in recent weeks.
"For example, there were the crazy ideas of self-proclaimed mobility experts who en masse let streets come to dead ends or advocate a society without motorized traffic," says Laenens. "We will not cooperate with these dogmas of Groen. Zero risk does not exist. Weather conditions, poor prospects of human behavior can be the cause of a traffic accident. If only everyone would follow the traffic rules instead of cycling through the Kattenberg without a bicycle light or through a red traffic light at 2330. Then we could all live in a safer city."
Mayor De Wever (N-VA) had not noticed that his party leader was very specific. Some members of the coalition partners grumbled about this intervention.
Those coalition partners pointed to the completed projects that Knowledge and the city council have done to make Antwerp safer on the road. Nevertheless, Open Vld party leader Erica Caluwaerts asked to maintain the focus on improving the position of soft road users.
Fewer cars
Forward party leader Hicham El Mzairh pointed out the great responsibility that aldermen Knowledge has.
"Neighborhood by neighborhood must be radically chosen for the most livable traffic situation," says El Mzairh. "Our city is only safe if parents and grandparents know that their children and grandchildren can move around safely. There should therefore be fewer cars driving around in this city. You have everything in your hands to take care of. We are counting on you."
Alderman Knowledge defends his policy and his administration in the decision to reverse the conflict-free arrangement in the Lange Leemstraat.
"De has taken correct and correct steps", the ships. "They acted within a framework established in 2013. It is an extensive procedure: planning, executing, checking and improving. I am amazed at what is thrown at me. The fact that we do nothing about road safety is a major part of road safety."
Annouri bounced the ball back for a moment.
"The administration really does not process errors, because it works within the parameters that you impose and they do not ensure maximum maximum road safety," said the Groen party leader.