N-VA city councilor Kevin Vereecken asked councilors to explicitly express their support for the LGBTQ community to the anti-LGBTQ stickers
Photo: Joris Herregods
Antwerp-
At the municipal council, there was a serious clash between Sam Van Rooy (Vlaams Belang) and the other political groups. Kevin Verecken, councilor for N-VA and homosexual, explicitly asked his colleagues to express their support for the LGBTQ+ community to the start of the anti-LGBTQ stickers that recently appeared in the Antwerp streets. Only Vlaams Belang did not heed that call.
Two weeks ago, stickers aimed at the LGBTQ community appeared in Antwerp. The stickers, a rainbow flag with a black stripe crossed out with the text 'just normal', sparked a wave of outrage in the city.
Also Kevin Vereecken, N-VA councilor and homosexual outraged. "It feels like a punch to see popping up in my own street with the message that you are not normally bent," he said on Monday evening at the Antwerp city council. "I am strong in my shoes and can shake that off, but there are so many people, young people too, who struggle with their identity and sexual orientation. I'm mixing up a free speech discussion of whether I'm against the anti-discrimination law, that's a lawyer job, but LGBs, people from the LGBTQ+ community are normal. And we have to keep repeating that message."
Vereecken called on the various political groups to express explicit support for the LGBTQ+ community. He also specifically addresses Vlaams Belang: "You often talk about LGB rights. If you mean what you say, now you say those stickers are pure nonsense and people from the LGBTQ+ community are normal."
All political groups agree to Vereecken's appeal. "A matter of course", was heard by Groen, PVDA, CD&V, Open Vld, N-VA and Vooruit.
And that, in contrast to Vlaams Belang, sought controversy through Sam Van Rooy. "I note that men in this city and in this country would be better off raping someone for jihad attacks than putting up stickers, because only then will there be searches and arrests", Sam Van Rooy, leader of the Vlaams Belang group.
Van Rooy de, van Vereecken hypocritical. "You take the high word here about homosexuality, the figures show that 60% of Muslims do not want homosexuals as friends. There are mosques in this city that are anti-gay, with which mayor De Wever bakes sweet breads. There is a total discrepancy between homophobia and the result of the real threat of the real threat emanating from Africa and the Middle East, including now from Afghan refugees who are feeding in homophobia."
It immediately set the tone, resulting in a serious clash with Hicham El Mzairh, party leader of Vooruit. El Mzairh, himself Muslim shocked. "I'm shaking from this one," he said. "Let it be clear once and for all, Vlaams Belangers, and this comes from a Muslim: The LGBTQ community are our allies against the discrimination because you and your party consider that community abnormal. Don't put sand in our eyes, we know what you stand for. You link homosexuality with the Muslim community, but it is your party that is the problem. I am a community of LGBTQ+ not with other groups and live? It is up to us to eliminate problems, but you are constantly putting the sticks in the wheels by preventing those people as abnormal."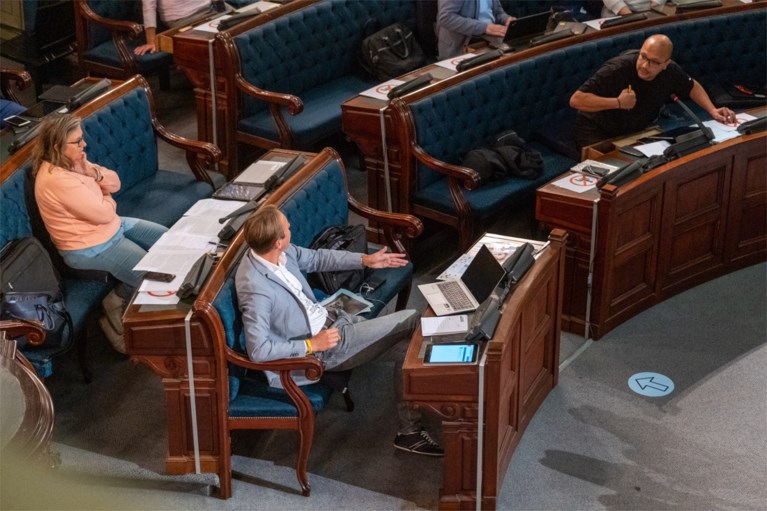 Mayor Bart De Wever repeatedly had to interrupt Van Rooy until order broke. De Wever also took the floor himself. "You put rape and terror days on the same level as the stickers. I hope that you are shocking and disgraceful, also for our police force", De Wever to Van Rooy. "Council member Vereecken only asked for all forms of sexual and gender identity to be recognized and supported. You do not do that by targeting one faith community. You have the right to your own opinion and it must be possible to express it. When it comes to these stickers, it's about a shocking opinion, an insult. You can blame the data subject for that, but it is his right to express that. It is not his right to make illegal, unaddressed charges, so it is normal for the police to investigate that and beyond."
Kevin Vereecken himself also took the floor again. "You (Van Rooy, ed.) only stand up for LGBTQ rights if that is Islam in your discourse", Vereecken. "You are the only group that says that the stickers are not that bad. I would like to thank the other colleagues for their support. You have no idea how important that is for young people who struggle with their identity. We are normal, live with it."
Vereecken's reaction was also interrupted by Van Rooy, otherwise De Wever intervened again. "Mr. Van Rooy; behave yourself or go to a café like this", De Wever concluded the debate.