On August 20, a sea of ​​festive programs awaits in Budapest and its surroundings. Fireworks of inventions on the Millenár, and a small train watching fireworks in the Buda mountains. There will be a night performance tour, an Airshow in Budaörs, an adoption day in the Érd Animal Shelter, a Folklore Festival in Szigetszentmiklós. The castle plays music in Gödöllő, an opera gala in Sződliget, Mandoki in Buda Castle, Ferenc Demjén in Törökbálin, Balázs Szabó's band in Aszód, and for the kids we offer a toy castle, a zoo with sharks, dinos, pepper jacks, and a biblical family park.
With a mobile app for your Saint Stephen's day program
Once again on the national holiday of the founding of our state and our King St. István with a four-day series of events Budapest is waiting. In addition to the water and air shows, many programs await the celebrants, you can see the Szent István hall and taste Hungarian delicacies. There will be music and dancing, crafts and story programs for the children. Information about the event at www.szentistvannap.hu can be found on or can be downloaded to your phone in a free mobile application.
Fireworks of inventions at Millenári
The Dreamers' Dreams 20 exhibition awaits you this time with sparkling ideas, fireworks of Hungarian inventions, and great family discounts.
Thank you for already 300,000 reading us on busy days! With this, BudaPestkörnyéke.hu became one of the Top 15 news portals in Hungary – details here.
A small train watching fireworks in the Buda mountains
The traditional one starts at 8 pm fireworks viewing train from Hűvösvölgy. On the Nagy-Hárs side of the festive fire above the Danube, from the special train that stops at the panoramic arch. The illuminated capital and the fireworks together provide a real spectacle, it would be a shame to miss it!
Celebrate in Szentendré, Fót, Érd
Saint Stephen's Day and the Feast of the Founding of the State
On Saturday in Érd a Hungarian Geographical Museum there will be a city celebration in his garden. Photon the celebratory mass is followed by family programs, in the afternoon Mistrál and Zanzibár perform, and the program closes with fire jugglers. Szentendre a ceremony in the courtyard of the City Hall followed by colorful programs, including a performance by the Theater, and the celebrants can enjoy a whole day of experiences in the open-air museum.
Night performance tour following the Children's Railway
It will be again on Friday night night performance tour in the Buda mountains. You can sign up for the 20 km walk from 7 p.m. in Hűvösvölgy.
Adoption and open day at the Érd Animal Shelter
All animal lovers, animal-loving families and those wishing to adopt are warmly welcome on Saturday, run by the Municipality of the City of Érd County and the Sirius Animal and Nature Conservation Foundation in an animal shelter. There will be a petting zoo, a walk, and prizes for those who can do what.
Poetry-musical slang reading theater at Zsámbék Summer Theatre
Songs, lyrics, folk song lyrics, original documents, excerpts, poems, gossips, masterpieces of folk poetry; forgotten lines and melodies. Comprehensible, sometimes funny, humorous, grotesque, sometimes very serious, dramatic but legal, edited and directed according to structured dramaturgy on Sunday in Zsámbék.
Dear Zsámbék! Slang 1
International Folklore Festival in Szigetszentmiklós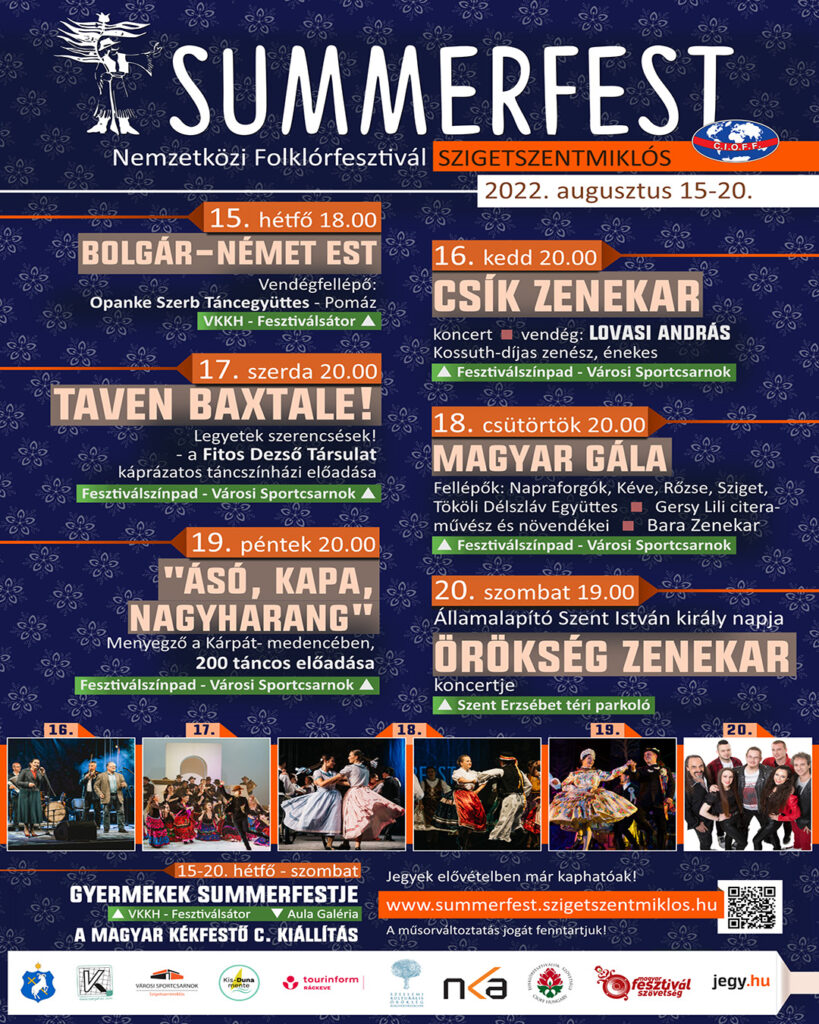 Harbor concerts in the Danube Bend
Airshow in Budaörs on Saturday and Sunday
Balázs Szabó's band in Aszód
He will perform on Sunday in Aszód, in the Music Pavilion on Szabadság tér Balázs Szabó's band. At the concert starting at 8:00 p.m., in addition to our own compositions, we can hear songs woven from the poems of János Pilinszky and Miklós Radnóti, as well as poems set to music by other poets (Krisztián Grecsó, Ferenc Szemlér).
Mandoki Soulmates on Friday in Buda Castle
THE Mandoki soulmates on August 19 at 7:00 p.m., celebrates the beginning of the jubilee year of "30 Years of Soulmates" with a large-scale outdoor concert in Budapest, in the historic Buda Castle, on Szentáromság Square. For this special occasion, songwriter, producer, drummer and singer Leslie Mandoki will take the stage with a large group of musicians Soulmates in the company of world-class rock and jazz icons such as Nick van Eede, Al Di Meola, Mike Stern, Randy Brecker, Till Brönner, Richard Bona, Tony Carey, Deobrat Mishra, Fausto Beccalossi and the Budapest music legend Béla Szakcsi Lakatos.
The castle festival plays music in Gödöllő
The participants of the music master class in Gödöllő give wonderful chamber music concerts from Friday to Sunday at in the Royal Castle of Gödöllőwhere a special flute exhibition can be seen during the course.
Demjén Ferenc Törökbálinton
The multi-awarded singer and songwriter Ferenc Demjén has joined the Mihály Munkácsy Cultural Center the TÉR Festival gives an exciting concert in the framework of
Opera gala in Sződliget
Opera gala with the leading artists of the Hungarian opera life with the greatest classics of opera literature. On August 21 at 7:30 p.m will perform on the main square of Szőgliget Classic club singers.
Biblical Family Park in Szigetszentmiklós
Saturday afternoon for biblical family day Families of all ages are welcome in Szigetszentmiklós, with a huge bouncy castle with lions and other great programs.
Not just for kids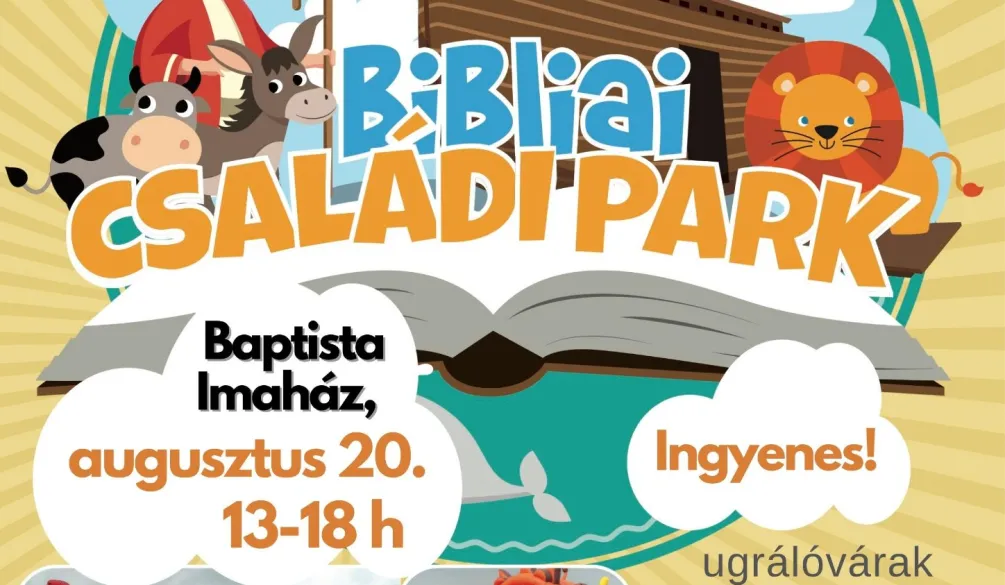 Paprikajancsi and Pinocchio in the Elf Park
THE Szigethalmi Elf Park it not only awaits the little people with experiences for the whole, but also with leisure puppets outside of this day. On the show: Paprikajancsi and Pinocchio.
An all-day experience

Dinoexpo in Campona
Many lifelike dinosaur waiting for you in the Campona parking lot. They grunt, move, and blink terrifyingly, just like the real thing!
Mirror Labyrinth, Closed area escape room in Nagytétény
THE Dreamland entertainment center 5D cinema and Mirror Labyrinth – path of fear, Locked Zone Escape Room awaits everyone who wants to have fun in lifelike terror. The 5D Attraction is a world first, where we can finally not only watch from the chair, but also experience the world of movies on our own skin, whether it is a children's film, an exciting sci-fi, an adrenaline-filled car chase or a blood-curdling horror. In special moving chairs for 4 people, during spatial filming, we can feel the blowing of the wind, the touches of the strangest characters, the pouring rain, and the proximity of the creatures. And in quite a few movies, the bubbles make the 5D effect even more of an experience.
The shark zoo with stingray petting in Campona
In the 12-meter viewing tunnel under the shark aquarium, our visitors can admire sand tiger and brown reef sharks at arm's length. In the stingray petting aquarium, all visitors can pet the stingrays. In the rainforest part, above the alligators, tropical rain falls every quarter of an hour Tropicarium in Campona.
Giant LEGO Cube Park
It's a real treat to cool off and enjoy the wonderland of LEGO for the whole family. Giant LEGO field tables are waiting for you Campona Cube Park exhibition and playhouse! Budapest city whirlwind, with lots of lifelike works in the interactive family experience center.
Field tables and playhouse
Free program recommendation
According to the accredited Hungarian advertising market measurement (Gemius), the BudaPestkörnyéke.hu news portal is read by 220,000 people a day during busy periods. So many people really see the program recommendations. We have good news! If you also have a program proposal, organize an event, or your restaurant has come up with a new menu, send us the information and we will publish it for free so that many people really know about it. Important and useful information for program organizers here!
Featured image: Facebook/August 20th Saturday