From the second division in a Champions League team: Faride Alidou dares to take this leap and has big plans for his time at Eintracht Frankfurt.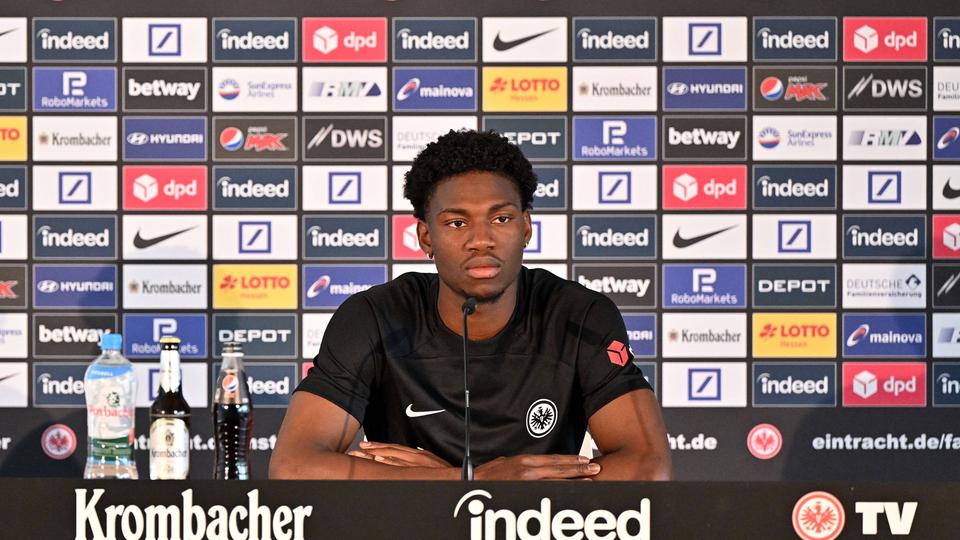 Faride Alidou is not a speaker. When the new signing from Hamburger SV answered the questions at the Eintracht press conference for the first time on Wednesday, he said it briefly and succinctly and could hardly be lured out of his reserve.
Announcements on social media
Nevertheless, it became clear that the last six months in Hamburg must have been difficult for the 20-year-old – the fans were hostile to him on different channels because of his permanent move to Eintracht Frankfurt. "Most of it was on social media. At some point you can't ignore it anymore, you can see it in the comments and private messages," reported Alidou. "Even in the stadium, I was fooled."
Family and advisors would have helped to suppress these negative experiences. And the winger tries to take something from it for his further career. "I hope that I've matured as a result." Alidou probably dares to make the leap from the second division to a Champions League team. "If I do what the coach wants, I'm sure I'll get my seasons and then I can prove myself."
Back from vacation early
He came here to assert himself, according to the message from the Hamburger, which sounded unspectacular in his friendly, calm manner, but might make you sit up and take notice. In addition, Alidou voluntarily returned from vacation a few days earlier and opened at Eintracht at the end of the past week. He seemed willing to play in the test against Aschaffenburg on Tuesday (1-0), even if he didn't quite succeed in the offensive actions.
"I know that I'm very fast and very dynamic and that I have good technique. But I still have to work on my degree and maybe on the header," said Alidou, describing his strengths and weaknesses and revealing another part of his player personality, even did not suit the reserved young man from the PK room. "It's part of my style that I'm a bit cheeky on the pitch. I want to keep it that way."