It has been noticed for some time how many exciting restaurants there are in and around Népszínház Street. Among others, there are Indian, Persian and various African buffets. I wanted to try one of the African restaurants, and in the end I chose the African buffet in Bérkossis utca. The food was less exotic than I expected, but it was plentiful and very tasty. The owner, who has lived in Hungary for 20 years, and Hemi's lemonade is simply unbeatable.
What surprised me right away was that I saw only a few types of food on the counter, and besides, neither name nor price is listed next to them, but standing behind the counter, Hemi, who was just cooking another dish, willingly explained everything about it. I was able to taste three different beef stews and stews: there was one plain, one with pumpkin seeds, and one with okra – which is a popular vegetable in African countries. I could choose rice and beans prepared in different ways, and there was also a vegan main dish: steamed spinach with coconut milk. is being prepared, in principle I could have asked for grilled chicken, but I was not particularly interested in this option.
Africa buffet

Picture: Benke Hunor

Finally, I tried the beef stew with pumpkin seeds and the spinach with coconut milk, with tomato rice, a little chili sauce, and I also asked for a Zanzibar lemonade. Based on the online reviews, I wanted to try the goat soup and the small dumplings made of yam root, but the former was sold out, and the latter was found to be in the fridge when I was completely full.
With the finished meal, I settled down outside: this part of Víg utca, towards Rákóczi tér, is closed, and the asphalt is painted with cheerful, colorful paint, where the cafes and canteens unload their chairs and tables. It is very cozy, although the trees are sorely and conspicuously missing here.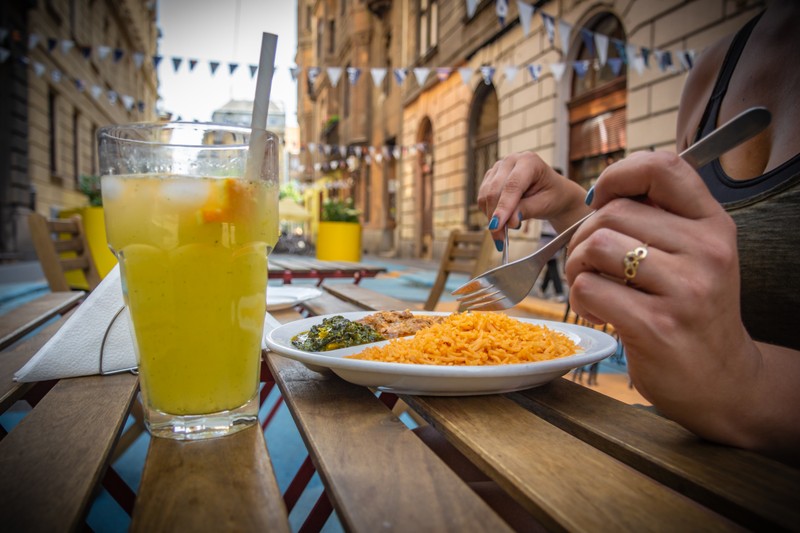 Africa buffet

Picture: Benke Hunor

All I can say about the food is that it surprised me: I thought it would be much more "exotic", something that my European taste buds would have to contend with. For this, everything was very tasty, but not particularly "extra", I mean extra in the sense that it would have been unusual or too exotic. I simply shoveled in a large portion of homemade, brightly spiced and very delicious food. The beef was a bit extra soft and the rice was of very good quality.
I really liked the lemonade, which, according to the Zanzibar tradition, was topped up with fresh fruit by Hemi, the owner of the place, with whom I had a little chat while paying.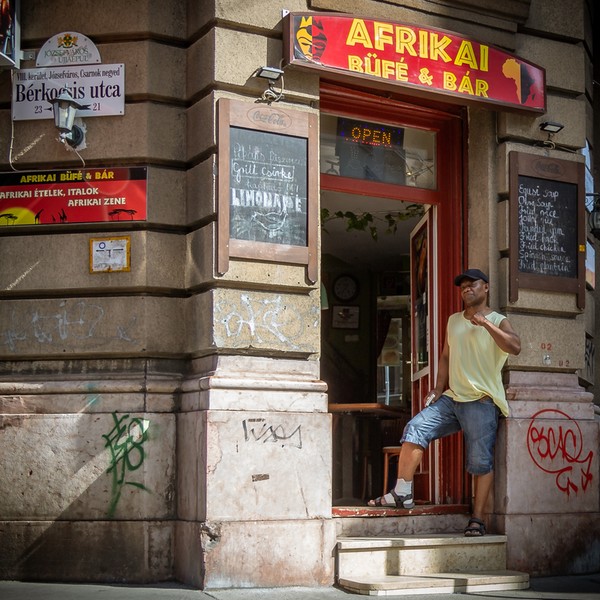 Africa buffet

Picture: Benke Hunor

How did Hemi come to Hungary?

In the vicinity of Népszínház utca and on the other side of Rákóczi út, in the vicinity of Király utca, several African bars, pubs and restaurants have opened, apparently the Africans living in Budapest are concentrated here. Of course, Africa is a huge and diverse country: Pest also has pubs of different nationalities: Nigerian, Ethiopian, Cameroonian, etc. Hemi did not come from the continent, but from one of the most beautiful African islands, Zanzibar.
"I come from Zanzibar, Tanzania. I came to Hungary 20 years ago to study here. At first I wanted to study architecture, and finally I studied business management. Then I brought my family here. I had a business before. And then, since there were no African restaurants in Hungary at that time, they decided to open a place."
Hemi speaks English and Spanish, but he lives here enough and enough to understand Hungarian, and he himself mixes some Hungarian expressions into the conversation. While I praise the beef stew with pumpkin seeds enriched with coconut milk, he himself stated about Zanzibar cuisine that because they like strong, loud flavors and lots of onions, it can be exported quite easily:
"I think the spices we cook with can be found in 90 spices all over the world. But there is another one, which is 10%, which is very rare. So the question is, how do we mix these so that the we achieve original flavors.And you know, every country in the whole world has its own special food.
We also have many dishes like what they eat here. Onions and beans are also a staple here. This is a vegetarian dish and is delicious with spinach in coconut milk. And there is a type of ragout, or stew, that can be prepared in many ways: with spicy beef or chicken." – immerses himself in the details.
Africa buffet

Picture: Benke Hunor

I was a bit confused by the menu, or at least the lack of a posted menu (although based on the information found on the internet, I found that I don't need to be afraid of eating too much). Hemi explained this by saying that the offer changes daily, and sometimes something runs out during the day: for example, I just couldn't eat dessert, even though I would have tried the fried banana.
"Here in the buffet, we offer a daily menu, so there are dishes that are not available every day" he explains.
Among the specialties of Zanzibar, he mentioned the side dish made of crushed yam, which is mostly a small cake resembling a handful of soap or raw yeast dough. Since Africa is very hot, wheat is not grown much outside the Nile Delta, and traditionally, they bake or cook from the flours of plants that tolerate the heat and sun better.
"Traditional dishes can be found all over Africa. In our country, people do not use wheat flour, but corn flour, some use yam flour or cassava flour. Yams are not grown here in Hungary. This pie is made from yam flour and resembles mashed potatoes." says Hami.
Sun-tolerant ingredients such as tomatoes, spinach or sweet potatoes are also quite common in African cuisine, but of course there are some that are difficult to find: although in parallel with climate change, it may be worth getting to know plants such as, for example, Africa is extremely popular cause.
"The okra is also quite popular here, which perhaps resembles a special kind of cucumber, and is very healthy, and it is heat and drought tolerant, but it is not grown here. It is also delicious raw, but we also put it in stews and soups, and it is also excellent with fish." – presents a variety of vegetables unknown in our country.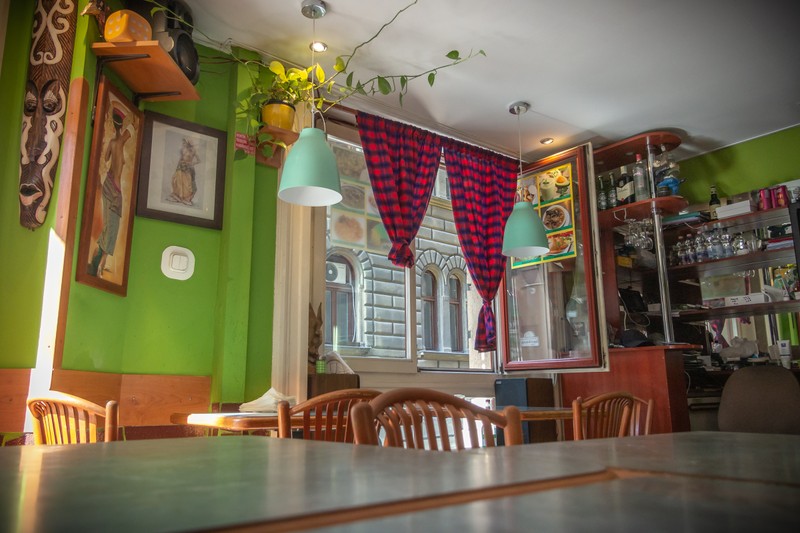 Africa buffet

Photo: Benke Hunor

Hemi said that fruit lemonade is a kind of "folk drink" in Zanzibar, which is made in many versions and typically sold on the street:
"This type of lemonade is typically Zanzibar. Because in Zanzibar there are many different fruits. And when it's in season, they mix many different fruits to make fresh juice and sweeten the lemonade with that, of course with a lot of spices. This one now has mango juice, cloves and lots of lime vans .
You can also order from this place online, but I think it loses all its interest at that point. It was much more fun to go there and indulge in some authentic and exciting Zanzibar cuisine just around the corner from the boardwalk.
Based on the online reviews, the service is always very nice, and several people have written that if you visit in the evening or at a suitable time, you can even join the spontaneous conga concert of the owner's friends.