Under a tiny stone sign a few steps from Városliget, a whole small town passes by every day, yet few notice it.
The first Soviet armored personnel appeared on the border of Budapest on November 3, 1944, and in the next hundred and two days the Red Army ground the remaining forces of the German and Hungarian defenders, thus bringing the city under Soviet control.
As a result of the siege ring around the capital on Christmas Day, the Soviets reached the City Park in just two weeks, where fighting began for days on January 11, causing considerable devastation. On the 14th the Eastern Railway Station and on the 15th the Western Railway Station fell into the hands of the Red Army, and two days later they reached the line of the Danube, where the Petőfi, Szabadság and Elizabeth Bridges, destroyed by the retreating soldiers of the Third Reich, no longer stood. and the Chain Bridge also fell into the river.
In the meantime, of course, the Red Army is also attacking the Buda side, but there the Városmajor, the mountains and the Bloodfield stopped the attackers for long days, who finally took control of the whole of Budapest on February 13. destructive measures.
Final Solution
The Eichmann commando, which arrived with German occupying forces, immediately began to carry out the Hungarian chapter of the "final solution" in Budapest after taking over the city on March 19, 1944. As a result, the number of Jews in the capital was reduced to 144,000 in 1941. László Sebők The Jews in Hungary in the light of the numbers in his study.
Of course, the arrival of the Russians did not bring any experience to a better world on all fronts during the German and Arrow Cross rule: the Red Army was able to take control of Budapest much slower than planned and only with serious losses. Malinovsky marshal with a much larger enemy force than the actual one – 180-200 thousand instead of 79 thousand – justified To Stalin, and he wanted to fill the gap between the two numbers from the population.
This is how it happened: during and after the siege, civilians disappeared from the capital and its environs en masse – Krisztián Ungváry (Siege of Budapest, 1998), to spend the next few years in forced labor camps.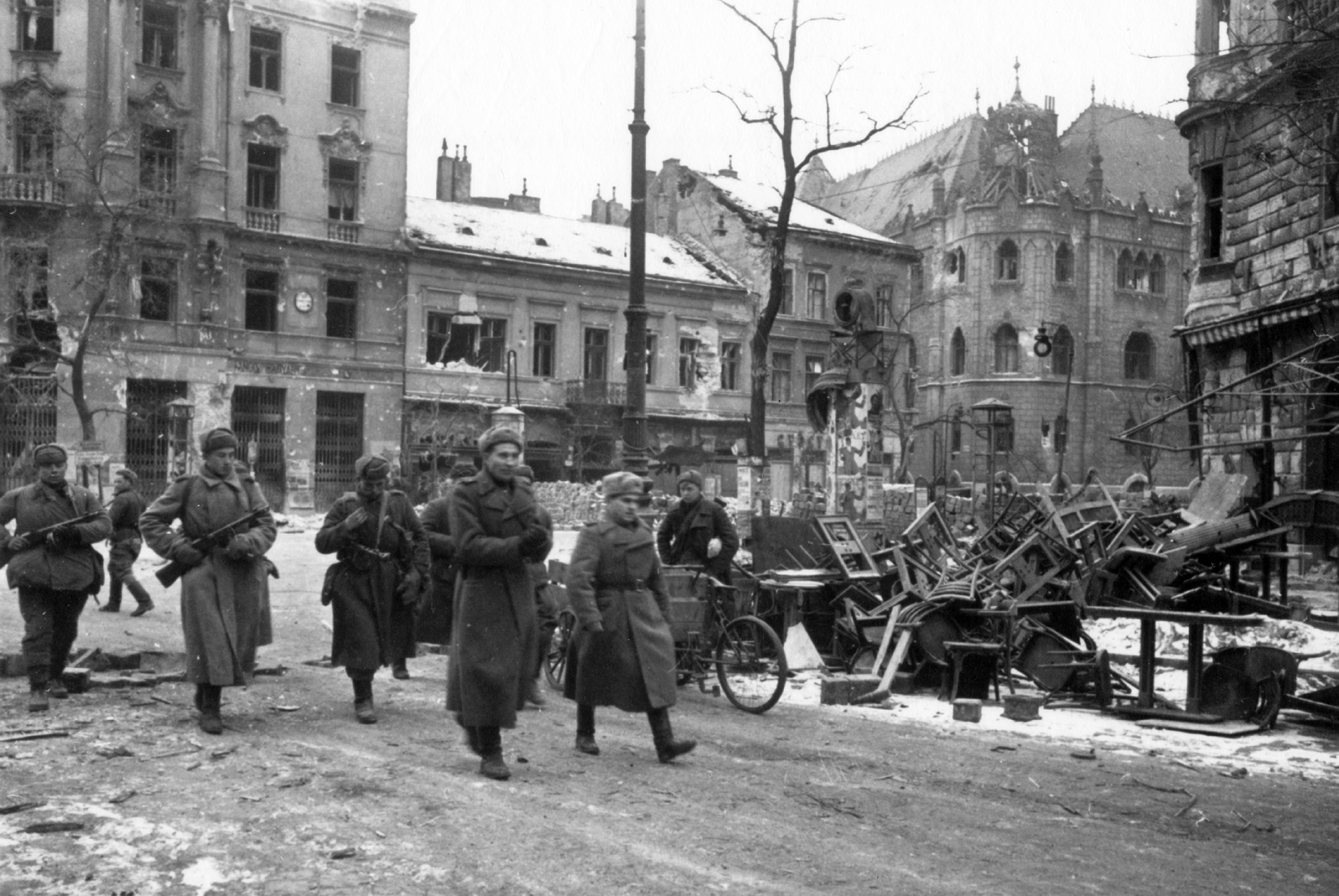 The liberating-occupying soldiers committed a lot of rape: the CEU professor Andrea Pető according to his research only in Budapest could the number of raped women be between 50 and 200 thousand, although due to its unresearchability – many of the victims tended to conceal what happened to them, and the otherwise unavailable Russian archival sources do not show an exact number – data reflecting the truth will never be available .
All these facts – and the fact that for many the hardest part of the war was due to the Soviet occupation – did not stop for four and a half decades, as the Red Army remained in Hungary until 1989, and the Rákosi and Kádár era he did not allow people to speak openly about what had happened and those responsible to be tried by a court, in fact, April 4, the holiday of liberation, became a national holiday until the change of regime.
In light of this, it is not so surprising that not only masses of monuments appeared in various parts of the city or the country, but sometimes residents expressed gratitude to the Soviet army, all the more so as one of them resisted even three decades after the regime change. the storm of history.
In today's episode of our series, known as Unknown Budapest, which shows the hidden places of the capital, we present just one example, in an area where a small-town man turns every day, yet few of them notice a stone sign sinking into a wall that is slowly fading due to traffic. .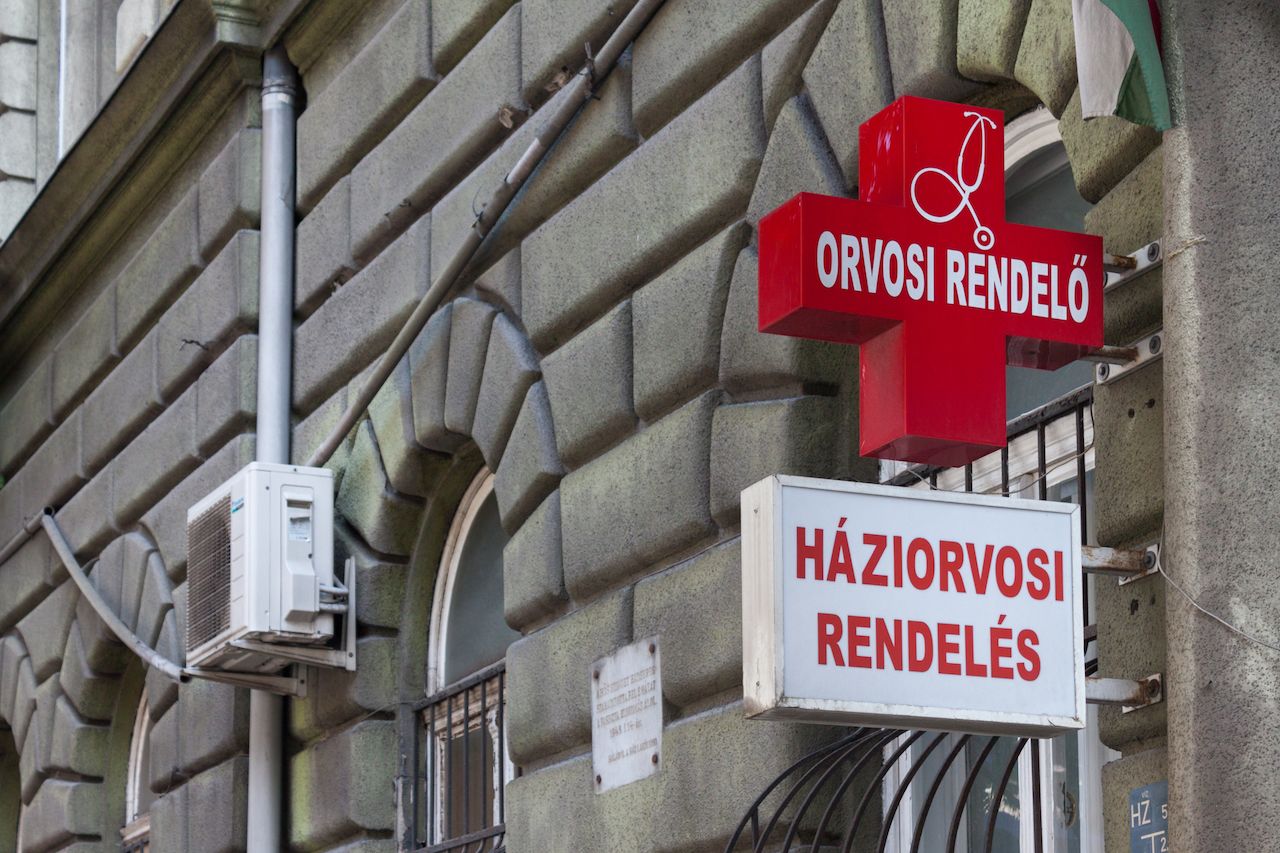 It runs along Városliget, stretching from Kerepesi út to Váci út Dózsa György road was named in 1945, shortly after the war, as part of a process that is little known in Hungarian history or, according to the system, does not properly treat its figures with the desired street name or public sculpture. Thus he became one of the most celebrated personalities in socialist poetry Attila József (1905–1937) and became known to everyone in just thirty years Endre Ságvári (1913–1944) and opposed to Nazism Endre Bajcsy-Zsilinszky (1886–1944).
Many of them did not receive a monument or statue until the end of the decade – partly because the tenders for them were unsuccessful – but they paid tribute to them: The face of Bajcsy-Zsilinszky as early as 1946, to György Dózsa, who started the peasant war three years later to the poet who died young and in 1952 it was placed in one of the houses at the beginning of the street bearing their name.

Gallery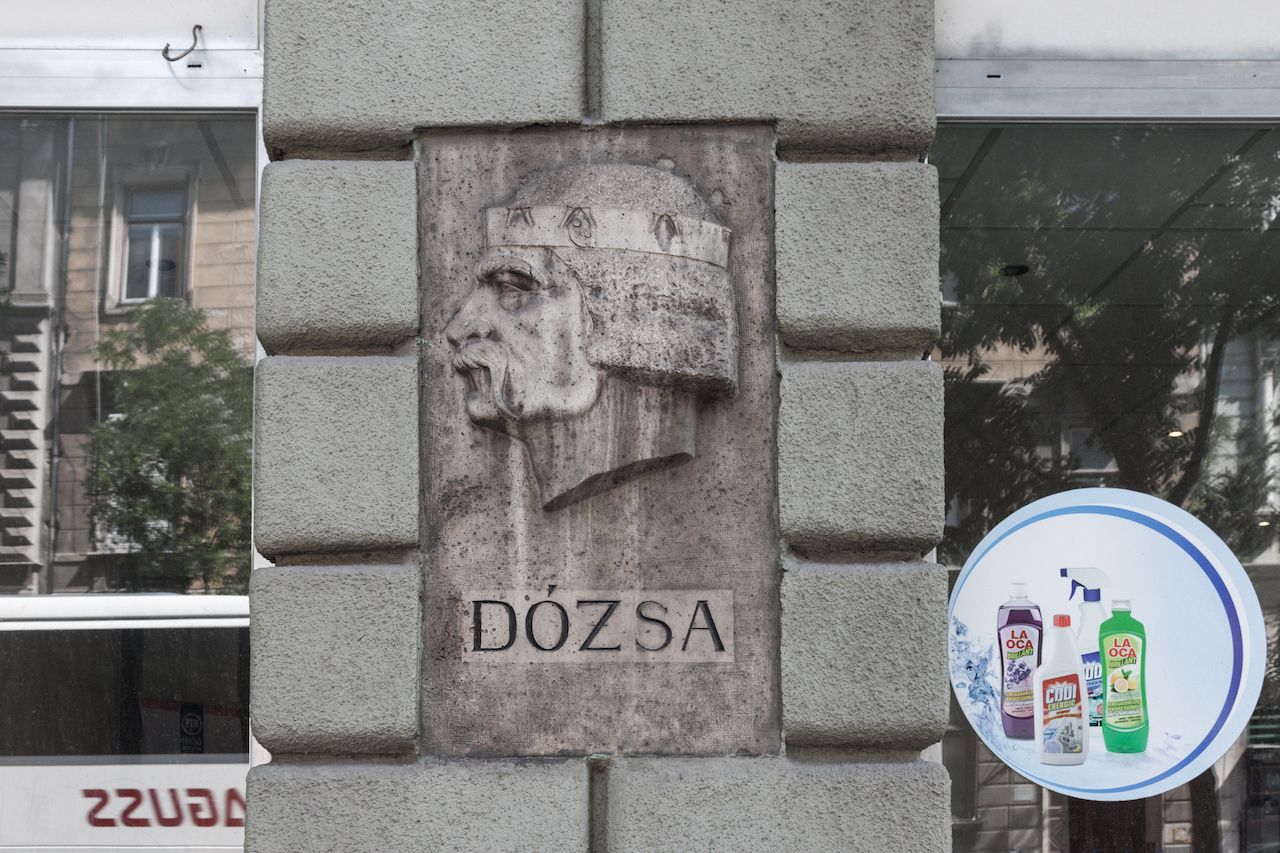 Recording the author
Even today, a downtown memorial plaque thanks the liberating Soviet army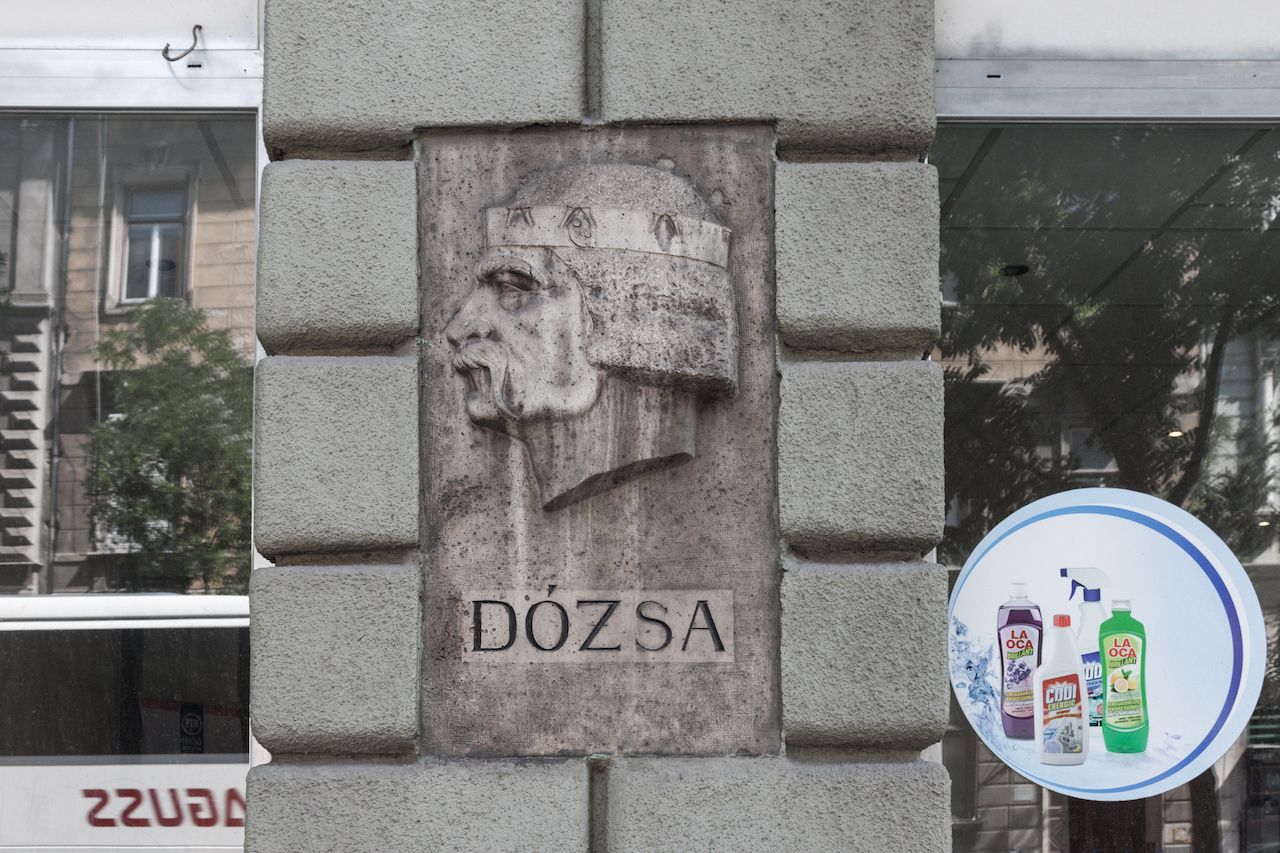 Recording the author
Share a photo: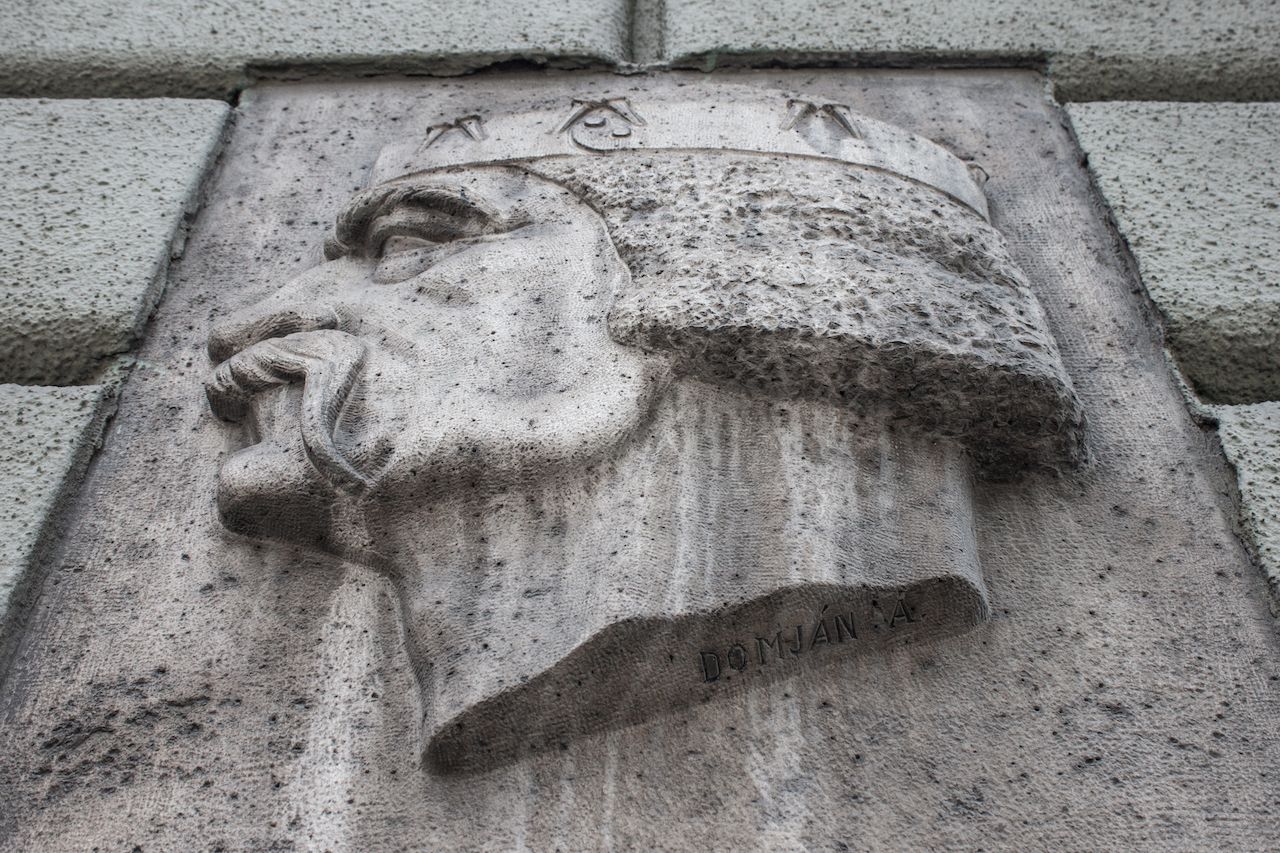 Recording the author
Share a photo: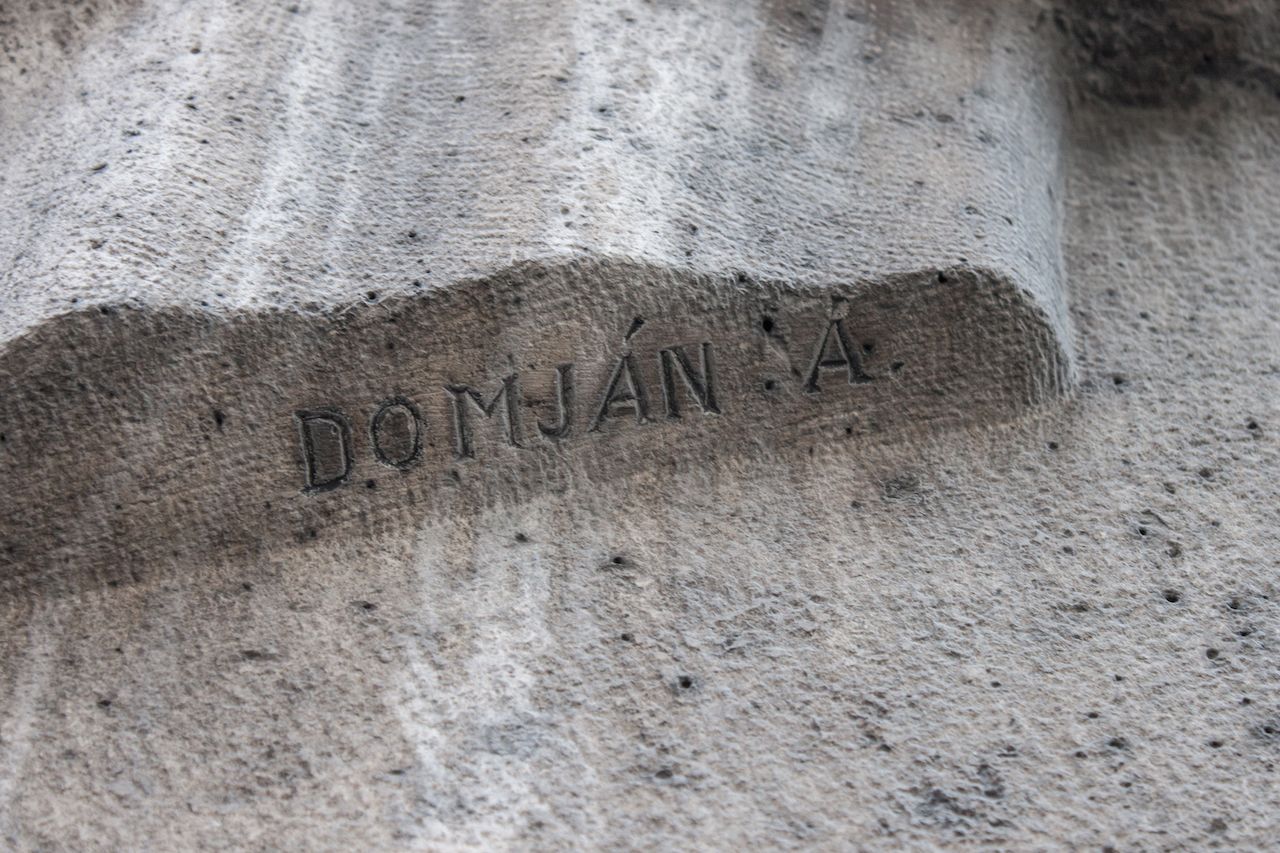 Recording the author
Share a photo:
A few meters from this, on the other side of the gate, between two ground-floor windows, is the grateful inscription, which can be noticed as you walk on this side of the street with only a few neck stretches:
The hero is the Soviet army
liberated this house
under fascist repression.
[1945I14-én
Hálából a ház lakói 1959.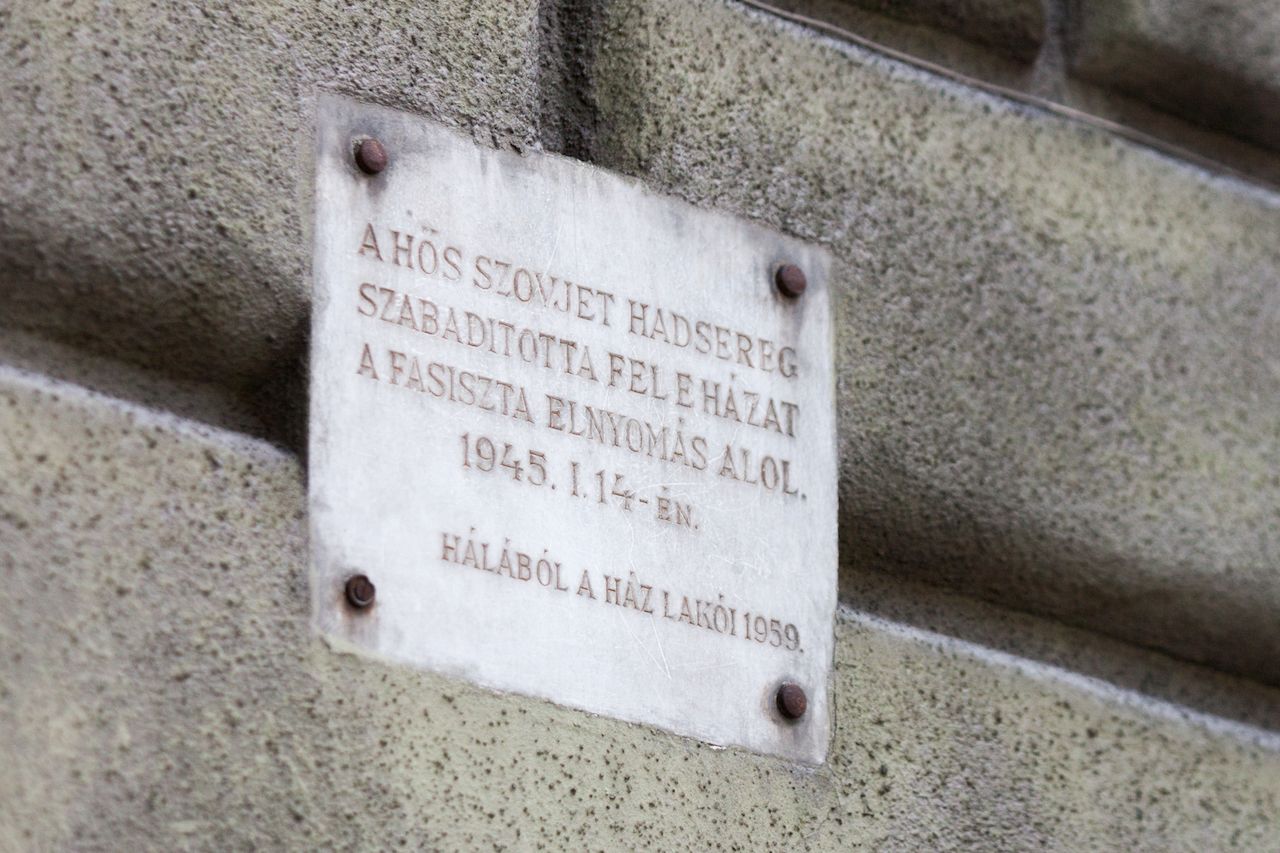 Az állítás évében a Béke Ballon-Esőkabát és Sportruházati Szövetkezet boltjának is otthont adó épületen jó eséllyel nem csak úgy, mindenféle apropó nélkül bukkant fel a táblára, hiszen az Igaz Szó című lapban Árkus József tollából megjelent cikk szerint a házat pont abban az évben újították fel, mégpedig társadalmi munkában:
"Így született meg a zuglói kerületben az a nagyszerű társadalmi munkamozgalom, amilyenre – pedig negyven esztendeje vagyok kommunista – még sohasem láttam hasonló példát. A Dózsa György út 7. szám alatti hatalmas bérházat például a lakók saját erejükből tatarozták ki, s közben kétezerkétszáz munkaórát dolgoztak minden fizetség nélkül, pusztán azért, mert közös dolgainkat a magukénak is érzik."
A tábla jó eséllyel a felújításokkal egyben jelenhetett meg, az elmúlt hat évben pedig túlélt minden, az így esetleges eltüntetésére indított akciót.
Az épület külsőleg ugyan egyhangúnak tűnik, mégis megérdemli a figyelmet, hiszen a falak mögött a főváros történelmének egy érdekes darabja rejlik: a Schwartz Pál által 1895-ben tervezett háromemeletes bérházban megbújik ugyanis egy rejtett udvar, melyben az Agapé Pünkösdi Gyülekezet imaháza áll.
A mindössze 245 négyzetméteres épületről a gyülekezet honlapja, illetve Wintermantel Balázs minden részletre kiterjedő tanulmánya azt írja: a helyiség régebben lovaglóterem volt, amit egy ideig a háztulajdonos gróf Wass család egy lánygyermeke használt, a századforduló után pedig az erdélyi gyökerű család által megbízott adventista gondnok hozta itt létre a város első adventista imatermét. Annak sikerét látva a missziót Magyarországon vezető John F. Huenergardt Kolozsvárról Budapestre tette át a központját, a kis épület pedig 1903–1905 között az országos misszió központja volt. Őket a Szegénysorsú gyermekágyas izraelita nőket segélyző egyesület váltotta, és legalább 1916-ig bérelte a termeket. A zsidó jelenlét ezzel nem szűnt meg, hiszen a következő másfél évtizedben az épület Erzsébetvárosi Imaegyesület (1921), Erzsébetvárosi izr. imaház (1923), a zsidó gimnázium temploma (1923), Erzsébetvárosi Izraelita Templom Egyesület (1926), illetve Bész Jiszráel Imaház (1927) néven is felbukkan a kor lapjaiban, habár Wintermantel szerint ezt a funkciót ezután a Pesti Izraelita Hitközség Fiú- és Leánygimnázium (ma az ELTE Radnóti Miklós Gyakorlóiskolája) épületei közül az egyik vette át, a zsinagóga, illetve a Templom Egyesület pedig a Bethlen térre költözött, ahol 1931–1932-ben megszületett a ma is működő imaház.
A Dózsa György úti helyiségben 1933-ban még egy izraelita főzőhely volt, a következő évben azonban a zsidók helyett már a mai Agapé elődjét találhattuk volna az épületben.
A kőbányai párhuzam
Nem ez az egyetlen egykori zsinagóga, amit a pünkösdisták használnak, hiszen az elfeledett Schöntheil Richárd munkájaként 1911-ben megszületett, ötvenöt évnyi szolgálat után két évtizedre raktárra vált (Mezőgazdasági Múzeum, Nikex, Magyar Televízió) kőbányai zsinagóga 1989 óta az Evangéliumi Pünkösdi Közösség Sion Gyülekezetének tulajdona.
A közösség egy néhány hónapos felújítás után 1934 augusztusában beköltözött a házba, és a tagok már nyolcvanöt éve annak használói, noha a kisegyházak betiltása után negyvenöt évig hivatalosan az evangélikus közösség részét képezték, túlélve az 1952-es államosítást, sőt, az ingatlant kezelő Kincstári Vagyoni Igazgatóság 2005-ben térítésmentesen tulajdonossá tette az egyházat, ami négy évvel később a gyülekezetnek ajándékozta az épületet.