Attica and Thessaloniki "star" for another day in the epidemiological map regarding the new cases of coronavirus.
Specifically, out of the total of 5,117 cases not known to EODY, 1,537 were detected in Attica, while 818 new infections were found in Thessaloniki.
Achaia is also burdened with 126 cases, Evros with 122, Heraklion with 116, Larissa with 124, Magnesia with 102 and Serres with 129.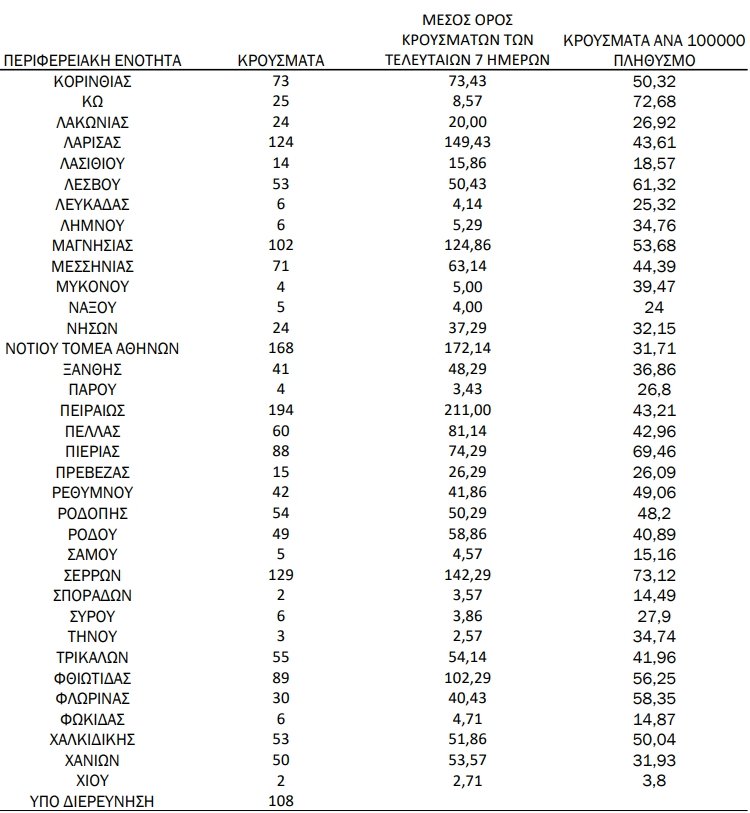 The announcement of EODY for the new cases of coronavirus
The new laboratory-confirmed cases of the disease recorded in the last 24 hours are 5,157, of which 11 were identified after checks at the country's gates.
The total number of cases is 962,695 (daily change + 0.5%), of which 50.6% are men. Based on the confirmed cases of the last 7 days, 99 are considered to be related to travel from abroad and 3,290 are related to an already known case.
The new deaths of patients with COVID-19 are 88, while since the beginning of the epidemic a total of 18,516 deaths have been recorded. 95.4% had underlying meaning and / or age 70 years and older.
The number of patients treated intubated is 697 (61.5% men). Their median age is 65 years. 80.8% have underlying meaning and / or age 70 years and over. Among intubated patients, 555 (79.63%) are unvaccinated or partially vaccinated and 142 (20.37%) are fully vaccinated.
Since the beginning of the pandemic, 3,554 patients have been discharged from the ICU. The admission of new Covid-19 patients to the hospitals of the territory is 455 (daily change + 7.82%). The average seven-day admission is 450 patients. The median age of cases is 38 years (range 0.2 to 106 years), while the median age of death is 78 years (range 0.2 to 106 years).
See all the latest news from Greece and the world, at