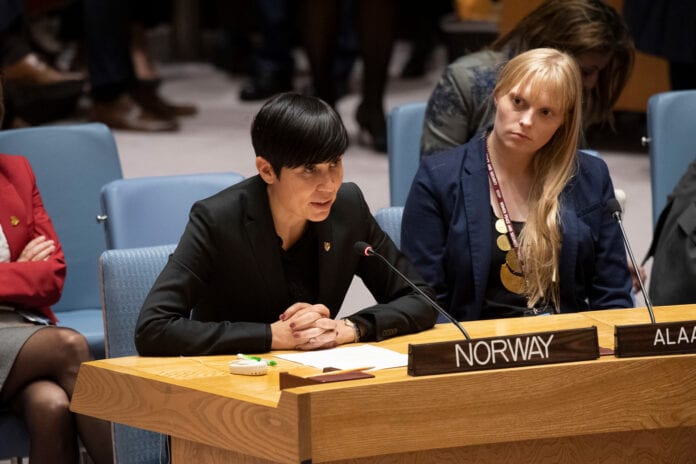 After the election on 13 September 2021, Norway will have the most anti-Israel Storting ever.
In 2001, the UN held a so-called "World Conference against Racism" in Durban, South Africa. The conference was marked by intolerance, anti-Semitism and baseless accusations against the world's only Jewish state. "In 2001 and used, the Durban company has been used to promote racism, intolerance, anti – Semitism and Holocaust denial and to undermine freedom of expression and Israel's right to exist," he wrote. UN Watch on a fact page.
On 22 September, in connection with the UN General Assembly, a high-level meeting was held to mark the 20th anniversary of the first Durban conference.
Prior to the meeting, MIFF tried to get the Ministry of Foreign Affairs to answer whether Norway would participate. When we first sent questions, the following countries had already said to participate: the United States, Australia, Canada, Israel, the United Kingdom, Hungary, the Netherlands, Austria, the Czech Republic, Germany and France and Bulgaria.
– We have a close dialogue with other countries. A decision will be made once we have all the relevant matters attached to the meeting. We can get back to you when the decision has been made, the Ministry of Foreign Affairs replied for the first time on 31 August.
On 16 September, MIFF asked Foreign Minister Ine Marie Eriksen Søreide directly. Meanwhile, Italy, New Zealand, Greece, Croatia, Slovakia, Slovenia and Greece had also announced their withdrawal.
Søreide replied as follows: "We are now in a dialogue with several other countries, related Nordic countries, among other things, how the planner can act. This is in many ways a dilemma. Under normal circumstances, we do not have much faith in the boycott as a tool, but at the same time we also saw the challenges that Conrad Myrland points out, and which means that there are several countries that do not participate at different levels. But this is like much else during the high level week work in progress, where we have a good dialogue with neighboring countries to control what we do together and how we do it together. »
Only the day before the conference did State Secretary Jens Frølich Holte clarify that Norway is participating in the Durban conference at official level, not at political level.
But the community with neighboring countries, which the foreign minister talked about last week, turned out to crumble away. Neither Denmark nor Sweden participated in the Durban conference. MIFF is proud that we have contributed with pressure on governments as well Copenhagen and Stockholm.
In the end, at least 38 countries in the world, at least 21 out of 27 EU member states, we can stay away from Durban. Where did the Norwegian close dialogue with other countries go? When all our most powerful allies, when all the major EU countries, and the Social Democratic foreign ministers of our neighboring country, can distance themselves from the anti-Semitic history of Durban, why can a right-wing government minister not be made possible to rectify a period as foreign minister? Is it a consolation for Norway that we have fellowship with Irish and Belgian diplomats when we sit and listen to Iran condemning Israel from the UN rostrum? Is it in this way that Norway can place itself on the UN Security Council?
A number of bodies in the UN system are an effective alternative to Israel and a particular Durban track has been couped by anti-Israel forces. . .
———
If you miss the comment field for Facebook here under the article, this is unfortunately beyond MIFF's control. This may be due to your browser, settings on your browser and / or settings in your Facebook user. Comments can be sent to [email protected] or posts on MIFF's Facebook page.
It is super easy to give a gift to MIFF's work for Israel
Click on the image and give one with your mobile phone in a few seconds. Charged with your next mobile invoice.
You can also give one to send the password GIFT with SMS to 1948. Standard 250 kroner, write any other amount after GIFT in the message.