Archive image of the start of the Tour of Flanders on the Grote Markt.
Photo: BELGA
Antwerp-
From Friday 24 to Sunday 26 September, the World Cycling Championships will be camping in Antwerp. Three games start in the city center. The event will cause nuisance in traffic and public transport.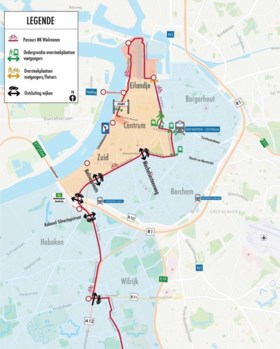 On Friday afternoon the U23 race of the World Cycling Championships starts on the Grote Markt, a day later it is the women's turn and on Sunday 26 September Wout Van Aert and co leave in the shadow of Brabo for their 268 kilometer long world championship. The three journeys depart from the Grote Markt and make a loop along the Eilandje, Italylei and De Keyserlei to Central Station. Then it goes via the Pelikaanstraat and the Van Eycklei to the Leien. The peloton then leaves the territory of the city of Antwerp via the Bolivarplaats, the Jan De Voslei, the Boomsesteenweg and the Doornstraat.
The city reports on slimnaarant.be that the course will be completely closed two hours before the start of the race. "Once the riders have passed, the track will be reopened to all traffic as soon as possible," it said. Parking is prohibited on the course and on the Scheldt quays throughout the weekend.
Family Ride on Saturday afternoon
When the women's peloton leaves the city on Saturday afternoon, the course will remain closed for a while. During a Family Ride, anyone who wants to can take a ride on the track between 1 p.m. and 5 p.m. Along the way, five entertainment zones can be found at the Port House, the MAS, the Operaplein, the Stadspark and the Scheldt quays.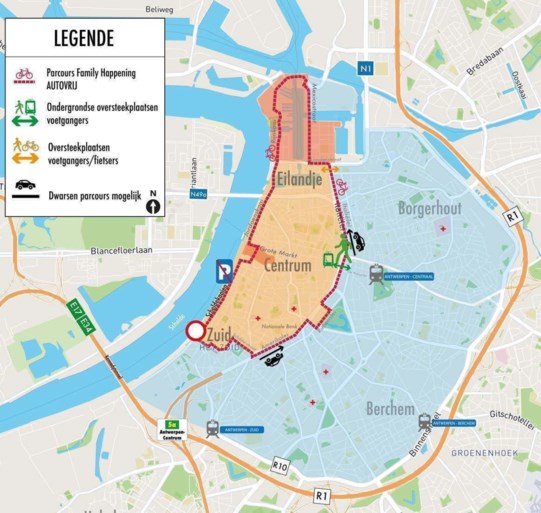 Public transport shortened or deleted
Also transport company De Lijn for nuisance during the World Cup weekend. Several bus lines that run to the city from the southern edge are being shortened. A complete overview of these bus lines can be found on the De Lijn website.
Slim naar Antwerpen advises supporters to park their car at one of the park-and-rides on the outskirts of the city and take a tram there to the center. Various tram lines also run from Central Station to the start of the course.
https://www.slimnaarantwerpen.be/nl/werken-events/wk-wielrennen-2021