Sander van der Kraan (21) has just sat down with co-organizer Mieke Megawati Vlasblom (25) to talk about the Housing protest they are organizing when his phone rings. Ah, it is top civil servant Hans Ton who calls to make an appointment with Minister Ollongren, says Van der Kraan. "No idea what they want to talk about. But they already emailed that they wanted to talk to real people instead of umbrella organisations.'
Later on, a few thousand beer coasters will also have to be printed for the Housing protest on Sunday 12 September in Amsterdam. Printed on the coaster is a graph showing the enormous increase in the average house price in Amsterdam since 1995. 'We have to have a pub crawl tonight to hand out those coasters,' says Megawati.
Van der Kraan comes back into the room. He kept the conversation short with Hans Ton, the director of housing at the Ministry of the Interior. 'The minister would like to have a conversation before and after the protest,' he says.
'Well, we'll have to discuss that later. I don't think anything before that. Do they want to encapsulate us already?', Megawati laughs.
Almost a week before the protest against the sickening housing market, everyone wants to talk to them, they say. TV, radio, newspapers, politics. What started in June with a wild plan with a beer on a terrace in Rotterdam – 'that was after a demonstration for Palestine, which attracted about four hundred people', says Megawati – is slowly starting to show the promise of something big.
Serious protest

One by one, organizations and volunteers joined the idea and now it has the potential to grow into a serious protest, with attendances started. Van der Kraan and Megawati certainly feel the excitement. Van der Kraan: 'At first I was a bit skeptical about the plan. Would it live enough? Do people come here? Do people believe that it is because of the failing system and not because of themselves?'
Megawati: 'We are now assuming eight thousand people. But we'll be there if we don't make more.' Also take into account a hefty crowd. 'We are in regular contact with the municipality and the police to coordinate things,' says Van der Kraan. We are going to complete the entire Dam, she says enthusiastically.
They hope for a massive uprising against the high house prices, the enormous shortage of social housing and the unbridled rise in rents in the free sector. According to them, there is a colossal housing crisis in the Netherlands, which demands more every day. They don't even estimate that crisis yet. An end to the provisional price increase in the rental and owner-occupied sector is not yet in sight.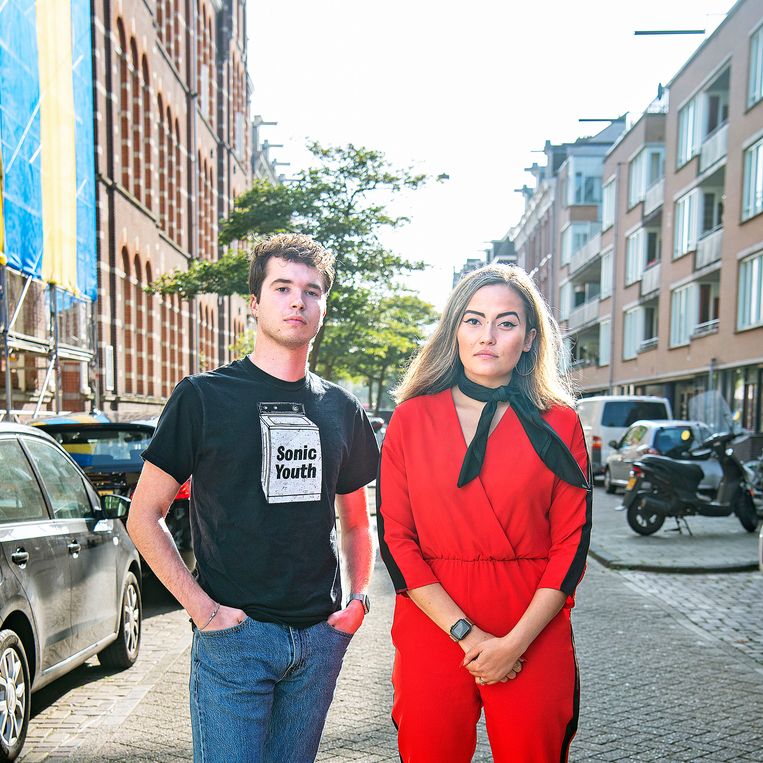 The fact that there has not been a major national protest before is due to the 'fable' that people themselves are responsible for their happiness in the housing market. Van der Kraan: 'Our generation has always been told that happiness can be made.' Megawati: 'Success is a choice, that was the motto. But at last the penny dropped for a lot of people. It's not advice, it's a collective problem.' Van der Kraan: 'People now realize that it is not their fault if they cannot find or pay for a home. They are victims of neoliberal policies.'
Landlord levy

Politics has caused the problem itself, says Van der Kraan. Through tax benefits for homeowners, through the investment of the social sector. The Netherlands is the only country in the world with an extra tax for social housing, the landlord levy. That worked, didn't it?'
That it is not easy to find a homeve they on the lee. Van der Kraan, as a social media specialist for progressive parties and idealistic organizations, is forced to live with mother in Krimpen aan den IJssel. Megawati, office manager at a tech company and national board member of the political party Bij1 of Sylvana Simons, rents an apartment with her boyfriend in Rotterdam, with a temporary lease for 1,530 euros per month.
The discussion about the future housing market was driven by the search for external placement, they believe. Sometimes it was due to problems with nitrogen in construction, then again to immigration. Van der Kraan: 'The problems were all so big and complex that the politicians were unable to take matters into their own hands.'
The demonstration on Dam Square (and subsequent demonstrations in Rotterdam and The Hague) should be the starting point of a movement for a just housing policy. Megawati: 'We haven't come up with an action plan yet. But don't make us responsible for a response to the crisis. It's not the people who broke the system.'
crack

They do want to give some advantages. Abolish the landlord levy. Stop greedy investors. Regulate rents in the free sector. Expropriate the property of landlords with thousands of homes. Stop the 'racist and classical' interventions in the working-class neighbourhoods, where corporations chase people out of their homes for new construction, but they do not offer an affordable alternative. People from minority groups and the poorer neighborhood residents date disproportionately. Megawati: 'This is how people are chased out of their city. The ground under their feet is more valuable than themselves.'
Another point from the activists of Woonprotest: abolish the ban on squatting living space. Van der Kraan: 'Cracking past when targeting parasitic investors. In this way you look for the friction between people and the market. It also opens up another more philosophical discussion. What is violence? Squatting a house? From chasing people out of their homes and letting them live on the street?'
The meeting with Minister Ollongren, will it take place this week? No, let Van der Kraan know after the meeting about the invitation. 'We first want to let the next of this crisis speak. When we go into consultation, it is important to make a strong statement first.'