Neither Vyšehrad (232 meters), Vítkov (271 meters above sea level) or Petřín (327 meters). The highest elevation of the capital city of Prague is Teleček, which is 399 meters above sea level.
A colleague who once held a recessionist out there with a friend told me about the place. They have complete outdoor equipment, perhaps even ropes. They conquered the top. I don't know if they hoisted the Czech flag there.
I got there too, without acclimatization and ice axes. I didn't need an oxygen mask. Although it might be useful because they were fertilizing the field. Hares roamed him, and I was curious.
Teleček has no prominence over the terrain, but the highest point of Prague is, even though the nearby Kopanina is sometimes mentioned (it looks more like a hill). However, it has nine meters less altitude.
To surprise me, Teleček offers an impressive view, at least north to the peaks of the Bohemian Central Mountains. Although it has a larger non-romantic surroundings with the D5 motorway, the Prague ring road, a giant crossroads of highways and halls around Zličín, it is worth it.
I came back here again in the middle of winter to take a snowy photo. I was surprised that a large construction site was built in the immediate vicinity of Teleček. Apparently another logistics hall is being built here. The trip here will not be delayed.
In conclusion, it is worth mentioning which are the "highest mountains" of other large cities in the Czech Republic. Surprise again – in Brno it is not the Hády transmitter and in Ostrava it is not Landek. Brno's Everest is Kopeček (479 m above sea level), a wooded peak with a stone mound near the Masaryk Circuit, and it overlooks Ostrava from the highest point at the reservoir in the Krásné Pole district (334 m above sea level). But back to Prague.
Menhiříček
If someone needs a trip to Teleček, it is worthwhile to follow other places on the southwestern edge of the metropolis. I drive the "Zbuzanský menhir" in Zbuzany, a pleasant satellite town within sight of the Stodůlek blocks of flats, about three kilometers as the crow flies from Teleček. From Teleček you can go to Zbuzan by road, which is also marked by the marked cycle path 8100.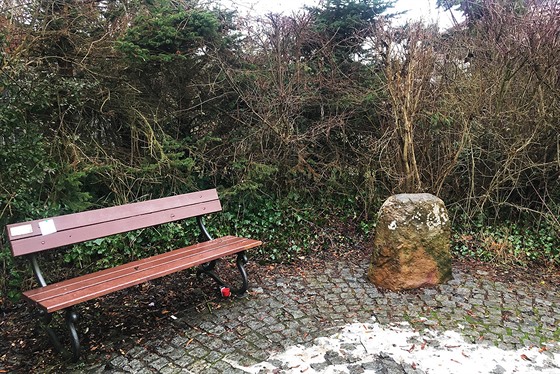 The Zbuzan menhir is about 80 centimeters high.
The Zbuzan menhir is about 80 centimeters high, stands on a paved corner with benches between the bushes and the villas, and when I sent out his photo, I received the answer that it was more of a "menhiříček". It is also easy to reach because the adjacent streets are called "U Menhiru". It has a carved cross on it and is said to weigh half a ton. Although I wonder how they actually weighed him. In any case, it is one of the two menhirs in and around Prague. The second is the menhir in Dolní Chabry, which is a bit bigger.
When you are already in this part of Prague, you can go from Teleček to the other side. As the crow flies three and a half kilometers to the northeast, there is a cemetery in the Řepy district.
Old mexican thief
"There is an old prison on a hill in Africa, the prisoners are tormented that they have fleas in bed, among them Babinska, an old Mexican thief." We recited this rhyme as a child, and after it I had the feeling that Babinský was a legendary, never-before-living character.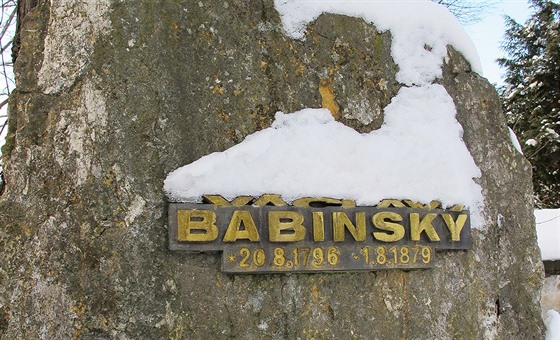 Babinský lived as a gardener in the Řepy monastery of the Boromej sisters. There is a rough boulder with dates in the corner of the cemetery.
The opposite is true. The criminal career of Václav Babinský (1796–1879) is quite well mapped by historians. Another paradox: he was never an exceptional criminal. He committed "only" one murder. And his grave is located in a rather unromantic place, a few tens of meters from the beetle blocks on the outskirts of Prague 6.
Babinský lived as a gardener in the Řepy monastery of the Boromej sisters. There is a rough boulder with dates in the corner of the cemetery. When my cousin Lada first took me there many years ago, I thought he was making fun of me, but he was right.
Babinsky really has a grave there. Then it was overgrown and unmaintained, today it is modified. Desperado has probably more fans today than before. The Řepský cemetery is interesting not only through Babinský, but there is also a separate section of the Borromean monastery cemetery, seemingly one of the most impressive in our country – the same metal crosses lined up as soldiers in neat regular rows, next to the white chapel.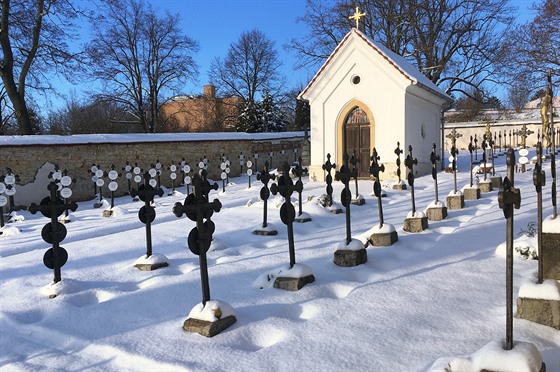 The Borromean monastery cemetery in Řepy is apparently one of the most impressive in our country.
Finally, in other sections of the cemetery lies the businessman Václav Kočka, shot a few years ago in an affair after the baptism of Jiří Paroubek's book. He has a remarkable life-size alabaster white statue on the grave, something similar is not seen elsewhere.
Finally, one more addition: Babinsky was not only never in Mexico, but also in Africa, but in Spilberk and Valdice (then Carthusians). So his nickname remained a small mystery.