The New Brewery Restaurant EMIL 1933 and ÉMILE The Pub Just opened in Marseille. By settling in the heart of the famous Avenue Du Prado just 10 minutes from the Orange Vélodrome, EMIL 1933 comes to offer to the neighborhood a real warm and friendly Parisian Brasserie.
EMIL 1933 (Emile comes to pay homage to the memory of the grandfather of one of the three friends and 1933 represents his date of birth) is lively throughout the day, people meet there for breakfast, lunch or dinner. EMIL 1933 to have available 60 seats on the inside. The Brasserie Restaurant also consists of a privatized room located on the 1st floor with a hidden door. To enhance it all, the Brasserie Restaurant has a shaded terrace with a capacity of 60 seats with a bioclimatic pergola. address requested more than a year of work under the direction of the architect and interior designer Bruno Mascoli. EMIL 1933 is in content service with two menus: The Brasserie Menu and The Restaurant Menu
Designed as a reinterpretation of the Parisian brasserie, the brasserie and the restaurant will offer a menu that mixes tasty traditional French dishes, French specialties and suggestions concocted by the Chef Herve Foderawhile sipping cocktails around the huge central marble bar.
An emphasis on musical evenings with French songs is on the program of the life of the Brasserie Restaurant EMILE 1933.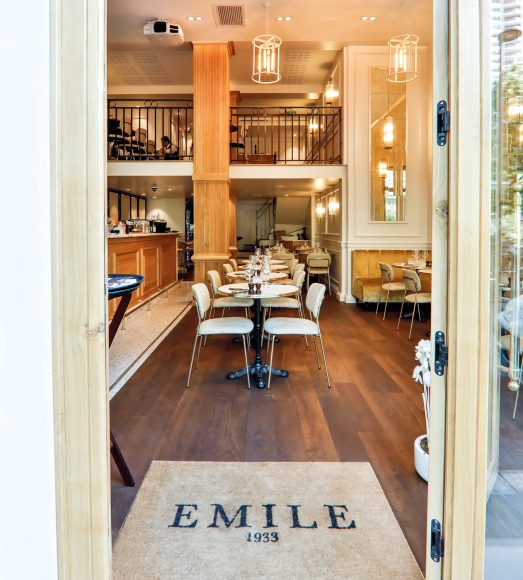 <<< Also read: The Caviar Kaspia restaurant brings its art of living to Saint-Tropez >>>