Our society is increasingly relying on digital technologies. The change before the health crisis, it has since been even more announced with needs which continue to increase. Reliability and speed of connections are therefore important elements at all levels. Companies, schools, organizations, individuals, etc. we are all concerned. Teleworking is a reality for many citizens, as well as distance education and all of this, sometimes, with several under the same roof.
Faced with these first elements, and this is perhaps linked, BIPT (theBelgian Institute for Postal Services and Telecommunications) Recently announced the launch of a fiber optic information site. Why this communication? Is Belgium at a turning point in the deployment of this broadband connection technology? Have the copper or coaxial cable networks reached a limit? Are they overwhelmed? We can see that …
Current situation
At the beginning of December 2021, the Minister of Telecommunications Petra De Sutter, specified that: "Barely 6.5% of our country is connected to optical fiber ".
As for BIPT, it confirms a deployment still limited. Figures published by FTTH Europe Council, mentioning 5.63% of FTTH (Fiber to the (apartment) Building) / B Homes Passed (addresses that can be connected to a fiber network). These numbers are from 2020. Again, it is highly likely that these numbers have increased since then.
In the third quarter of this year, Proximus announced that it had connected 686. households to optical fiber.
L'Belgian Institute for Postal Services and Telecommunications is working on the development of a fiber optic map in Belgium. It will make it possible to map the deployment of FTTH (Fiber To The Home) connections. This card will soon be available on the BIPT data portal.
Sufficient, but not for long
Seeing these figures, we cannot really say that Belgium has taken the lead in terms of optical fiber. We can even speak of a delay in comparison with other countries such as the Netherlands, Portugal, Spain or France. But, is it serious for all that?
Not immediately, shall we say. Europe has set the objective of connecting all citizens to a 100 Mbits / sec network by 2025. In Belgium we have been there for a long time and we are even above the European average, reminds us Denys Bornauw, head of the Telecom Industries group within Agoria (the federation of technology companies – of which the operators are members). With some operators the speeds can be even higher. As for large companies, they use other technologies dedicated to fiber.
---
Link to: Belgium in the digital economy and society index
---
In summary, the opinion of the experts consulted is that Belgium is not really behind in terms of network infrastructure. Proof of this is that during confinements and other measures related to the health crisis, the current network (cable and copper networks) has held up and has allowed many citizens to continue their activities in more or less good conditions. However, requests have evolved much faster than imagined, especially since the Covid-19 crisis.
Video conferences are a good example to understand this evolution. Current networks do not have the same input and output capacities (download / upload), we are talking about an asymmetric flow. Currently, the download speed often reaches 100 Mbits / sec and between 20 and 40 Mbits / sec for what can be sent over the network. You will understand, during teleworking sessions, if there are several of you in the same home by videoconference, receiving the image should not pose too many problems, on the other hand transmitting the different video streams can become complicated. Add to that the programs offered by video platforms, online games, etc.
Other disadvantages of current networks, these technologies depend on the distance between the home and the street cabinet. In addition, the bandwidth of the cable network must also be shared with the neighbors, which can have an influence on the capacity of the line during peak hours, which is not the case for optical fiber.
Advantages of fiber optics
Optical fiber will make it possible to go faster and with a symmetrical flow. That is to say with identical speeds entering and leaving the network. To pay Denys Bornauw: "fiber optic technology is unbeatable in this area. It is certain that on a future deployment, to meet the increasingly important needs in terms of the use of bandwidth and also the "home office" or the possibility of working together by doing the same things in the homes, this need for high-performance connectivity can only be met by fiber optics or other technologies that evolve over time".
At present Proximus offers 1 Gbps as the maximum speed, but the fiber is capable of even higher speeds. To be able to compare the technologies, the incumbent operator gives this example on its site: "with a 1 gigabit per second connection, you download a 1.5 gigabit movie in just 12 seconds, while at traditional speed (70 Mbps) it will take you almost 3 minutesNote that if the fiber speed is important, your home network must still be able to accept such speeds, in particular through Wi-Fi.
2030, new standards
The new European standards aiming at the horizon 2030, an ultra high speed of 1 Gbits / sec. To reach this goal, "it is the fiber that must be deployed", specifies the person in charge of the group Telecom Industries within Agoria. We begin to better understand the importance and the communication around the deployment of the fiber in Belgium.
Ditto for Proximus where Vincent Licoppe, strategy director in the network division specifies: "We have no other choice, somewhere, than to switch to fiber to do this. The good news is that fiber is, if I may say so, the most efficient medium for delivering bandwidth.". And this specialist clarifies that this technology is not sensitive to interference with other equipment, produces no radiation, consumes little electricity."The problem is that you have to everywhere in the country and also enter the houses and apartments of all citizens".
It was at the end of 2019 that Proximus took the decision, after long debates due in particular to a significant investment, to accelerate the deployment of fiber in Belgium. Shortly after, the country was confined due to the coronavirus. An event that confirmed the company in its choice of optical fiber, explains Vincent Licoppe : "It was an element of reinforcement, confirmation and acceleration of customer needs that only confirmed the need, but the decision had already been made because all the trends are aimed at keeping traffic increasing.".
The deployment of optical fiber in Belgium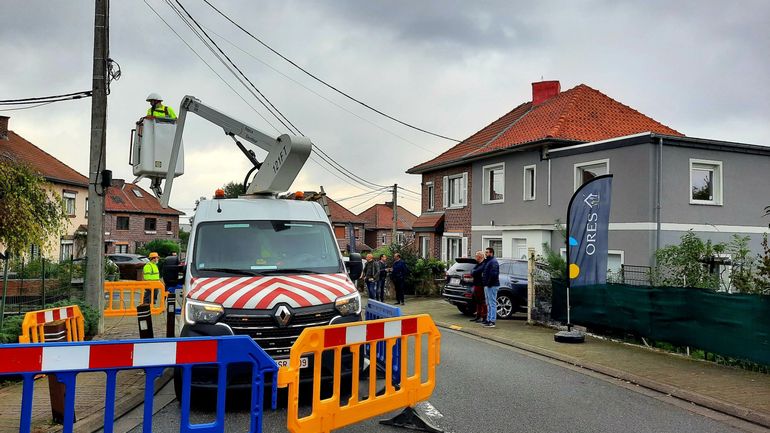 For the Internet services of fiber optic to the home (FTTH or Fiber To The Home), Proximus is currently the main player (alone or through joint ventures with Fiberklaar in Flanders and Unifiber in Wallonia). The deployment has started in the big cities. This requires time and significant work (opening sidewalks, etc.) and where permits are required. Deploying such a network is only done once a century, we are told at the incumbent operator. It will also be necessary to convince the citizens to whom it may also be necessary to carry out work to bring the fiber home.
The goal is to cover 70% of households and small businesses with this technology by 2028. The investment is estimated at 5 billion euros over 10 years.
Vital from an economic point of view
To ask the question is already to answer it. Optical fiber is a vital issue for the country's economy, Denys Bornauw tells us, who compares this to the deployment of 5G for the mobile part. Connectivity is linked to the digitization of the economy and "digital if you don't know how to transport it, obviously that's a problem", he adds.
This expert believes that current uses will strengthen. He cites as examples teleconferencing, remote control of infrastructure, interaction between people and interaction between machines, "all this requires passing information and above all requires real time and real time is brought both on 5G and on optical fiber, because the latency times are much lower. It is essential that we can develop these technologies as quickly as possible.".
Vincent Licoppe, at Proximus, adds "that there is clearly a correlation between the level of economic development of the countries and the digital infrastructures in place in the countries".
Is the cost to the user greater?
It depends on the choice of operator. Installation costs are sometimes offered if a customer chooses a connection during the deployment phase. Monthly prices also depend on the operator's offer. They can be the same or even higher than current rates, but usually with higher speeds.
Will optical fiber eventually replace current technologies
It is very possible, tells us BIPT. In regions where Proximus has deployed its fiber, the services on its copper network will be decommissioned after a few years.
As for the cable network, it can still be used for a longer period of time, but will also probably be replaced by optical fiber in the long term.
Finally, it should be remembered that Belgium generally benefits from good coverage by fixed networks. 99.1% of households have access to speeds of at least 30 Mbps and 97.2% to speeds of at least 100 Mbps. But areas where internet connectivity is limited also exist. These less well-covered areas can be viewed on the atlas, the network coverage map established by BIPT.