October 24, 2021
Sweden's Jennie Jarnström-Dennis pulls forward after cross-country in the event at TerraNova CCI4 * -S
Florida-based Swedish rider Jennie Jarnström-Dennis galloped around clearly and fastest for the day on Saturday to take the lead in the inaugural CCI4 * -S, sponsored by B&D Builders, at The Event at TerraNova. Jarnström-Dennis and her Hanoverian mare Flower Girl (Futurist x Lucy) finished fourth after dressage on 30.8. Not a single combination of horse and rider made the optimal time; she added 10.8 time penalty to lead at 41.6.
Overnight leader Sara Kozumplik-Murphy and her syndicated Selle Francais gelding Rubens D'ysieux (Balougran x Orenda d / Ysieux) added 18.4 time penalties for dropping to third place, while Leslie Law added 12.4 times and moved up to second with Lady Chatterly, a Canadian bred Holstein mare (Connor 48 x Jucy) that he owns in collaboration with Jackie and Steve Brown. His second horse Typically Fernhill (Dondoctro Ryal K x Castlefield Sarah), owned by Craig McCallum was second after dressage with 27.2 but dropped to fifth place with 19.6 time errors added.
Jarnstrom-Dennis said that Flower Girl competed at the CCI4 * -L level at Jersey Fresh in May, but had an unfortunate 20 penalties for cross-country running there, which made her take the more conservative long way in the double-corner combination late in today's course. She knew that the mare had speed on her side and that she is a good jumper, and today's fastest lap put them in the lead regardless of whether they took the slow path.
She is also placed fourth in the Open Preliminary with a Trakehner cross, Splash Dance (Stiletto x Sue's Dancer xx). She said it was nice to run on this horse before the four-star, to get a feel for the track. Both of her horses are US bred and she bought them as young from their breeders and developed them herself.
"I put the pedal to the plate on my first horse and was one of only two who took time in that division," she said. "It was awesome."
"It's a beautiful event," she continued. "We came here for the test event and I wonder, my God, what have they set up? It's just an honor to be here; it looks like I imagined this place, it's just an improvement that never ends."
Jarnström-Dennis drives for Meals on Wheels in the charity competition. Her students, junior riders Taylor and Nicole, chose the charity that their barn would represent.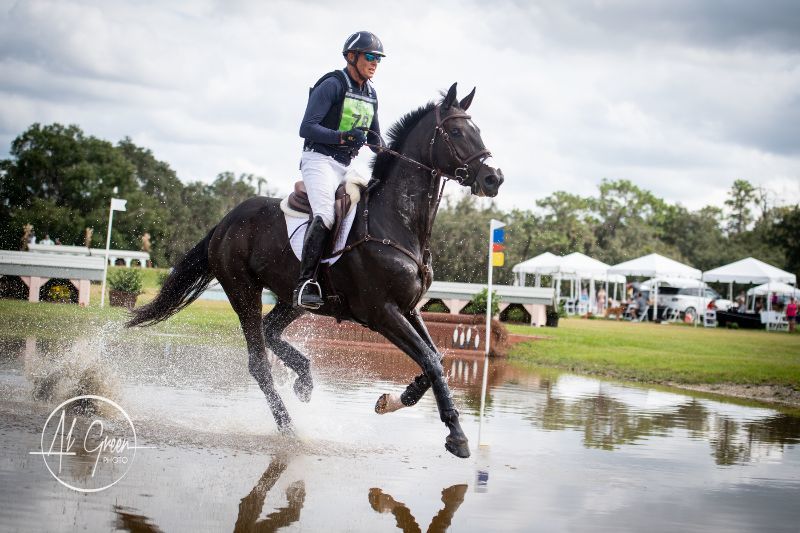 Leslie Law said of his two horses, "They both felt good. They said 'yes' today; this is only the second time they do the four-star. The first horse I chose to go the long way at the corner at the end; he had the experience to maybe process it, and probably in retrospect he would have skipped it, but I'm happy with the way he went, full of confidence. Lady Chatterly went the straight path and went really well. It has hopefully been a positive experience for both of them. . "
Regarding tomorrow's jumping, he said: "The typical Fernhill horse gets the adrenaline up a bit so he can be an exciting forward rider, but he is a good jumper; the mare can be a little more spooky, but there are two good horses and you ride "they are what they are. They take the step, they have to get used to jumping a bigger track but they are both very capable." The law is based on Ocala.