"I'm happy to be back in Austria for a competitive game for the first time in seven years," said Roger Schmidt.
You can really trust him that this is more than just an empty phrase.
Just as his involvement with FC Red Bull Salzburg from 2012 to 2014 had a positive influence on his own coaching career, Schmidt's influence on the development of the "cops" and, as a result, that of other Bundesliga clubs cannot be denied.
"The two years at Red Bull Salzburg were a fantastic time for me. Working in Austria was a lot of fun. I have a lot of connections, including emotional ones. That's why I'm happy to be here. But I'm really happy of course only if we win the game, "grins the German.
As is well known, Schmidt is not in Graz to indulge in memories, but rather to compete with Sturm Graz as PSV Eindhoven coach in the group stage of the Europa League (6.45 p.m. in the LIVE ticker).
But a little review of Salzburg has to be natural alongside the view of Sturm. In addition, where his Salzburg Bundesliga career began in Graz in the summer of 2012.
Bundesliga debut in Graz against Hyballa
On July 21, 2012, charismatics from Germany dueled in Liebenau in the first round of the 2012/13 season – Peter Hyballa celebrated his league debut with Sturm, Schmidt the one with RBS.
"We won 2-0, if I remember correctly. It goes without saying that Jonatan Soriano scored both goals," smiled Schmidt nine years later.
Schmidt sent the following starting eleven four days after the 0-1 defeat in Dudelange. With Jakob Jantscher and Stefan Hierländer, two storm stars crossed blades with their current employer:
When Sekagya had to help
Incidentally, Sturm began with the following formation: Gratzei – Ehrenreich, Vujadinovic, Madl, Klem – Säumel – Weber, Bodul, Bukva – Sukuta-Pasu, Szabics
Salzburg were already leading 2-0 after 22 minutes, but had to accept a yellow-red card for Stefan Ilsanker in the 55th minute.
"Against Sturm there were always close games, this wasn't that easy either and was exciting right up to the end. I can still remember replacing Ibrahim Sekagya and telling him to take the three points home. He did that . "
There should be many more points before the 2014 double win, also against Sturm (Schmidt balance sheet: 5 wins, 2 draws, 1 defeat). While Hyballa was unable to establish himself with the "Blackies" in the long term, Schmidt did so very well in Salzburg, although in retrospect he is the last Salzburg coach who could not win the championship title. Despite the blatant 2012/13 season, Austria Vienna was finally crowned champion under Peter Stöger.
Hymn of praise for the development of Salzburg
What remains, however, is that with Ralf Rangnick as head of sport and Schmidt as coach, the basis was laid for the game philosophy and Red Bull DNA that still characterize Salzburg today. Does it make him proud that this path began under his guidance?
"There is hardly any other club in Europe that has developed as steadily as Red Bull Salzburg, which focuses on the idea of ​​football, which repeatedly generates players from its own youth division during training then ready to play in the first team. "

Roger Schmidt
"I'm not proud, but I'm very happy to have been there. In the beginning it wasn't that easy either, we had a few difficulties. But when you see what has developed from it … Of course Ralf Rangnick is in charge because he has professionalized a lot in the area – not just in Salzburg, but for Red Bull football as a whole. "
The 54-year-old describes the further development as "astonishing": "There is hardly any other club in Europe that has developed as steadily as Red Bull Salzburg, which focuses on the idea of ​​football, the one in training repeatedly generated players from their own youth division who die at the age of 18. Then they are already ready to play in the first. Regardless of who they sell, it always comes up that many things were new back then that can still be seen today are."
Contact in the Mozart city still exists, especially with sports director Christoph Freund. "Regardless of whether a player or a coach leaves the club, Christoph Freund and his staff are responsible for Constance, they always keep it up. An outstanding performance that they have achieved in Salzburg", praised Schmidt.
Jantscher and Hierländer have "matured"
Where: Salzburg War yesterday, storm counts right now. "It's not a press conference about Red Bull Salzburg", smiles Schmidt and recalls the current second force in Austria:
"Sturm Graz is developing really well at the moment. If you watch the last season and how they started the season now, the club is on the right track. I know the situation in Austria with Rapid and Austria. If you look at each other prevailed against these clubs, is clear evidence of the strength and development of the club. "
The fact that he knows Sturm from his time in Salzburg is not an advantage, because seven years have passed since then:
"But Jakob Jantscher and Stefan Hierländer were my players at Red Bull Salzburg. I'm happy to see them again. They have matured, both are key players for Sturm Graz. It is no coincidence that Sturm has become number two in Austria. They have It's not an advantage that I've been here before – at most maybe that I know that the atmosphere in the stadium will be very good. "
Most similar to PSV and Sturm
The praise for Christian Ilzer is probably no coincidence. The aggressive style of play, as Schmidt introduced it back then in Salzburg, has since found various imitators – also in modifications. Also in Austria. The fact that he was a pioneer who left his mark in Austria, however, is "too much of a good thing":
"Football as a whole has developed in this direction – not always and not in all clubs and leagues. But there are always clubs that try to be successful with this intensive style of play with quick switching moments. You know that I like this style of play I really appreciate and prefer. But I think that this development is not necessarily due to me. "
The Dutch coach signs that in the group with Monaco and Real Sociedad, PSV and Sturm are the two teams with the most similar football:
"That is certainly the case. Both teams are interested in a very active game and play with high intensity, with switching moments, with high pressing."
Group is so difficult because of storm
"The group is not difficult because San Sebastian and Monaco are in the group, but the group is difficult because Sturm Graz is in the group."

Roger Schmidt
Accordingly, Schmidt also instructs Dutch journalists who are fully prepared for a mandatory victory in Graz.
"The group is not difficult because San Sebastian and Monaco are in the group, but the group is difficult because Sturm Graz is in the group. that we have to win here, but of course we want to win. But we are preparing for a difficult task, "said Schmidt.
The German countered the objection that many people would clearly classify Sturm as number four in this group as follows:
"It doesn't matter what a lot of people do. I think the teams are all very different. Of course, Sturm Graz is the team that has the least budget available. That's clear, that's the way it is. We're the ones who play second have the least budget. Then at some point there will be San Sebastian and Monaco. These are the teams that have the most money, and mostly that's an advantage. It's not an easy game here. "
Mwene? "An outstanding full-back"
As is well known, Schmidt is not the only player from the PSV camp with Austria connections. Andre Ramalho is fresh from Salzburg to Eindhoven.
"He told me that he had already played against Sturm four times this calendar year and can still remember that they were very exhausting and difficult games," said Schmidt.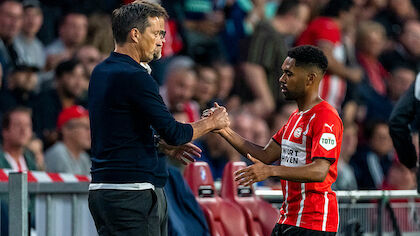 With Phillipp Mwene, the coach signed an ÖFB legionnaire from Mainz in the summer. Schmidt is very satisfied with the development of the Viennese:
"I think Phillipp is an excellent full-back who fits very well, especially for this style of play. He's very brave, can play very intensely, is also top runner and physically, also in terms of the many sprints. He's very good in the offensive game , is always running behind, a good cross was able to win us. So far he has played all games quickly, also internationally. I'm happy for him, he is an important part. "
That was what made Zahavi stand out
Eran Zahavi is also an important part of PSV. The fact that the Israeli causes nightmares in Austria for national team reasons costs Schmidt a knowing laugh. Was the veteran most distinguished?
"He can score goals. He simply has a very good sense of being in the right position at the right time in the dangerous area. Then of course he has the class to make a lot out of little with a contact or his special shooting technique. If he once the ball is down, it becomes dangerous. "
"Zahavi scores goals. Always. No matter where. In the national team and in the club. That is simply a quality feature."

Roger Schmidt
An assessment that nobody in the ÖFB Franco Foda team will contradict. Schmidt guided the 2020 striker from China in the Netherlands, but actually wanted him to be binding earlier:
"When we were both in China, he wasn't my player, but I tried to get him to join our club in Beijing. He scores goals. Always. No matter where. In the national team and in the club. It's just one Quality feature. "
"… otherwise we won't get three points"
From a red-white-red point of view, Zahavi is welcome to cool down this time. But to get in front of the storm gate, you have to call up the well-known Schmidt virtues anyway:
"I know that we need a top performance against Sturm in terms of football, running and fighting. Otherwise we won't get three points."

Text source: © LAOLA1.at


to the top » COMMENTS..
Legal Notice:
The comments of the users do not necessarily reflect the opinion of the LAOLA1 editorial team. LAOLA1 reserves the right to delete comments without giving reasons, especially if they violate criminal or civil law norms, contradict common decency or otherwise run counter to LAOLA1's reputation. We refer in this context in particular to our Terms of Use. In such cases, the user cannot assert any claims. Sportradar Media Services GmbH also reserves the right to assert claims for damages and to report offenses relevant to criminal law.