The premiere of his latest production was online on Friday Variation from the research series Ictuscordis, which he has been creating and developing for three years.
At the forefront of the project is the conquered heartbeat from which Luznar created a live audiovisual image. The human heart thus becomes a physical, musical and visual instrument. "Ictuscordis is my tool for exploring the heart connections and feelings of myself and my surroundings," I'm real.
In the beginning, that was in 2018, he won the back heart and created solo performances Modulation. This year, however, it is part of an episode variation he also sounded the heartbeat of three people and made an audiovisual journey from the specifics of their beats. He invited a playwright to participate Marko Mandić, a former sports climber Natalija Gros and DJ and producer Valentina Kanzyanija.
The audiovisual performances performed so far are only the first steps of his artistic-scientific research. Among other plans, he is planning an agreement with a cardiologist, and in March next year the release of a music album is also planned, which will be based on sound heartbeats.
You are invited to read the interview.
The public first came to know your artistic exploration of the heartbeat in 2018, when you presented the performance Modulatio, in which you sounded the last heart. What does this sound system mean and how did you tackle it? Why was the first heart you sounded like yours?
The idea came to me back in 2010, when I wanted to sound the heartbeat of my audience in clubs and create music from the heart. I wondered if the beats would merge together into harmony, synchronization, or just the opposite, like hysteria. I was interested in the impact of electronic music on the hearts of visitors, on their well-being.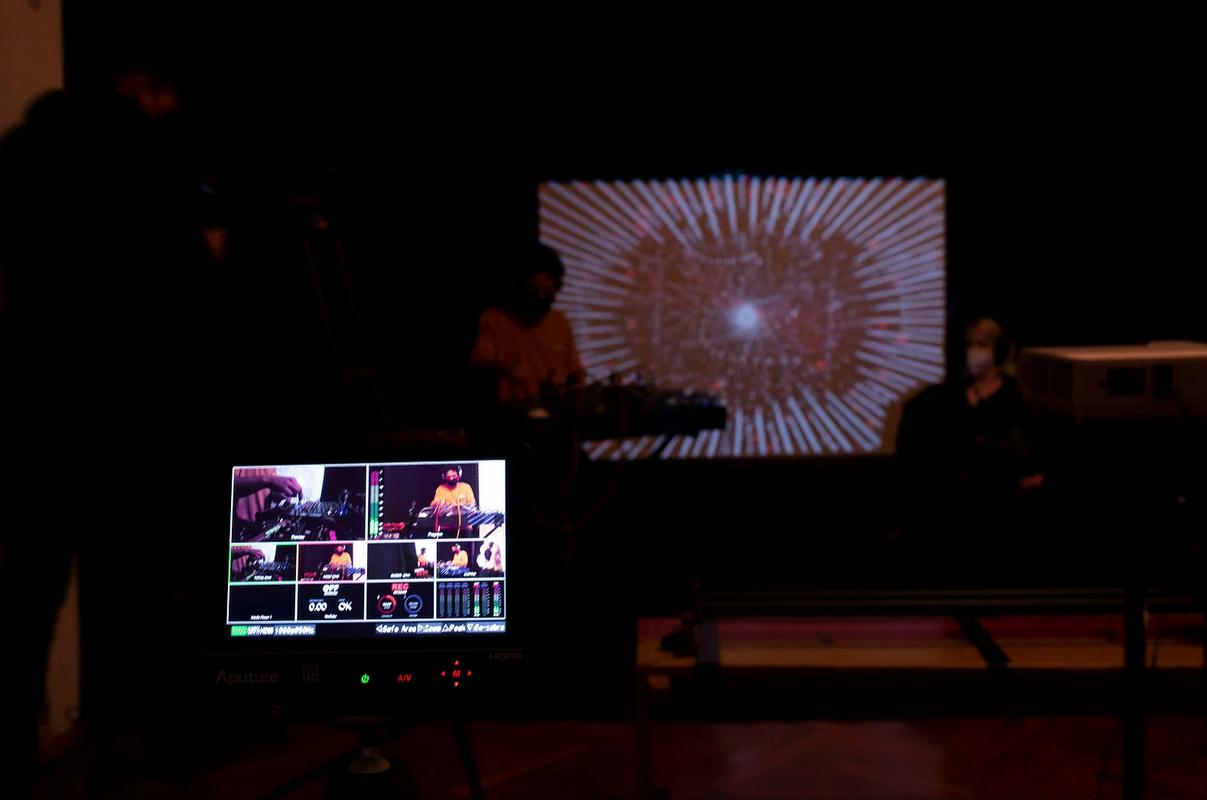 At that time, it was still technologically impossible for me, so I abandoned the idea for a few years, until in 2018 I came up with ideas on how to do it technically. How could you connect the sound of your heartbeat to the mixing desk and the sound effects and create music from them. That's when I joined PifCamp, organized by the Ljudmila Institute and the Atol Project. There I met an electrical engineer Gregor Krpič, which helped me develop the microphone and amplifier through which I sounded my heart. I used myself as a guinea pig. During this time I also started working with the psychologist dr. Vidom Vanja Voduško, which on a theoretical level was able to help me better understand my work.
When I started working on the project, it was all a field unknown to me, I noticed that I was descending into something very intimate, powerful. That's why it was possible to start with oneself: to notice what impact sound manipulation has on the heart and what the physical and psychological outcome is before inviting guests. As soon as I started researching this topic, I realized that I had experience of very different application options, so I decided to dedicate the coming years to research series Ictuscordis.
The project, which is on view until the end of the year, is taking a step forward. You invited Marko Mandić, Valentin Kanzyani and Natalija Gros to participate. Everyone uses their body in a radical way in their work. Why did you choose these three?
Since its premiere in 2018, I've had a solo performance Modulation already 40 reps and lots of exercises. You can now start sovereign enough to start working with other people's hearts. I aimed for the best possible profile of people.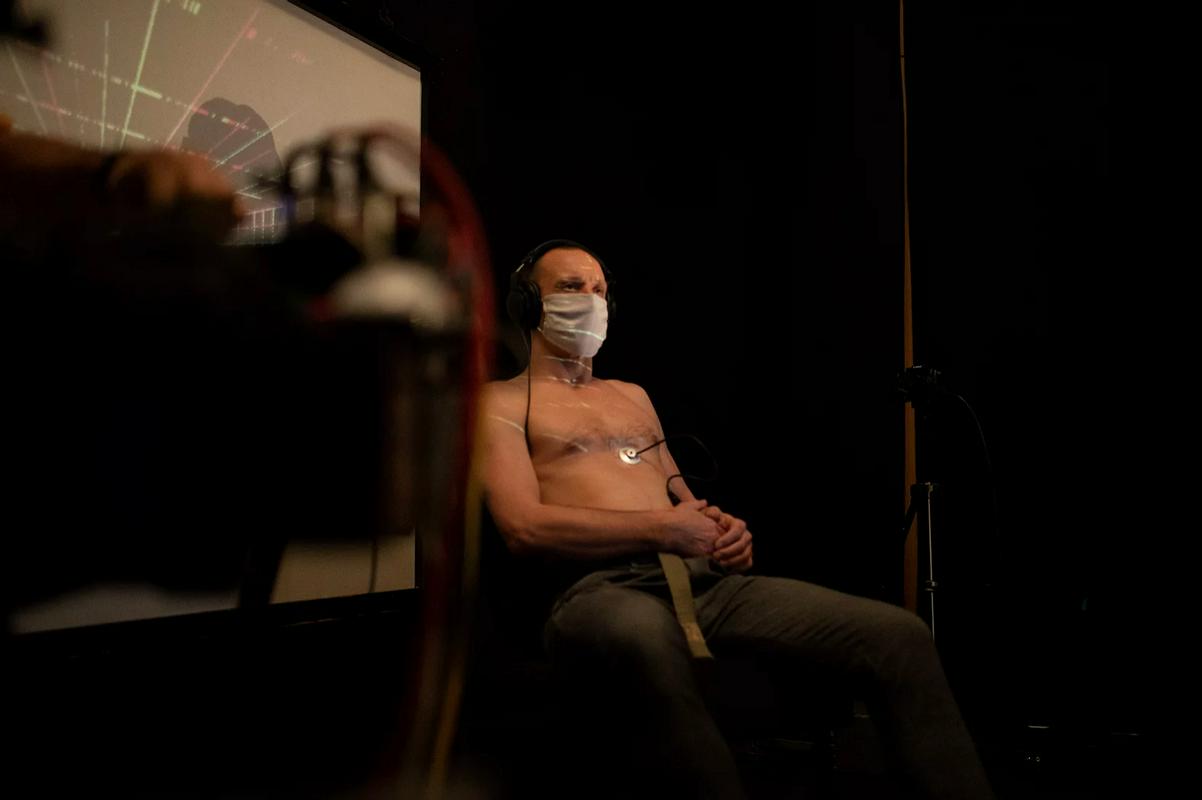 Natalia Gros needed tremendous concentration to be able to overcome obstacles in climbing as she was the European champion in free climbing. I invited Valentino Kanzyani because he is a DJ who has been present on the world club music scene for more than twenty years, as it seems to me that club music is a very related theme, which I am also starting. The job of a DJ is to provoke different emotions from the people who come to his performance with music. Marko Mandić is a dramatic actor who transcends the boundaries of the body in performative and dedicates himself to exploring physical expressions on stage.
I invited them to hear about their experience and to create a performance together. During the year, I participated in the research with the actress Inti Shray, with a sword Aljoša Cetinski vs Tatiano Kocmur, an intermedia artist. Unfortunately, due to the epidemic, I was forced to work on a much narrower scale than I would have liked. I am planning an appointment with a cardiologist as I would like to understand my work also at the medical professional level. I wonder what kind of response a man who deals with the human heart on a daily basis would have. I would like to do as much research as possible on what impact this experience has.
Are you still in an unknown field or have you been able to say something after this year's experiments about how sounds affect other people? Avoiding ringtones that will affect in a certain way and who else will not be affected at all? Do you hinder the connections between us or is each heart after its own reactive bell?
I think that makes me feel very related. Certain sounds evoke emotions, anger, love, fear in us. When you create with the beat of your heart, I am an objective, postal instrument, you can imagine what result I can expect, how the heart recovers the reaction. Communication with the two instruments is created with the guests. The space of unconscious and conscious communication is much more open. And this is my research area.
Did these three – infatuation, fear and danger – create a similar sound in the heart?
At first hearing, the heart's responses are very similar. It is my opinion that the body unconsciously perceives subtle details in sound and distinguishes emotions.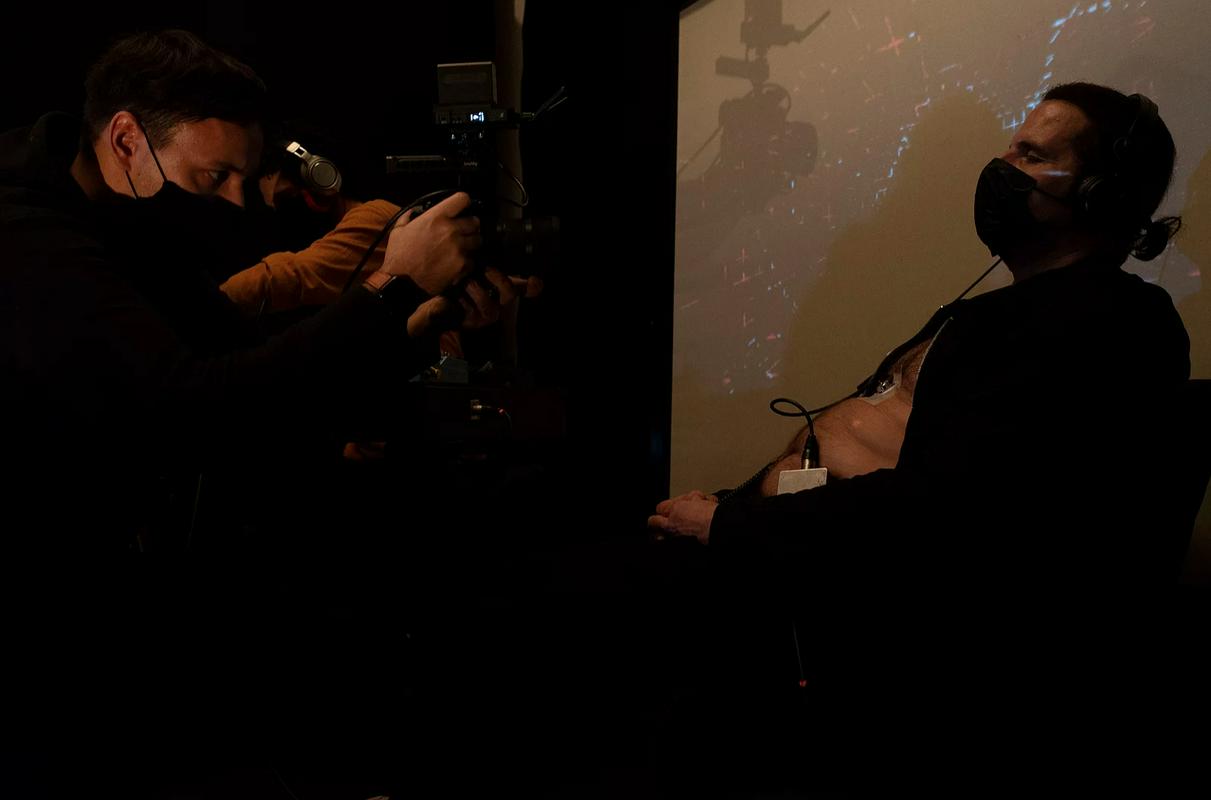 Did you have to break through a lot of historical clutter in the early beginnings of projects? All the symbolic connections, the references to which we attach the heart, all that the heart is supposed to mean to us …
Theoretically, I initially imagined what I would be researching. The practice, however, completely surprised me. The first week I was alone and started my heart plugging into the microphone, I often felt anxious. I was overwhelmed by unknown feelings. It was only slowly that I realized how to indulge in this, how to let go of the predispositions of everything I am used to.
Has that changed? Do you have a feeling that you can understand the heart even in the current ones, when it is not embedded in a concrete artistic creation? Has the behavior of the heart become more understandable to you in a sense, familiar?
In fact, I think the project helped me understand and be aware of my whole body. We are often ignored in life. I think I perceive the border better now. When I first embarked on the project, I was burdening my heart and trying to get it to be faster, to achieve ictuscordism so I felt completely. Now I know: the more beautiful I nurture my heart, the better it performs and the more beautiful life is.
In conjunction with the new part of the Variatio series, I realized that I want to embrace the hearts of guests, give them a sense of security, comfort, and evoke a kind of relaxing sense of homeliness. Sometimes you also use themed sounds in the performance of the users, which still affect the guests. The project is in a way my Icaro, a spiritual song. It is what literally comes from my heart, my spiritual space.
Is that what goes over the calf?
Through the calf and the mind.
From these sounds and overtones, an album will be created in the future. How will it be designed, each pulse individual post your own song?
The idea for the album also came to mind a few hours ago. When I hooked up the first heart I didn't have, I found that I could focus more on musical visuals and dramaturgical derivations. That's when I recorded an excerpt that sounded like a coherent musical song. Then there was a flash – "I have to create a music album!" I connected with the Kamizdat publishing house, which is one of the most active in Slovenia in publishing electronic and experimental music. The release of the album is scheduled for March 2021.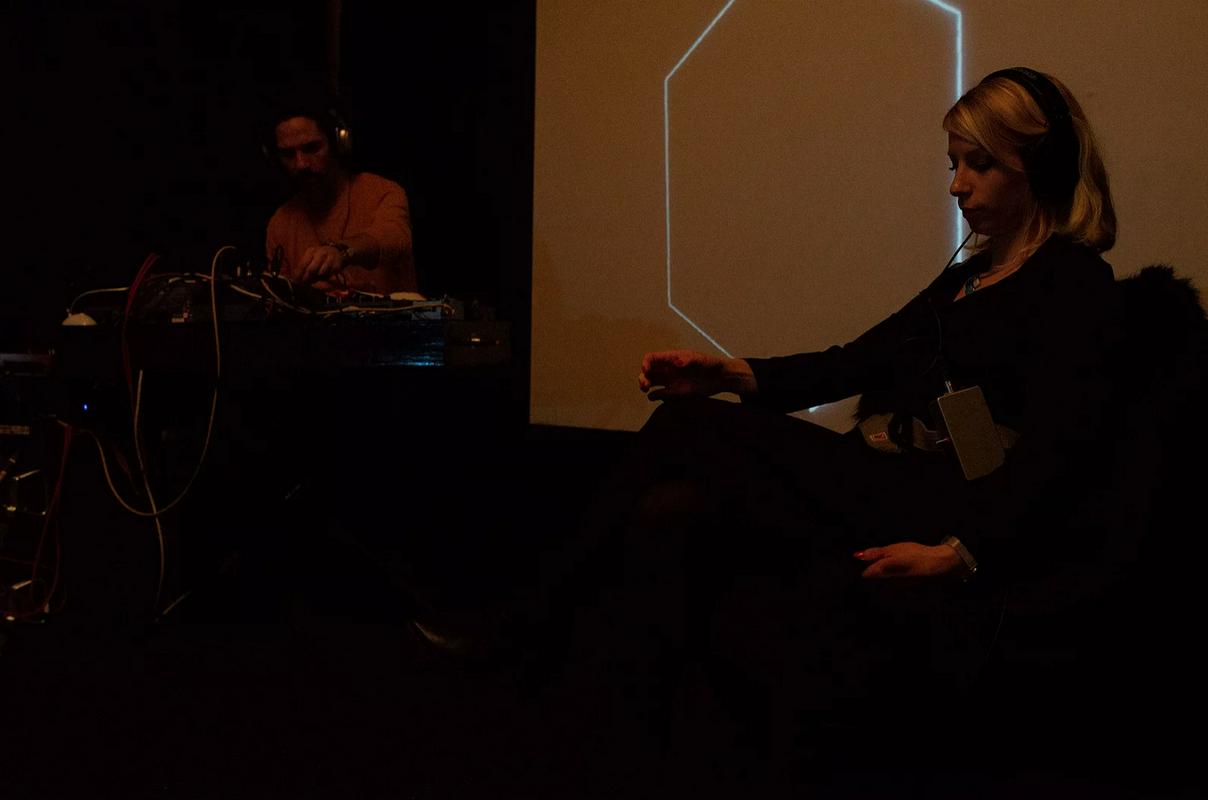 How did you find yourself within these new conditions this year? working conditions? How did the time of the epidemic mark the project?
Due to government measures, unfortunately, Variatio was not carried out live, but only virtually online. I think the live experience is very different. I myself think that hearts communicate on an unconscious level that is so physically close to each other. The heart is a powerful generator of the electrocardiomagnetic field.
According to previous experience in solo performances, the generated sound was strongly conditioned by individuals in the audience. When I was rehearsing alone in the studio, the expected external communication did not happen, so I often felt anxious at first. In cooperation with the guest or with the presence of the audience, communication of all present hearts is established. The ictuscordis project is my tool for exploring heart connections and feelings about myself and my surroundings.
// Production steps of ECMA-262, Edition 6, 22.1.2.1 Array.from||(Array.from=function(){var r;try{r=Symbol.iterator?Symbol.iterator:"Symbol(Symbol.iterator)"}catch //IE11 polyfill if (!String.prototype.includes) { String.prototype.includes = function() { 'use strict'; return String.prototype.indexOf.apply(this, arguments) !== -1; }; }
// Cookie helper var cookieHelper = { getCookie: function(name) { var value = "; " + document.cookie; var parts = value.split("; " + name + "="); if (parts.length == 2) return parts.pop().split(";").shift(); },
setCookie: function(name, value, days) { var d = new Date; d.setTime(d.getTime() + 24*60*60*1000*days); document.cookie = name + "=" + value + ";domain=.rtvslo.si;path=/;expires=" + d.toGMTString() + ";secure;"; },
deleteCookie: function(name) { cookieHelper.setCookie(name, '', -1); },
cookieExist: function(cookieName) { if (document.cookie.split(';').filter(function(item) { return item.includes(cookieName + '=') }).length) { //console.log('Cookie founded!'); return true; } return false; } }; // END: Cookie helper
// iProm (function(a,g,b,c){ a[c]=a[c]||function(){ "undefined"===typeof a.ipromNS?(a[c].q=a[c].q||[]).push(arguments):a.ipromNS.execute(arguments)}; var k=function(){ var b=g.getElementsByTagName("script")[0];return function h(f){ var e=f.shift();a[c]("setConfig",{ server:e}); var d=document.createElement("script");0-1){ cookieConsent = true; } var $sid = 'kultura'; var $ssid = ''; if($sid == ''){ $sid = 'default'; } if(cookieConsent == false){ $sid = 'safe'; $ssid = ''; } //console.log('rtvslo',$sid,$ssid); _ipromNS('init', { sitePath: ['rtvslo',$sid,$ssid], cookieConsent: cookieConsent }); // END: iProm
// Dark mode, Comments & Login if (document.cookie.indexOf('darkModeEnabled=true') != -1) document.body.classList.add('dark-mode'); if (document.cookie.indexOf('showComments=true') != -1) document.body.classList.add('show-comments-enabled'); if (document.cookie.indexOf('APISESSION_USER_ID') != -1) { document.body.classList.add('user-logged-in'); } else { document.body.classList.add('user-logged-out'); }
// Mobile check var mobile = false; var mobile_xs = false;
var checkIfMobile = function checkIfMobile() { var w = window.innerWidth || document.documentElement.clientWidth || document.body.clientWidth;
w < 992 ? (mobile = true) : (mobile = false); // 992px = lg breakpoint w < 576 ? (mobile_xs = true) : (mobile_xs = false); // 576px = sm breakpoint }; checkIfMobile(); window.addEventListener("resize", checkIfMobile); // iOS standalone var isIos = function isIos() { var userAgent = window.navigator.userAgent.toLowerCase(); return /iphone|ipad|ipod/.test(userAgent); }; // Detects if device is on iOS var isInStandaloneMode = function isInStandaloneMode() { return "standalone" in window.navigator && window.navigator.standalone; }; // Detects if device is in iOS standalone mode var showIosNative = false; if (window.location.href.indexOf("show-ios-native") !== -1) document.cookie = "showIosNative=true"; if (document.cookie && document.cookie.indexOf("showIosNative=true") != -1) showIosNative = true; if ((isIos() && isInStandaloneMode() && mobile) || showIosNative) document.body.classList.add("ios-standalone"); // Facebook if(document.cookie && document.cookie.indexOf("cc_social=yes") > -1){ (function(d, s, id) { var js, fjs = d.getElementsByTagName(s)[0]; if (d.getElementById(id)) return; js = d.createElement(s); js.id = id; js.src="https://connect.facebook.net/sl_SI/sdk.js#xfbml=1&autoLogAppEvents=1&version=v3.1&appId=142347525793254"; fjs.parentNode.insertBefore(js, fjs); }(document, 'script', 'facebook-jssdk')); }