Representatives of the City of Brussels, the Brussels Government and the Flemish Government gave the symbolic starting signal for the construction of a new Dutch-language primary school and 15 passive houses on the Zennestraat in Brussels. It is the first Dutch-language primary school of the City of Brussels within the pentagon. There will be room for 240 students. Flemish minister Ben Weyts, Brussels minister Sven Gatz, mayor Philippe Close and aldermen Ans Persoons and Lydia Mutyebele Ngoi got to work with the concrete.
What exactly is being built in the Zennestraat?
The City of Brussels is building a Dutch-language primary school on the site with space for 240 children. There will also be 15 passive houses that will be managed by the Property Management Agency.
It will be the 8th Dutch-language primary school of the City of Brussels and the first within the pentagon (besides the offer of community & free education).
The yard started work in December 2020. The demolition works have been completed and the construction phase has started. If all goes well, the school will open in September 2023.
The plans for this new building were drawn up by the architectural firm BOB361.
The construction project is being carried out by contractor Gillon in collaboration with Louis De Waele.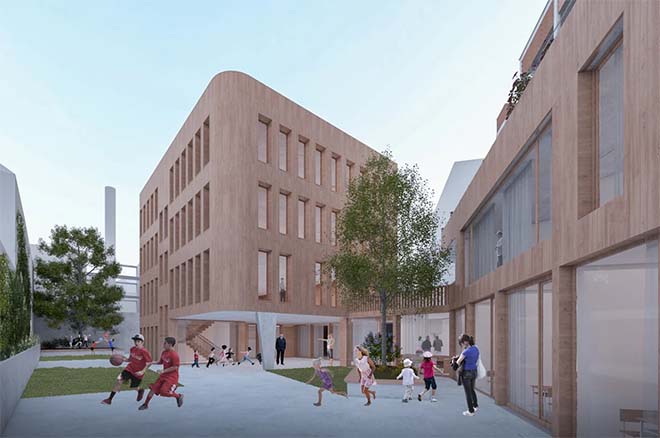 An ingenious design
The big challenge of this project was a complete primary school and new combinations on a limited site. There is a lot involved in a school building: in addition to classes, there must also be sufficient space to play, eat and play sports. An ingenious design that plays with levels and slopes, and developed 3 separate volumes, made this possible. The new building is partly located in an inner area, resulting in a lot of attention being paid to bringing in sunlight and damping sound. The ground of the playground is covered with permeable rubber; the walls also with vertical vegetation mats. The residents share a large communal terrace with lots of greenery, which also forms a buffer between the houses and the school.
Sustainability asset
In its new construction projects, the City of Brussels tries to be exemplary in terms of sustainability and energy saving. Photovoltaic solar panels will be installed on the roofs of the houses and the school, where this is not the case, we will provide green roofs. The houses and the school will receive an advisory ventilation system with double flux and heat recovery. Collecting rainwater will be used to flush the toilets of both the school and the homes.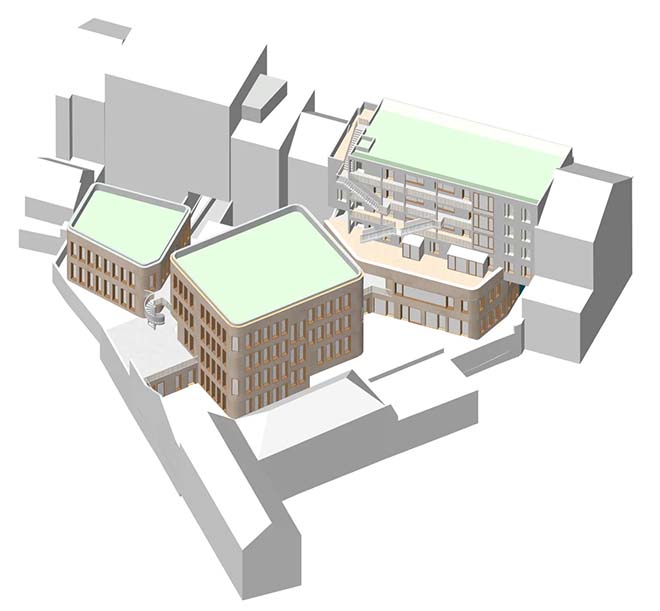 Also read: