Air travel is often portrayed as desirable, though high environmental cost. In Sweden, however, a movement that advocates avoiding flying has gained influence since 2016, and has begun to change how travelers are portrayed in the Swedish media.
Going on holiday is the most common reason to fly globally. In Sweden, 80% of national aviation emissions caused by leisure and holiday travel. Our latest research studied how media articles, advertisements and images from popular newspapers and magazines reflect changing ideas and assumptions about holidays with flights in Swedish society.
To study changing opinions and representations of holiday flights, we analyzed these media articles and images from 1950 to 2019. We looked for common themes (such as the purpose of holidays) and identified how these themes were represented over time. For example, we found that the idea of ​​a restorative vacation has been consistent over time, but the way to achieve it has changed in some travel media from flying to finding sunshine to seeking out experiences closer to home.
Our analysis documented how the Swedish media portrayed holiday flights in three phases (see picture below): from luxury aspirations (1950s-1990s, light blue line), to a normal part of a very mobile lifestyle (1990s-present, dark blue line), to to be increasingly linked to debates on climate change (2016 present, green line).
These changes are illustrated by the images below. For example, the SAS ad below shows how aviation was seen as an important and appreciated part of the holiday experience in the 1950s, where air travel was seen as comfortable and luxurious.
In the 1990s, holiday flying tended to be represented as a normal part of middle-class Swedish life and as an escape from everyday pressure, as illustrated in the ad below from the holiday company TUI.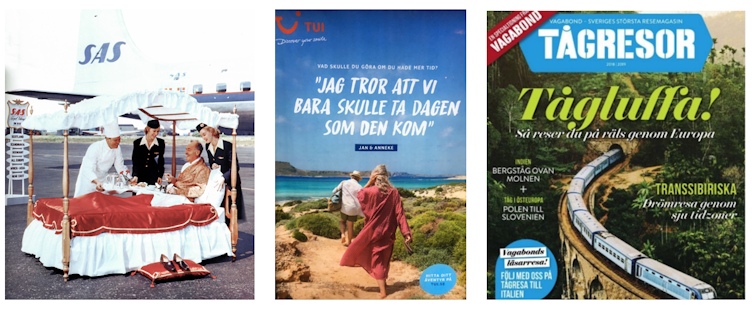 Although positive representations of flying are still common, the Swedish public debate from 2016 shifted to highlighting alternative ways of traveling, which is illustrated in the cover image of train travel in the Swedish travel magazine Vagabond above. Newspaper articles began to discuss the idea of ​​taking responsibility for the climate cost of flying and challenging the idea of ​​aviation as socially desirable.
Slow journey
The media began to reflect a change in attitudes about flying to holiday destinations formulated by certain sections of society. The coverage of this new phase also reflects an increased concern about the importance of acting urgently to address the climate crisis. live according to their values; tar moral responsibility for climate damage; and enjoy climate-friendly travel.
Discussions about avoiding flying became much more popular from 2016 when celebrities, journalists, academics and activists began publicly promising to stop flying in Swedish news media. One of the first was the famous opera singer Malena Ernman (who is also the mother of activist Greta Thunberg). Others followed up their social media promises with the hashtag #IStayOnTheGround (#IStayOnTheGround).
---
Read more: Greta Thunberg emerged from five decades of environmental youth activism in Sweden


---
These promises marked the beginning of an intensified public debate in Sweden on the desirability and necessity of air travel, which spread internationally in the following years.
Some commentators mistakenly believe that this trend is driven by "flight shame". But the change we identified in the Swedish travel media frames living without flying as positive, emphasizes all environmental benefits and feels good about staying on the ground.
Although aviation is still widely portrayed as desirable, changes in some media coverage show the impact of the flight-free movement and illustrate that different perspectives on what constitutes a good life during climate change have a certain impact.