Vitebsk activist Stanislava Terentyeva was forced to flee to Georgia in July this year after a search was conducted in the apartment where she lived with her common-law husband. Prior to that, she had already come into the field of view of repeatedly delayed protests following the 2020 presidential elections.
In mid-November, she had to go to Russia on personal business. Considering that there is a direct flight between Georgia and Russia, she first left for Yerevan, and from there flew to Krasnoyarsk. And then it turned out that she was an undesirable person in the Russian Federation, the FSB officers suspected her of having links with the Anti-Corruption Foundation (FBK) of Alexei Navalny.
Eight hours of interrogation
"According to my feelings, there was a label in front of my name in the electronic database at passport control," Stanislava Terentyeva recalls. The border guards asked her to stay, took her passport and took her to a separate room. And there, the girl continues, they conducted three interrogations with her, which in total lasted about eight hours.
At first, the man in civilian clothes had an almost friendly conversation with her in the person of the airport representative. The second interrogation was tougher: already two of the staff members obviously possessed certain skills – they did not allow the answer to be completed or offered to agree with some statement. And for the third time, they were asked to record on a video camera, and the girl was fingerprinted and biomaterial – hair and saliva.
"The questions concerned Alexei Navalny's FBK, to whom I never had anything to do," says Stanislava Terentyeva. The security forces fished out of her only a confession that she had watched FBK's investigative films and that was enough for them. At each interrogation, the girl notes that he promised to release her, but in the end the head of the airport came and read to her an article according to which she was not allowed to enter the territory of Russia because of the security threat.
Three days in the air
"Like in a movie, I had to spend three days in the neutral territory of the airport," Stanislava Terentyeva continues. The fact is that the recently launched Yerevan-Krasnoyarsk-Yerevan flight is operated by Aeroflot only twice a week.
I happened to live in a room resembling a prison cell: there is a grill on the window, an iron door is constantly locked from the outside, it is impossible to get out. There was no connection, not even a button to call an employee, recalls Stanislav: "And they called it the airport of the airport."
Until now, she is unaware of the reason for her detention and does not know how to proceed. In her passport there are no marks of her stay in Krasnoyarsk. If there had been a deportation, she explains, there would have been a court decision that could be challenged, but there was no court. Upon my return, this story amazed the Armenian border guards, recalls Stanislav: "The stamps show that I flew out of Yerevan, spent three days in the air and returned to Yerevan."
Leonid Svetik, coordinator of the Viasna human rights center in Vitebsk, notes that Stanislava Terentyeva was involved in the coordination of urban projects at home. And in July, she left Belarus after her common-law husband, after a search, was also interrogated by the KGB in connection with suspicion of involvement in a terrorist act. Obviously, he states, this couple cannot return to Belarus.
And Kiev does not accept
Minsk resident Artyom Markin, who in August of this year was also forced to leave Belarus after a series of searches, faced similar problems, but only in the past. His story is more dramatic – he flew out of Tbilisi with all his belongings to stay in Ukraine. In Georgia, he admits, he did not manage to establish social ties, in addition, the language barrier interfered.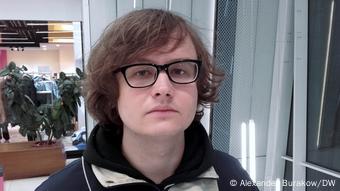 Artem Markin
Artem bought a plane ticket ahead of time and landed at Kiev's Zhuliany airport. But I couldn't go beyond the passport control counter. After a short trial, the border guards invited him to the office of the shift supervisor, where she read out the decision that "the authorized state body of Ukraine made a decision not to let him in."
The guy's passport was taken and released into the waiting room of the transit zone, offering to return at the expense of the airline to Batumi. When landing, recalls Artyom Markin, the border guard handed over the passport to the crew of the plane, and in Georgia it was sent to the police officer and only then, after another investigation, they returned the document and released him himself.
Artem does not exclude that information about his connections with the anarchists could have been grounds for not entering Ukraine. In the summer of 2018, he was detained at a scientific conference organized at the estate of Mikhail Bakunin in the Tver region and deported from Russia. But officially, the Ukrainian authorities did not even inform him for how long and by which body the decision was made. Now Artem Markin, with the help of Ukrainian human rights activists, has concluded an agreement with a lawyer and will challenge this decision.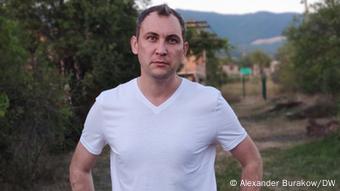 Nikolay Levshits
The author of the blog and website "About Georgia in Russian" Nikolai Levshits notes that Georgia does not sometimes let citizens of some countries into its territory. For a couple of months, he recorded the last four cases – the loudest is the refusal to enter the Ukrainian journalist Dmitry Gordon.
But it is important, he points out, that political activists from Belarus and Russia arrive in Georgia, and Tbilisi does not extradite them. "In Georgia, oppositionists can feel calm and what is most important," says Nikolai Levshits.
See also: