COPENHAGEN (MinMote): Pernille Teisbæk (37) will soon go to Norway and taste brown cheese for the first time. But first she shares the three rules she always follows when putting together an outfit.
The mother of three from Copenhagen is Denmark's biggest influencer and IT girland it feels good.
As she, as one of the last seats in the first row before OpéraSport's screening on Wednesday afternoon, it is impossible not to notice the eyes of those in attendance become long, as Teisbæk sits down.
She is casually wearing a denim jumpsuit and a black cashmere hoodie. The hair is parted in the middle and gathered in a tight knot at the nape of the neck.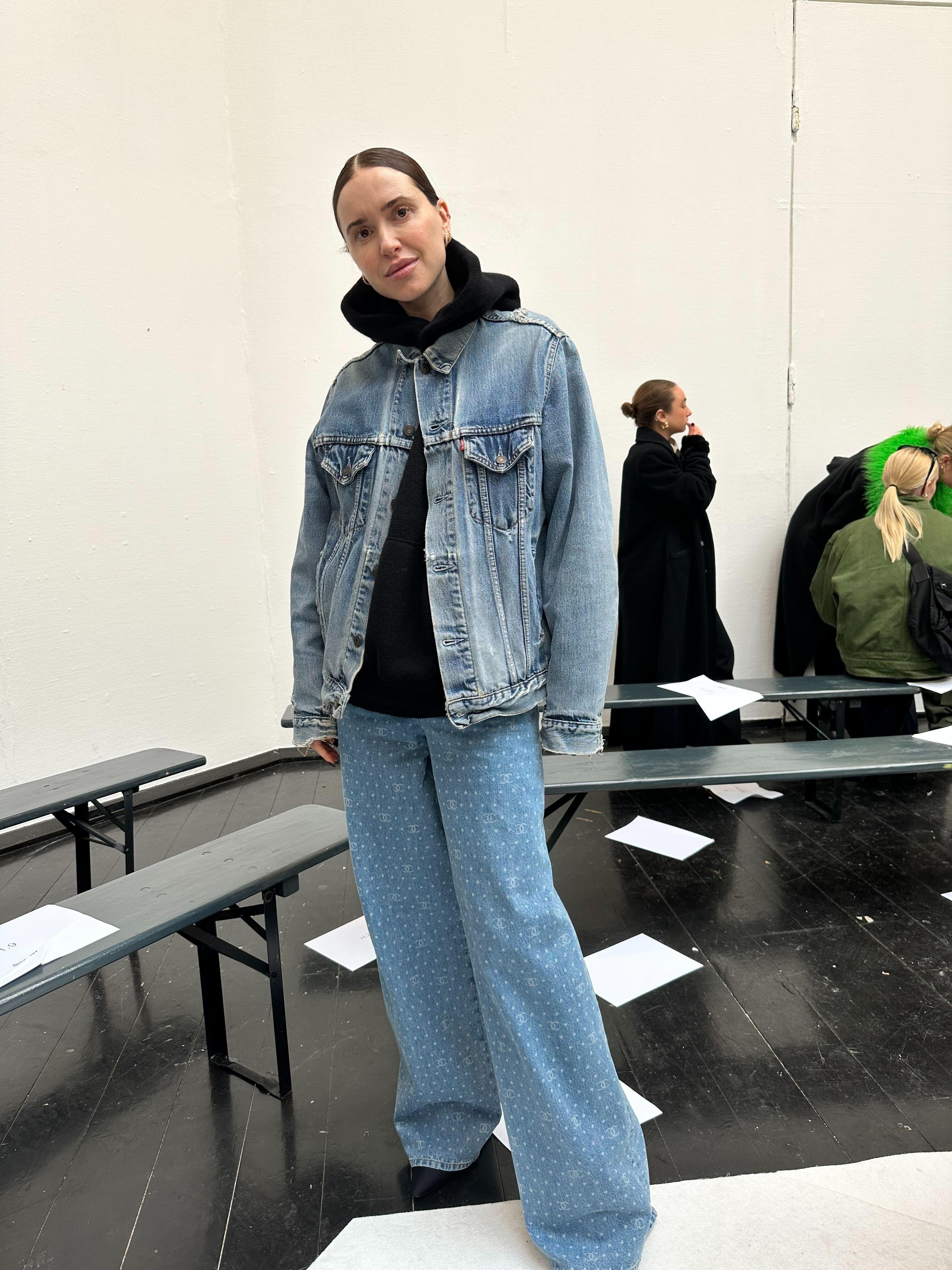 The make-up is natural with a focus on the brows and she has several earrings with white stones in her ears. She is sitting next to a friend Cecilie Thorsmark, who is the head of fashion week in Copenhagen.
– For spring, I strongly believe that jeans will be the norm, as you may see, Teisbæk tells MinMote and laughs.
She continues:
– Use what you have in your wardrobe and think about sustainability, that's what I do. Gray on gray we will see a lot of, and transparent heels. And! Hoodies. I love good hoodies. There are probably more, but this is the first thing I can think of that will make a mark in the fashion scene going forward, she says.
Three dress codes she follows
The 37-year-old posts almost daily to his 1.4 million followers about fashion, everyday life and interiors. She is best known for putting together outfits in an effortless and cool way.
The most important thing when it comes to styling for Teisbæk is that the outfit is rather simple yet too much, she says. With three little boys aged 2, 4 and 5, it's good to have some simple rules for getting dressed in the morning.
– I dress according to my own rules. So every morning when I have to get dressed, I always think about; comfort, less is more and recycling what I have in my wardrobe.
Designer bags and oversized coats styled with pearl earrings, caps and sneakers. Or jogging bottoms accompanied by uggs, a hat and faux fur are among the outfits for Teisbæk that stand out in the feed.
She herself has a clear answer to what it means to have good style.
– Having good style is about being relaxed and confident. Good style is felt when it is not forced.
Trysil and brown cheese
The rest of the fashion month February does not offer the big trips abroad like several of her colleagues in the fashion industry.
However, a trip to Trysil in Norway is what is on the family of five's schedule.
– I'm going to Norway next week and I'm really looking forward to it. We are going on a family trip with the boys to go skiing in Trysil. It looks so nice there, she says and adds:
– I try to prepare my boys for the fact that we are going to Norway by showing them and telling them about typical Norwegian things. So now we can hardly wait to taste brown cheese!