By Manon C., The editorial staff · Photos by My B. · Published on January 30, 2023 at 10:58 am
Want a real chicken and fries in the rules of the art? We go to the rotisseries of Paris where to savor beautiful poultry delicately roasted for hours.
If there is a dish that makes everyone agree, parents, children, and even grandparents, it is undoubtedly the roasting pan, and in particular the unbeatable chicken and fries which takes us back to our fondest childhood memories, on Sundays at mum's or grandma's table. It is not for nothing that it is one of the 10 favorite dishes of the French, even going so far as to storm the first place in the ranking!
Chickens, turkeys, ducks, geese, guinea fowl and other quails, slowly cooked in spit for hours, and who thus take all their time to reveal their most beautiful assets and their best flavors; there is enough to salivate! In Paris, many rotisseries honor the most beautiful poultry passed to the roasting panand sometimes even other meats, such as pork or beef.
Whether you prefer pork on a spit or roast poultry, you will certainly find what you are looking for among the Paris rotisseries. To you the beautiful animals with crispy skin and melting chair.
The rotisseries of Paris, our good addresses where to eat a real chicken and fries on Sunday: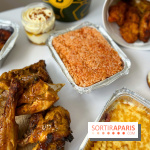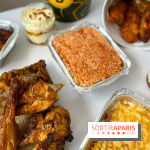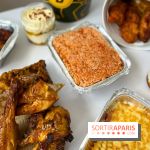 PB Poulet Braisé, the affordable rotisserie and its golden poultry
At PB Poulet Braisé, the chicken is Breton and comes in endless variety. A quick, generous and affordable good plan for families and groups of friends. [Lire la suite]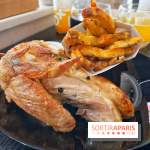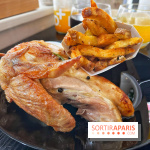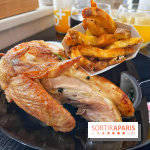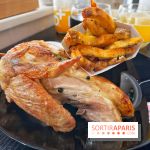 Coqot, the gourmet rotisserie that revisits chicken in all sauces in the 17th
No more traditional rotisseries, go to Coqot, where you can eat a good roast chicken on site or to take away! We rediscover the good taste of chicken in all its forms: marinated, in accras, whole or in a sandwich version! [Lire la suite]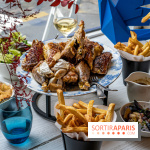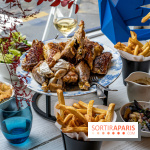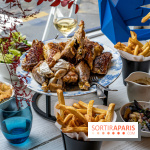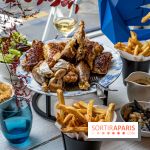 The Coq & Fils restaurant and its beautiful poultry
Le Coq Rico, the emblematic restaurant of Montmartre changes its name and becomes Le Coq & Fils. On the program, a redesigned menu where purebred poultry is more than ever honored by the three-starred chef, Antoine Westermann. [Lire la suite]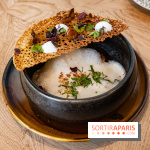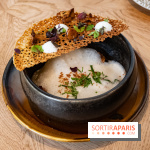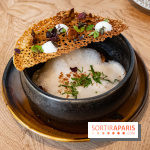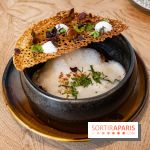 Les Hamptons, the grill restaurant of the Renaissance hotel in Rueil-Malmaison
Last summer, the Renaissance Paris Hippodrome de Saint-Cloud hotel of the Paris Country Club opened a new restaurant, Les Hamptons. A charming restaurant with terrace where chef Matthieu Marti offers grilled cuisine (mainly meat and fish), with American inspirations. The setting is exotic, the plate is delicious. An experience to be tempted by. This winter, it unveils its new menu. [Lire la suite]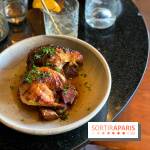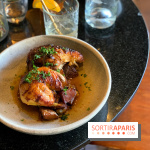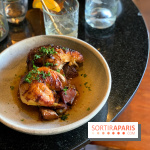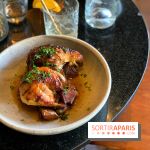 Coquin, the excellent affordable rotisserie in Ménilmontant
Flame-roasted French poultry, a friendly atmosphere and a competition menu at unbeatable prices, you are not dreaming, you are at the Coquin rotisserie! [Lire la suite]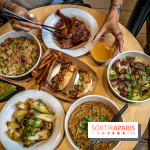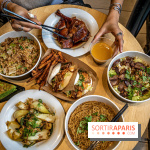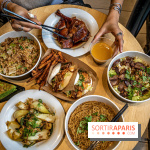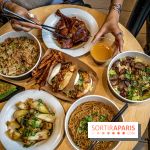 Ducky's, the comforting Asian street-food restaurant in Montparnasse
Ducky's is the gourmet restaurant that delights fans of Asian street food and Peking duck near Montparnasse. Here we discover a friendly spot with excellent value for money for a tasty lunch or dinner. [Lire la suite]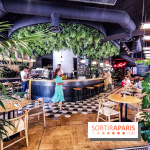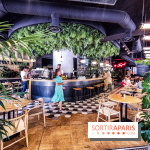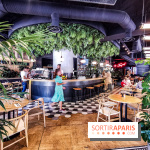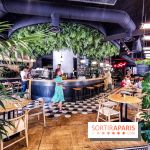 Le Choupinet, the very good brasserie near the Luxembourg Gardens
Le Choupinet is this brasserie located opposite the Luxembourg Gardens. It serves good typical French brasserie cuisine in a modern and warm atmosphere. [Lire la suite]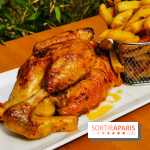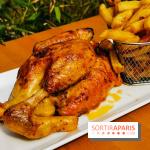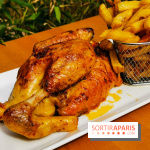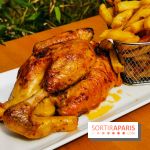 Poulet Poulette, the restaurant that offers free-range chicken in all its forms in Montparnasse
Chicken lovers, we found you a new canteen, Poulet Poulette. In this restaurant in the Montparnasse district, chicken (and only Label Rouge chicken) is available in burgers, wraps and salads. Roasted, marinated, fried or a la plancha, you will necessarily find a chicken recipe that makes you want. [Lire la suite]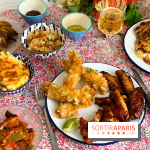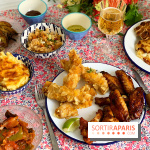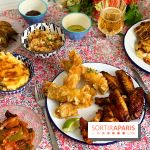 Solyles, the contemporary rotisserie that gives pride of place to chicken
This is a perfect address for gallino-maniacs. Located in Montmartre but also in the 14th arrondissement, the Solyles rotisserie offers gourmets the opportunity to rediscover chicken in all its forms. Here, it's simple: it's THE star of the restaurant! [Lire la suite]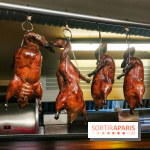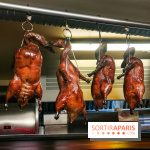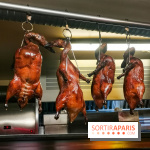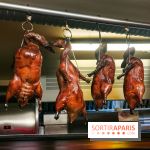 Street BKK Roast & Beer Pigalle, the new restaurant of the Street Bangkok family
Lovers of Asian street-food and especially meat, we found your new canteen. Street BKK Roast & Beer which offers Asian-style roast meats including an excellent lacquered duck. The restaurant has just opened near Pigalle. His menu is available for delivery and to take away while waiting for his terrace to welcome you. [Lire la suite]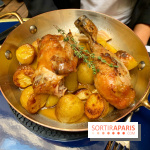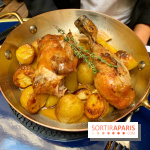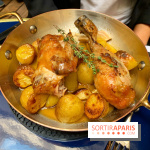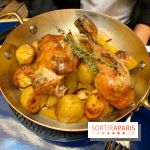 The Gallopin Rotisserie
Brasserie Gallopin has just opened a rotisserie, a few steps from its historic address. We watch the meats turn patiently in the rotisseries, before devouring them! [Lire la suite]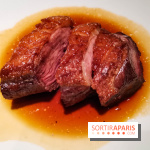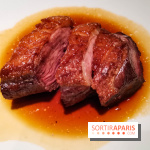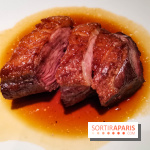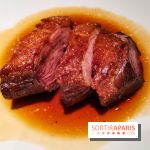 L'Atelier Maître Albert, Guy Savoy's rotisserie
The three-starred chef Guy Savoy is also behind the L'Atelier de Maître Albert rotisserie. With chef Emmanuel Monsallier, they notably offer roast meats in a very warm setting with a smoking fireplace. [Lire la suite]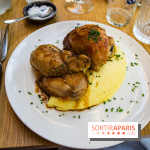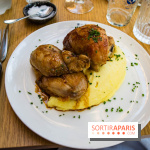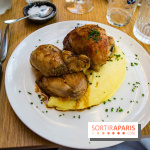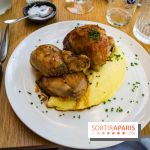 Bien Ficelé, a quality meat restaurant
The Bien Elevé team opened a second address last September: Bien Ficelé! Located in the 11th arrondissement, Bien Ficelé offers its customers, like its big brother, the best of the best meats made in France: suckling pig, poultry, home-matured beef… An address to recommend to carnivores! [Lire la suite]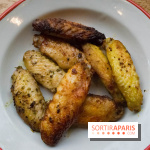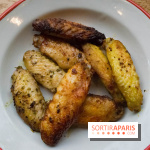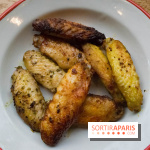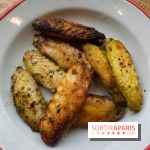 Poulet Rouge, the temple of Label Rouge chicken at Batignolles in Paris
Chicken, do you want some, here it is! Le Poulet Rouge has settled in the 17th arrondissement, on the Batignolles side, with its pieces and large Label Rouge chickens to enjoy on the spot or to take away! Poultry lovers, here is your new canteen. [Lire la suite]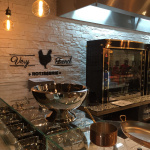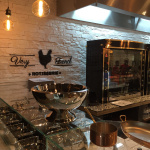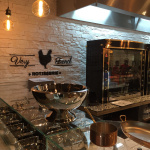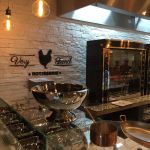 Ma Poulette, rotisserie-restaurant settles in Aéroville
You surely remember the very young chef from Top Chef, Xavier Sarfati, who arouses the admiration of many chefs. He has grown and developed new projects, including the next one, to open his first rotisserie-restaurant in the Aéroville shopping center: Ma Poulette! For the opening, he invites you on September 11, 2016 for free events and tastings! [Lire la suite]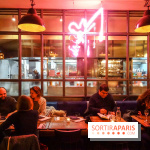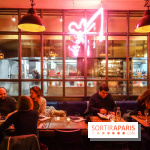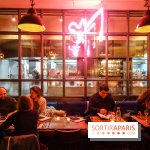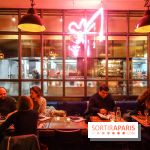 Maison Becquey: a waterfront rotisserie in the 19th arrondissement
A fishing rooster, the obvious mascot for a rotisserie bistro on the banks of the Ourcq canal: Welcome to Maison Becquey. [Lire la suite]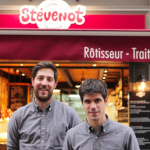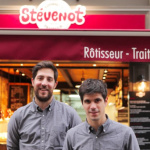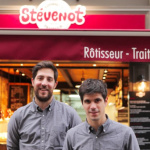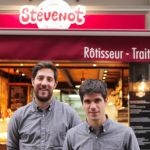 Stévenot, a Basque rotisserie-grocery store in Paris
Who said rotisseries were? At Stévenot, we rediscover the good flavors of roast chicken, pork ribs and other duck foie gras, everything that makes the Basque country smile. [Lire la suite]
Where to eat the 10 favorite dishes of the French in 2023 in Paris? Our good addresses
Beef bourguignon, couscous, veal blanquette, paella… Quickly discover the restaurants in Paris where you can taste the 10 favorite dishes of the French! [Lire la suite]
Good chicken and fries!