Several cities and towns throughout Slovakia turned off public lighting at 7:00 p.m. for half an hour. This is a protest, with which they want to draw attention to the fact that the situation with the non-resolution of energy prices for municipalities has extremely serious and negative impacts on the performance of many basic tasks. According to the central director of the Office of the Association of Towns and Municipalities of Slovakia (ZMOS), Michal Kaliňák, at least 75 percent of local governments are participating in the demonstration.

TASR

30.01.2023 09:02, updated: 19:05
photo: TASR, Henrich Mišovič

Illustrative photo: street lighting in the center of Nitra

Public lighting was turned off, for example, in Prešov, Banská Bystrica, Zvolen, Prievidza and Partizánske. "The protest was symbolically joined by 43 cities and municipalities that could not provide public lighting for technical reasons," Kaliňák told TASR.
The municipalities said in their statement that they are victims of the government's bad decisions and that the most urgent thing is quick and effective help from the government cabinet. They are waiting for solutions to help them with the high bills for the fall and winter of last year. They also want the government to provide them with assistance this year as well and not to forget the municipalities that use biomass or wood chips.
"We expect that the aid will not be in the form of a refund, because we cannot pay many municipalities on the edge of the abyss, that they will take loans and then wait for their reimbursement from the state," said the central director of the ZMOS Office.
The association reminds that the aid should not be forgotten for the following year, in which municipalities will receive an annual settlement for this year. "Because even this does not have to be of a manageable financial amount," they pointed out from ZMOS.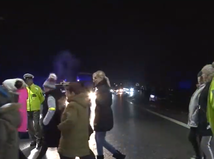 Read more With the lights off, the protesters blocked the main road in Donovaly. They lit themselves with flashlights and cellphones
The government declared help with the energy crisis to municipalities. From January 1 to March 31, the price of electricity for municipalities should be capped at 199 euros per megawatt hour and for gas at 99 euros per megawatt hour. For costs above the ceiling for electricity and gas, 80 percent of it is to be reimbursed by the state.
In recent days, the temporarily appointed Minister of the Economy, Karel Hirman, met with representatives of the local government. He informed them that the aid will go through a scheme that was already operational last December. The first payment for January will be possible during February.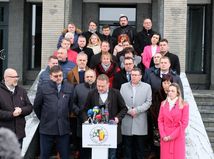 Read more It is boiling in cities and villages. They claim they have been thrown overboard by the government and will soon go out of business