During his presentation press conference at LOSC, Benoit Costil assured that on the side of AJ Auxerre his departure had not posed a problem. To those who saw him as a player leaving the ship in the middle of the season, the former doorman of the Girondins de Bordeaux had replied: "That's a point of view that we can have, and if some people have this point of view that I'm leaving the ship, it's up to them to think what they want… Now, I wouldn't go into the details of the exchanges I may have had with the AJ Auxerre coach or even some of my former colleagues, but to develop the reason for the comment, there was no problem and they were all super respectful and understanding in relation to my position, this choice".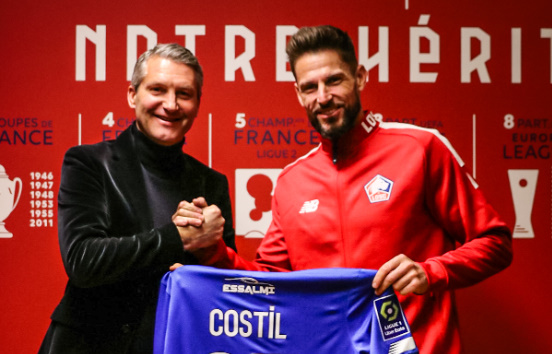 Christophe Pelissier, the coach of AJ Auxerre, was then questioned about the departure of the former French international the day before yesterday in a pre-match press conference. And the least we can say is that he was rather preferred to the departure of his goalkeeper, whom he had appointed as a manager.
"Already, we were presented with a fait accompli… Friday morning, we learned that Benoit had given his consent to Lille. We had to turn around quickly, and it was not easy to find a goalkeeper. On one had this opportunity. First, we looked in France, I'll admit, and we couldn't get the players we wanted, so we also looked abroad. There was this opportunity with Radu who is an international goalkeeper, who played games with Inter. He has international experience and experience of high-level pressure. He is a player who seduced us to come and bring us more on the second part of the season […] How did I experience the departure of Benoit Costil? I admit that it was a surprise. It was a surprise. He explained his reasons to me, which I hear. As I told him, these are reasons that I understand as a man, but which I do not accept as a coach. It's between him and me. It's the difficulty of the job too… He had trouble psychologically coping with what was happening, what he had experienced especially in Bordeaux… He didn't feel psychologically strong enough to help the group obtain this support. It was brave of him to tell me. Afterwards, when you are a coach, you are also selfish. He is on the way to Lille, and we hope to have the best for a group. This is someone I had designated, from his experience, as a relay in the locker room. That's why it bothered me a bit… But hey, you have to accept things, and I think Benoit was very clear in his explanation and in the discussion I had with him on Friday morning. Afterwards, the locker room also understood, even if some were also surprised, as well as players close to him. It's like that, you have to manage to… Before the player, there is also the man, we can't hide him. For the player to be good, often the man has to feel good. At one point… I hear some people pulling a little… But you have to analyze everything to understand things".