Here's an insider's look at some of the outer circle routing that Finnair has to use…
Finnair's challenges with Russian airspace
With the Russian invasion of Ukraine, many airlines have avoided Russian airspace. Some airlines have done this voluntarily out of an abundance of caution, while other airlines have no choice because there are sanctions that prevent the use of this airspace.
Without a doubt, Finnair is one of the most difficult points regarding the closure of this airspace. Before the pandemic, Finnair's long-haul network mainly consisted of flights to and from Asia, taking into account Helsinki's advantageous geography, as the airline markets the Fastest connections to Asia.
Unfortunately, that advantage has now turned into a huge disadvantage, as those high-speed routes were dependent on using Russian airspace. Now Finnair has to operate ridiculous round-trip flights to and from Asia, which significantly increases the travel time for all flights.
For example, Finnair's Helsinki-Tokyo flight now first requires a flight south around Ukraine and then over Turkmenistan, Kyrgyzstan, China, etc.
At the same time, Finnair's Tokyo-Helsinki flight first flies across the Pacific Ocean to Alaska and then almost directly over the North Pole before heading south towards Helsinki.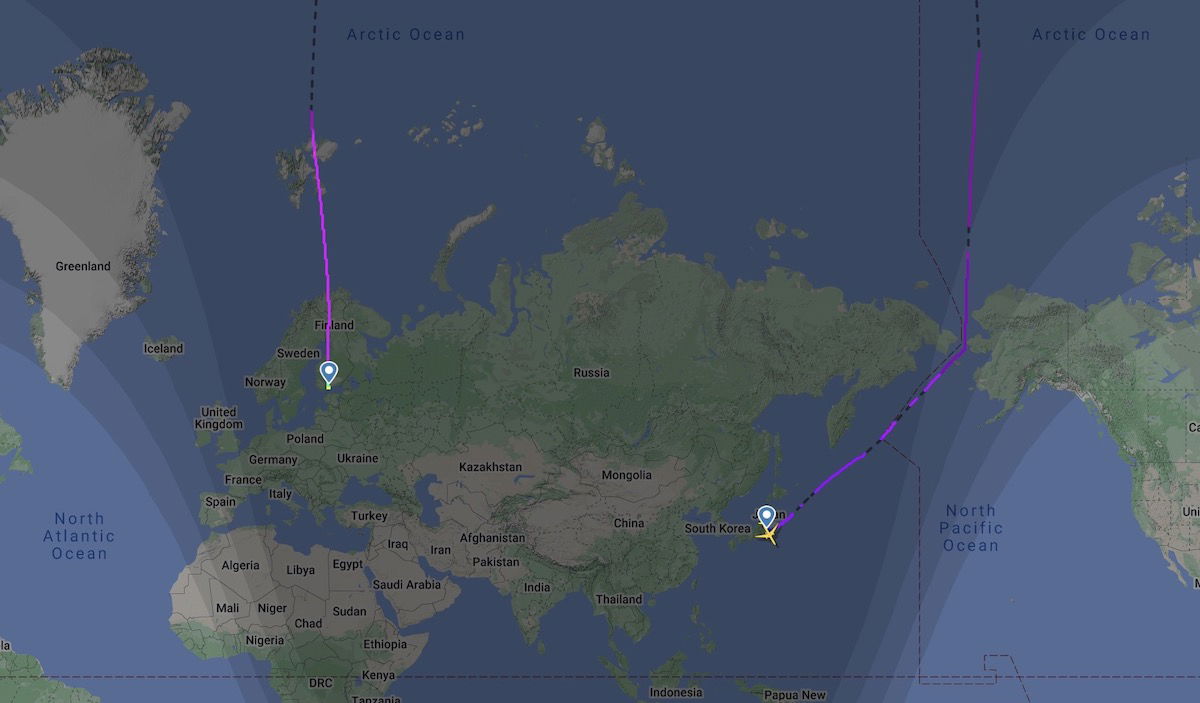 These different routes are based on the wind. Flights to the east have a tailwind, which is why Finnair still flies east, while flights to the west have a headwind, which is why Finnair flies "over" the country.
Finnair's A350 flies over the North Pole
Gabriel Leigh flew with Flightradar24 back and forth from Helsinki to Tokyo in Finnair business class, and on the return flight he had the incredible opportunity to fly most of the way in the cockpit. If you are an aviation geek, you will absolutely love this video.
The 23-minute video covers almost the entire flight, but it's especially interesting to hear from the pilots what it's like to pilot a flight near the North Pole. Of course, flights have been on Polar's routes for a long time, so this is nothing new, but seeing how it feels in the cockpit is an opportunity you don't often get.
Looking at this, I really want to fly this Finnair route, although ideally in the summer when this route has 24 hours of daylight. Meanwhile, when this was shot, it was dark almost the entire way, except for a brief light over Alaska.
An interesting video of the departing flight was also published, but this one is filmed more from the point of view of the passenger experience, and does not include a cockpit view.
Bottom line
If you are diligent and have time, I highly recommend watching the video from inside the Finnair cockpit, which is certainly one of the most interesting routes at the moment. Finnair's Tokyo-Helsinki flight usually flies directly along the Alaskan coast before flying within kilometers of the North Pole.
I'm putting this flight on my summer bucket list because I'd like to experience this when it's not dark outside.
Did anyone else enjoy this as much as I did?