When ntv invited people to Bertelsmann's Berlin offices last Wednesday to celebrate his 30th birthday – a week too early – even the Federal President didn't stop by. "We'll stay tuned, that's the promise that ntv makes to its viewers," said Frank-Walter Steinmeier in his speech and expressed the wish that various media would stay tuned in the future, "that they observe current events, explain discuss that they live up to their democratic mandate of informing responsible citizens". Steinmeier's final request: "Stay curious, stay critical – and stay tuned!"
There is some certainty that ntv WILL stay tuned, even if news television in this country has always been a difficult proposition from an economic point of view. Seen in this light, the operator RTL Germany, which has owned ntv since 2006, should probably be given a lot of credit for still affording the expensive luxury of such a channel – especially in competition with a strong public service system. However, a look at Berlin shows that success cannot be taken for granted, where Springer's picture trip to television will be largely stamped again in just a few weeks – after little more than a year.
© MG RTL D / Marina Rosa Weigl
Sonja Schwetje

The high ratings of ntv in recent years prove that a station like ntv is needed. In fact, ntv has been in permanent crisis mode for almost three years now, initially due to the Corona crisis and later due to the ongoing war in Ukraine. "In challenging times, we have to be there for the audience all the more," says ntv editor-in-chief Sonja Schwetje in an interview with DWDL.de, pointing out that several teams have been in Ukraine since the beginning of the war. This is accompanied by constant tension. "Every journey, no matter how small, in a war zone involves risks and must be prepared as best as possible."
ntv is rewarded with high levels of trust – which is also remarkable given the growing skepticism towards established media in parts of society. "I am very concerned about this development," says Schwetje thoughtfully. "A significant number of people think we're being briefed by the government spokesman. What nonsense!" Said nonsense has now gone so far that ntv, like numerous other reporters, has had to consider sending security along with many demonstrations. "That shouldn't be," says the ntv editor-in-chief and, once enraged, says that she now even gets hateful messages when she publishes harmless postings on the subject of freedom of the press.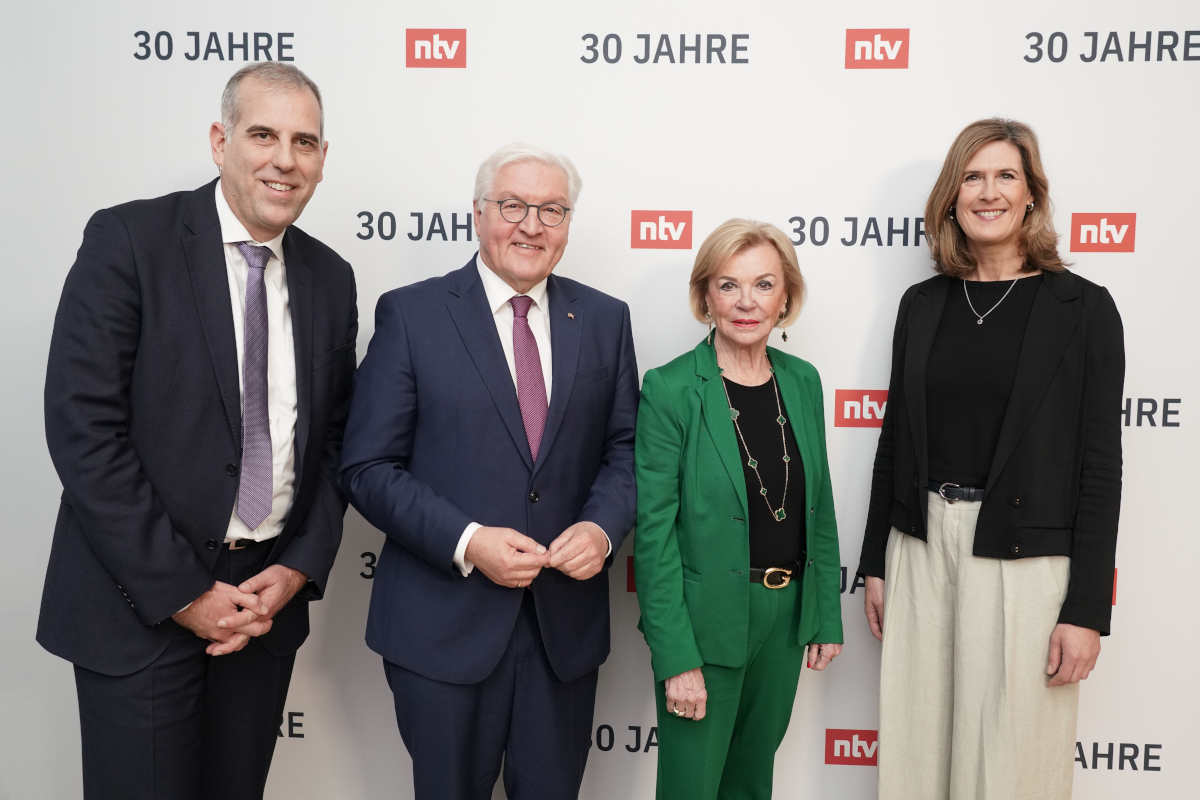 Stephan Schmitter, Managing Director Programming RTL Germany and Managing Director of RTL News and ntv, Federal President Frank-Walter Steinmeier, Liz Mohn and ntv Editor-in-Chief Sonja Schwetje.

So ntv's 30th birthday might be a good opportunity to start a fundamental debate again. It is socially important that people exchange their positions. "We also want to do our part," Sonja Schwetje said about the role of her sender. Because: "Despite all the differences in positions, it's about a common basis for discussion – even if this is 'only' the desire to protect our democracy."
Pioneers on Wall Street
When ntv started broadcasting on November 30, 1992 – at that time in Berlin's Taubenstrasse – such topics were still a thing of the future. And otherwise there are other conditions, also behind the scenes of ntv. The then US media group TimeWarner was involved in the first German news channel from the start, before the big US role model CNN also got involved shortly after the start of the broadcast. The RTL Group only came on board ten years later – at a time when ntv had made a name for itself, not least with its stock market reporting, driven by the boom on the Neuer Markt.
Markus Koch was one of the early viewers of ntv. "We were pioneers on Wall Street," recalls the business journalist in an interview with DWDL.de. "After CNBC's Maria Bartiromo, I was the second journalist permanently stationed at the New York Stock Exchange a few months after she started. Back then you could experience what the stock market was like and how the stock market breathed. Almost 5,000 people had in the three trading rooms at the time 'Greed is good,' as Wall Street's Gordon Gekko once said, you could feel it there every day."
"The days of preaching from the pulpit are over."
Markus Koch
The share fever also had an impact on the perception of stock market reporting. "Money is as shy as a deer and as horny as a buck," says Koch. "It was a golden era, at least until the big bang and the bursting of the tech bubble. Those in the know earned less money than the ignorant because the term risk management was a foreign word. Rich without work, wrote the 'Bild' at the time. Suddenly it was I'm a guest at Harald Schmidt, the SWR 'Nachtcafé' or the 'NDR Talkshow'."
In 2000, Markus Koch was even nominated for the German TV Award for his work. Just a few weeks later, he sold part of his press agency, which had grown rapidly to date. "The boom got too hot for me," said Koch, "and the tech bubble actually burst that year, the Nasdaq lost almost 80 percent by autumn 2002. The end of the wonderful madness." Today he says the concept of reporting is outdated. "I don't report, but live the idea of ​​community, with the exchange on an equal footing, with CEOs as well as with private investors. The days of preaching from the pulpit are over."
Sonja Schwetje also knows that, with the many live broadcasts on the Frankfurt and New York stock exchanges, she is also targeting an "attractive decision-maker target group", as she calls it, who are still interested in the development of share prices. "But right now we are all feeling that the economy is much more than the stock market," says the ntv editor-in-chief to DWDL.de. "Economy is utility, economy affects the living environment of each and every individual." It is therefore important to prepare business in such a way that it is also attractive to other target groups, for example in the new program "Service", which is also intended to reduce fears of contact.
Demands on media policy
For ntv, however, it is more important than ever to position itself clearly in the increasingly difficult media market. "We would like to have our place between the public broadcasters and the global platforms," ​​emphasizes Schwetje and criticizes unequal treatment. "As a private, high-performance medium, we provide the same excellent quality as ARD and ZDF. That's why there must be space for us in terms of findability, refinancing and competitiveness in terms of media policy. We are inventive, agile and able to change very quickly – but As a private broadcasting company, we also have many requirements that others do not have." It's not about questioning the right to exist of ARD and ZDF, she says, but: "Where competition works, it must not be hindered or distorted by unequal conditions."
Schwetje doesn't see it as a problem that ntv has long been broadcasting exclusively from Cologne and not from Berlin, where the Bundestag or the youngest Federal President who appeared at the birthday reception are based. "Of course, as a news broadcaster, you have to be on site in Berlin. Topics that ntv WILL also process in a new studio in the future. A "very good concept" is already in the pipeline, says the editor-in-chief, who believes in a modular approach. "I wish for more flexible and very agile mechanisms, combined with a fully automated mode."
And Markus Koch? Even after almost three centuries, the journalist is still an integral part of ntv. But his perspectives have broadened, most notably through his podcast and almost three million followers on social media, of which he is clearly proud. "Today, the parquet floor is a stage for a bygone era," he says. "One thing has remained: It's about making money and not losing any. That's why the stock market will always be like a thriller that never ends." And ntv will stay tuned for sure.