Despite a difficult economic period, the end of the year periods and especially Christmas will always be the ideal time to indulge yourself with pretty bottles of champagne. To this short selection we have associated a Crémant de Loire. Not for the sake of economy but quite simply for its taste quality which totally bears comparison with excellent champagnes. A selection that includes exceptional bottles as well as more accessible champagnes where quality remains a priority.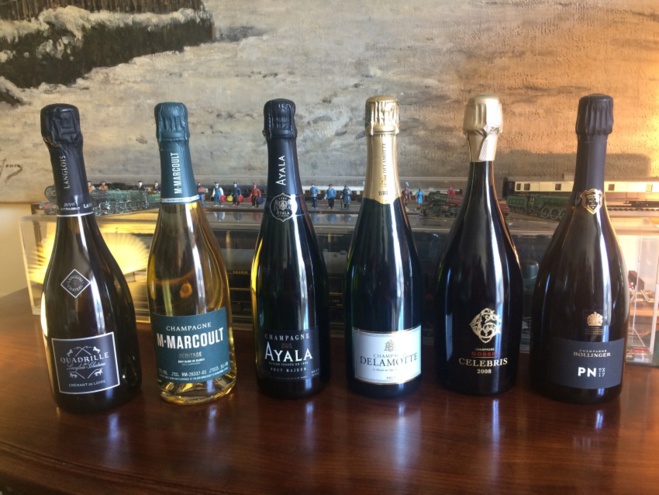 Champagne Bollinger; Bollinger PN TX17
A historic house, Bollinger launched, on July 1, the first event in a series which prefigures the major projects of the bicentenary of the Bollinger house which will be presented in 2029.
While waiting for this date, Bollinger offers us cuvées that are as emblematic as ever, where pinot noir is the star. After the superb PN VZ16, here is the PN TX17. It is the third champagne offered to pinot noir.
An acronym which is a reminder of the pinot noir of the grape variety, the cru de Valeur and the main vintage of the blend with for this one wines from reserve wines of 2006. A complex blend which offers an aromatic nose of dried flowers and licorice.
At the opening, we like these light and delicate bubbles which announce a mouth of a beautiful vivacity. Slightly spicy, it reveals notes of stone fruit dominated by apricot. This PN TX17 is a luminous champagne with an ideal balance. Bollinger PN TX17 brut, €95 at good wine merchants.
Champagne Gosset; Gosset Celery 2008
A great historic Champagne house, the Gosset house offers us today its eighth vintage of its Celebris Vintage range since it was initiated 34 years ago.
For this 2008 vintage, the number of bottles is limited to 15,000 bottles. It is a blend of 54% Chardonnay and 46% Pinot Noir from the most beautiful terroirs of Champagne.
Vinified and aged in stainless steel vats with blocked fermentation in order to obtain a high aging capacity, it is then bottled in the cellar for 12 years. A low sugar dosage (4.8g/l) gives it a perfect balance between freshness and vinosity.
At the opening, an elegant string of fine bubbles enhances a pale gold robe. The nose of this Gosset Celebris 2008 reveals aromas of pear and mirabelle plum slightly dominated by notes of acacia and jasmine.
On the palate, there are pastry notes of shortbread and slightly vanilla-flavoured brioche. A good length in the mouth allows you to appreciate the complexity of this exceptional wine which does not need to be presumed to be drunk without further ado. Nevertheless, it will be perfect with white meats or a nice fish. Gosset Celebris 2008 Extra Brut €175 at wine merchants.
Champagne M- Marcoult; Champagne M-Marcoult Macrets
Among the hundreds of brands of Champagne available on the market, there is always one that we do not know and that we discover with pleasure.
This is the case of the M-Marcoult house. A family house of passionate winegrowers which benefits from the Vigneron de terroir label as well as from Premium Craft Spirits. Julien and Florence Marcoult define wines where balance is a priority.
A choice found in the M-Marcoult Heritage. Made from 100% Chardonnay from the coasts of Sézanne and Vitry, it offers freshness and finesse. A light golden color, delicate bubbles open the door to a delicate nose and a mouth of stone fruits where we find pastry notes.
A well-made brut blanc de blancs at a particularly reasonable price. It will be perfect for end-of-year aperitifs. Champagne M-Marcoult Héritage, €27.50 at independent wine merchants and on the website
Champagne Ayala; Champagne Ayala Brut Major
With Ayala, the connoisseur knows that he will find a perfectly elaborated quality champagne. For this Brut Majeur, there is a blend of 70 different crus with a proportion of 45% Chardonnay, 35% Pinot Noir and 20% Meunier.
The sugar dosage is 7 gr/L. The vinification is carried out in stainless steel vats with an aging of three years on the lees. The light golden color is underlined by a delicate effervescence and reveals notes of citrus and peach.
On the palate, we find the fruitiness of the peach and some brioche notes in the length. Ideal as an aperitif, the Brut Majeur d'Ayala will be the perfect companion for lake fish and a nice grilled lobster. With a contained price of €36, the Ayala Brut Majeur champagne is a perfect choice for Christmas.

Champagne Delamotte Brut
Integrated into the Laurent-Perrier galaxy since 1988, Delamotte champagne is one of those champagnes with which you are never disappointed. Referenced for many years by the Caves Taillevent, the Delamotte Brut presents an equal quality from year to year.
For this champagne, Delamotte has chosen a blend of chardonnay (60%), pinot noir (35%) and pinot meunier (5%). Round and fruity on the palate, this Brut offers a nice length that ends with brioche and white fruit notes.
Aged 36 months in the cellar, it has a pleasant roundness. Perfect for appetizers. Champagne Delamotte Brut €34.
Crémant de Loire Quadrille of Langlois-Château Extra Brut
In this selection where champagnes are in the majority, we wanted to include a Crémant de Loire. Not for economic reasons but quite simply to present a different sparkling wine where the quality of production is a priority.
For this Crémant, a blend of 50% Chenin Blanc, 20% Cabernet Franc, 20% Pinot Noir and 10% Chardonnay was made. After a second fermentation in the bottle and aging on the lees for four years, it is aged for twelve months after disgorging.
For this 2016 Quadrille, a sugar dosage of 4gr/L was chosen. The golden color suggests the finesse of the bubbles. The finesse of the nose is complemented by a round mouth with citrus notes. Very fresh as an aperitif or with quenelles or seafood. Quadrille 2016 from Langlois-Château, €24.10.
Joel Chassaing-Cuvillier
Article published on 11/22/2022 at 01:00 | Read 60 times