Many people can still smell the old water and have fond memories of Debrecen's old indoor swimming pool on Pallagi út, which has not been in operation for many years. According to an announcement last April the patina facility will finally be renovated and is expected to be usable again from 2024.
According to the 1933 issue of the Debreczeni Képes Kalendáriom, the indoor swimming pool was built wedged between the current old Nagyerde bath and steam bath and the reinforced concrete solarium built in 1931. Due to the constraints, its width was 17 meters, and the total water surface was 9.7 meters. The competition length of the pool is 33.3 meters.
The pool area was covered with an 8.1-meter-span, 7.25-meter-high hollow brick slab supported by reinforced concrete arch girders, and the entire swimming pool was equipped with slabs running in three planes and with basilica lighting.
Different water temperatures front and back
The entire building was covered with a reinforced concrete frame. Due to the condensation that provides all protection, the interior wall surfaces are raw, unplastered, with colored grouting. Only the reinforced concrete structures received a very thin layer of colored lime plaster. There were two rows of reinforced concrete benches on the long sides of the 325 square meter pool, and according to the calendar, two water level settings were possible.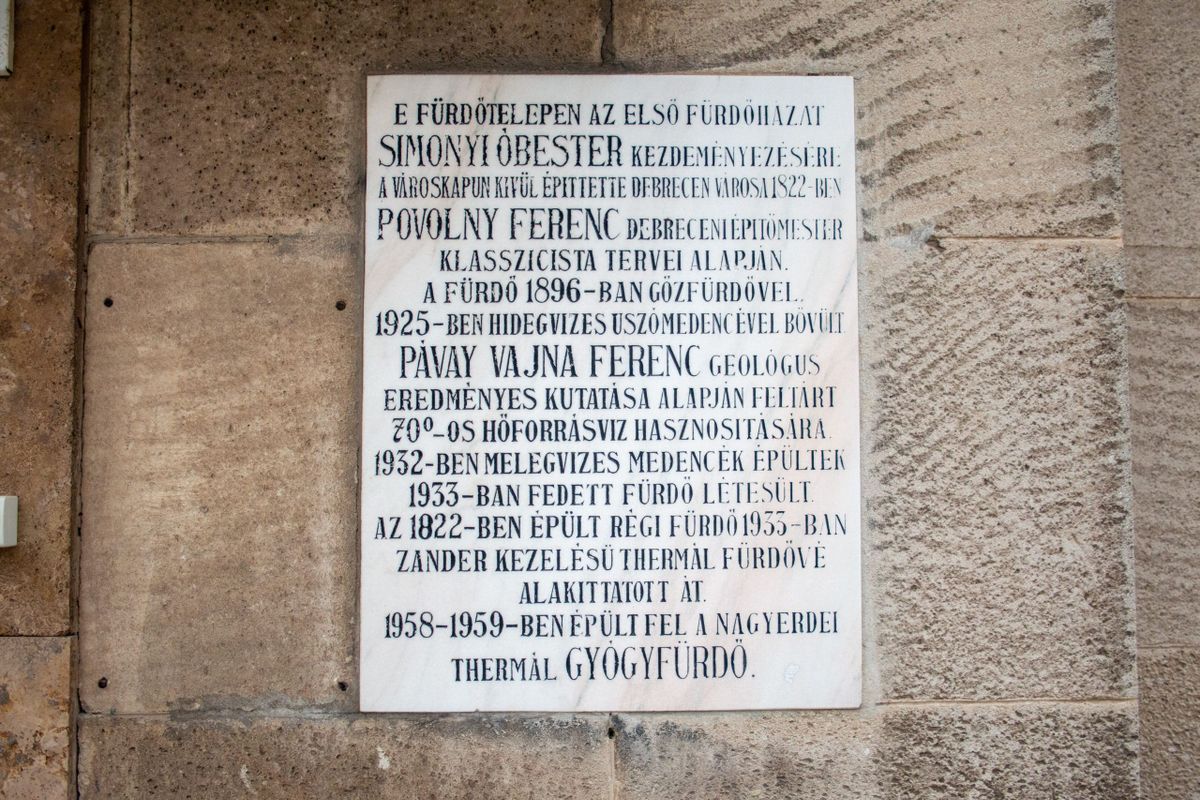 The right level is for the occasion when the pool serves the purposes of patients, while the other, higher level was built for the purposes of swimmers. This was established by the fact that the people sitting on the benches are covered up to their necks, while in the other, for example, you cannot stand on your bottom during water polo.
In order to satisfy this dual purpose, it became necessary to create a water level of 1.1 meters and 1.9 meters as desired, and this was achieved with the help of underflows and overflows placed at the appropriate heights. The water in the part used for medicinal purposes was 40 degrees, and for swimming, 26-28 degrees were produced. In addition, a forced foot wash, as well as showers and restrooms, were also built at the entrance.
World champion with water polo players
The indoor swimming pool was opened by the city on November 19, 1932, from 7:00 p.m. in the framework of national celebrations. The entire staff of the Hungarian Swimming Association came to the parade, jr. With co-president Miklós Horthy at the helm, and also Bródy, Sárkány, brave Halassy, ​​Kesserű II., and Vértessy from the world champion water polo team. For the event of great importance, Debrecen no. out. the city and the swimming association also struck a plaque.
Attila Vass