Although preceded in the score o Apollo Kalamata left me permission hands from Thessaloniki as it suffered a 3-1 defeat by PiEucalyptus for its 6th matchday pre link of women.
The team from Kalamata played a good first set which they won 21-25 but then it was up to the hosts who took the next three and along with the clear three point. They succeeded five out of five in the season and are alone at the top of the standings while The Apollo of Kalamata with his second loss he dropped to third place.
Apollo ruled in the first set steadily having the lead from the start (5-11, 8-13) with the home team reacting and with a 0-4 run to reduce 15-17. The opposition did not continue and Apollonas took the set 21-25 with Kollia's attack.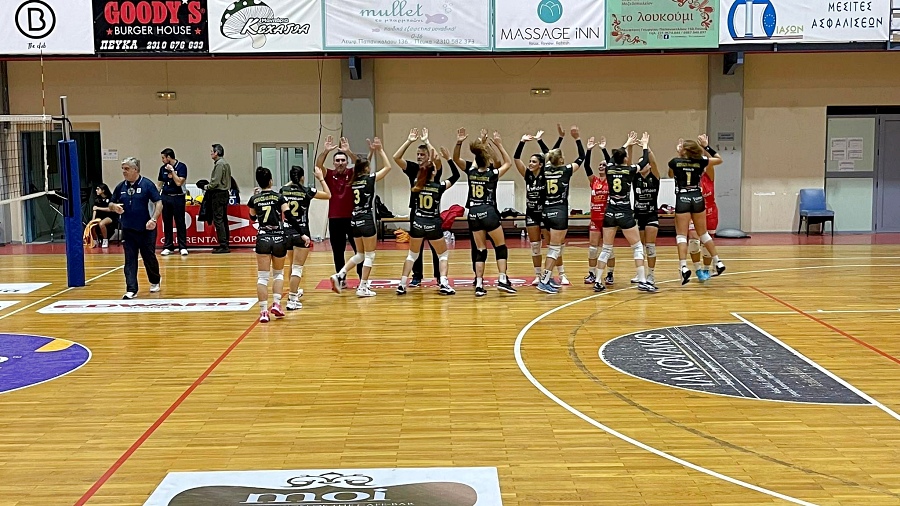 The Kalamata team won lead at the start of the second set as well with 8-10, 12-13 but with a new 4-0 streak the guests went ahead with the score 15-13. Apollos did not give up, leading 17-18, but Pefkas managed to turn the game around again. They led 21-19, 23-21 and took the set 25-22.
The next two sets were typical for the home team comfortably winning the third 25-16 as well as the fourth 25-21 after they had a big difference throughout the set.
The sets: 21-25, 25-22, 25-16, 25-21.
A.S. AKAD. CHAMPIONS OF PINE (Yiannis Charitonidis): Matsarokis, Drakoulidou, Komlenovic, Magdits, Plakia, Karafulidou / Balla (l), Michopoulou, Toliou, Bouza.
APOLLO KALAMATAS (Bambis Mytskidis): Failo, Apostolopoulou, Kollia, Tosi, Tsombanidou, Zoidou / Yolla N. (l), Kapsampeli (l), Mavroidi, Yolla E.
Results:
AS Elpis- Porphyras 1-3 (24-26, 20-25, 25-13, 23-25)
FO Vrilission – APS Navarcho Votsi 0-3 (21 – 25 16 – 25 17 – 25)
Pine Champion Academies – Apollo Kalamata 3 – 1 (21 – 25 25 – 22 25 – 16 25 – 21)
ASP Korinthos – GS Panionios 3 – 0 (25 – 22 25 – 23 25 – 19)
AON Amazones – AS Makedones 3 – 0 (25 – 7 25 – 11 25 – 23)
20/11/2022 (16:30): CHANTH – OFA Apollonios
Grading
| | | | | | |
| --- | --- | --- | --- | --- | --- |
| Th. | Club | Dept. | AG | N | THE |
| 1 | Acad. Prot. Pefkon | 15 | 5 | 5 | 0 |
| 2 | APS Admiral Votsis | 13 | 6 | 5 | 1 |
| 3 | Apollo Kalamata | 12 | 6 | 4 | 2 |
| 4 | OFA Apollonius | 12 | 4 | 4 | 0 |
| 5 | ASP Corinth | 10 | 6 | 3 | 3 |
| 6 | AON Amazons | 10 | 5 | 3 | 2 |
| 7 | AOF Porphyra | 9 | 6 | 3 | 3 |
| 8 | GS Panionios | 9 | 5 | 3 | 2 |
| 9 | AS Elpis | 8 | 6 | 3 | 3 |
| 10 | APS Aia | 4 | 5 | 1 | 4 |
| 11 | HANTH | 3 | 5 | 1 | 4 |
| 12 | FO Vrilission | 0 | 5 | 0 | 5 |
| 13 | AS Macedonia | 0 | 6 | 0 | 6 |