In Schaerbeek, the municipal council offers 130 to more resident cards per 100 available parking spaces in several districts. The majority of Défi and Ecolo-Groen wanted to put an end to this, but have now come back to it, 'given the current context'.
The broken piece of tooth has meanwhile been refilled by the dentist. "I only have some muscle pain in my shoulder," says Brussels Member of Parliament Juan Benjumea Moreno (31). "I know this could have been a lot worse."
Two weeks ago, the Green politician in the Georges Moreaustraat in the Anderlecht district of Curegem crashed his bicycle on a concrete block in the middle of the bicycle path. The police recently had a video made by a neighbor across the street that shows how two men with a van and a few minutes before the crash dragged the concrete block target there.
It was yet another case of sabotage against the new circulation plan, with a pile of torn traffic signs in front of Anderlecht's mayor Fabrice Cumps (PS) who previously discharged the new circulation plan and announced "a new start from scratch".
Time has continued to stand still in Cureghem. In the Hoedstraat, unknown persons have removed the red and white one-way signs with their own hands. As usual, car traffic can drive where it wants to and the local government seems to be looking the other way. On the Lemmensplein, several traffic signs are displayed horizontally, or they are covered with stickers from the action group mautodefense.org.
Violence pays

With Good Move, the Brussels government has set itself the ambition to introduce new local circulation plans in 50 neighborhoods by 2030. She wants to ban transit traffic and reduce car use in the region by 24 percent. In each of the 19 Brussels municipalities, a compromise has to be worked out with the local authorities, and that seems to be getting more difficult.
The three pioneer municipalities were Anderlecht, Brussels City and Schaerbeek. Since the introduction in mid-August there has been commotion for weeks in Brussels city, but mobility alderman Bart Dhondt (Green) continues to screen with the 5 to 6 months that are needed to get used to the new situation. In Schaerbeek, a majority of Défi and Ecolo-Groen opted for small-scale interventions in two districts.
"We have the impression that things are going well," says Pieter Fannes of citizen collective 1030, founded five years ago when journalist Stephanie Verbraekel was fatally hit by a speeding driver. "Among other things, the Haachtsesteenweg, where she died, has been made more car-free due to one-way traffic. The Stephenson district will follow in November, and we do foresee some discussion there."
Mathematically

Last Wednesday the city council in Schaerbeek heard a vote on a new parking plan. It was the third attempt to aim for a third attempt . "The opposition is always in the room and then you don't get the required quorum," says council member Arnaud Verstraete (Groen). "That is now the current context in Brussels, after what happened in Anderlecht. There is the party leader of the PS now that he is moving concrete blocks."
The new parking plan provided for a moratorium on resident cards. Schaerbeek has been working on this for years. In 2016, the municipal council compared the number of free parking spaces per district with the number of tickets. "In our neighborhood there were 130 tickets for 100 places at the time," says Pieter Fannes. "In other districts too, there were far more cards circulating than there are places, and the start has only become more extreme, only 28 euros per year for a first card and 50 euros for a second card. You notice it on the street. Cars are parked everywhere. On roundabouts, on footpaths. Motorists are constantly driving through residential areas in search of a parking space that is not there purely mathematically."
About 100 people showed up in the council chamber on Wednesday evening, mainly motivated by PTB-PVDA, which believes that 28 euros is too expensive. "They were very against and chanting slogans," says Verstraete. "You saw a coalition of PTB and the pro-car lobby."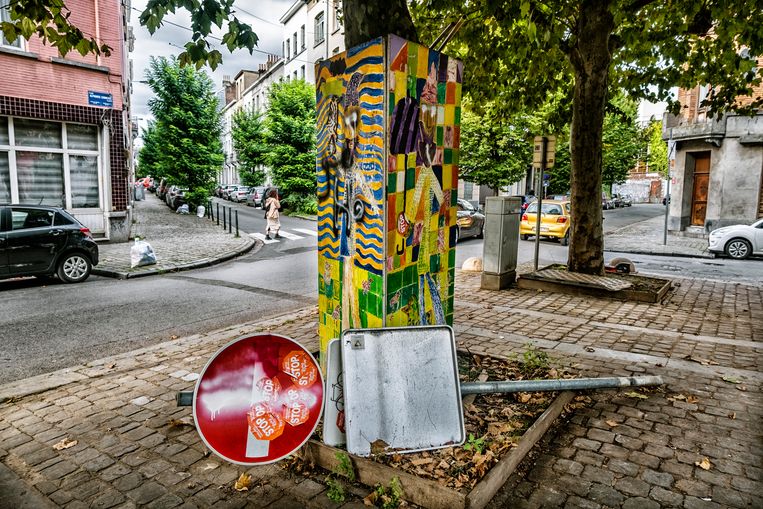 No moratorium

With the help of opposition parties PS and Les Engages the again non-numerical majority issued a compromise: the new parking plan is being implemented, but without the moratorium. Until 2024, the year of the next municipal elections. "Of course I would have liked to see this differently", says Verstraete. "But you do better in Brussels every time."
The citizen collective 1030's images are made as painfully slow. "People have known for years that a stop to the number of resident cards is inevitable," says Pieter Fannes. "We don't have the miracle solution either. We also think that large families should be considered, but the fact that men remove this from the parking plan makes the situation in 2024 even more complex."
A new circulation plan will be started in Ixelles this month, followed by Sint-Gillis and Jette. Consultation rounds with residents are starting in Molenbeek and Vorst.