ETIHAD STADIUM (VG) (Manchester City – Manchester United 6–3) According to Pep Guardiola (51), Erling Braut Haaland (22) has an innate talent that makes him a goal machine.
At the same time, the Manchester City manager is not happy about a statement the Norwegian made weeks ago. After getting a critical question about how it was relative few ball touches in matchescountered Haaland with the following response to beIN Sports:
– My dream is to be close to the ball five times and score five goals. That is my biggest dream.
Guardiola didn't think anything of that, says the successful coach after the goal show against United.
– He has said that he dreamed of scoring five goals in five touches. I do not like it. He became a footballer to score goals, but I like that he is part of the game.
Read also: Haaland humiliated United
Against Bournemouth in August, Haaland had just eight appearances. In Sunday's 6-3 victory over United, the striker had 35 touches. Three of them ended up in the net, while two were goalscoring passes for Phil Foden (22).
No one has previously scored three hat tricks in their first eight Premier League games. According to Sky Sports, Michael Owen (42) held the previous record – and he spent 48 matches for Liverpool on the feat.
No one is close to Haaland on the top scorer list this season either. Jærbuen's 14 goals are twice as many as the number two on the list, Tottenham's Harry Kane.
– The quality we have offensively makes the difference, says Guardiola.
– What Erling does for us, he has previously done in Norway, Austria and Germany. That is the reality. The quality we have next to him helps him score goals. I didn't teach him this either. Erling has an incredible instinct to know where and when the ball comes in front of the goal, and he has it from more and more. He was born with it.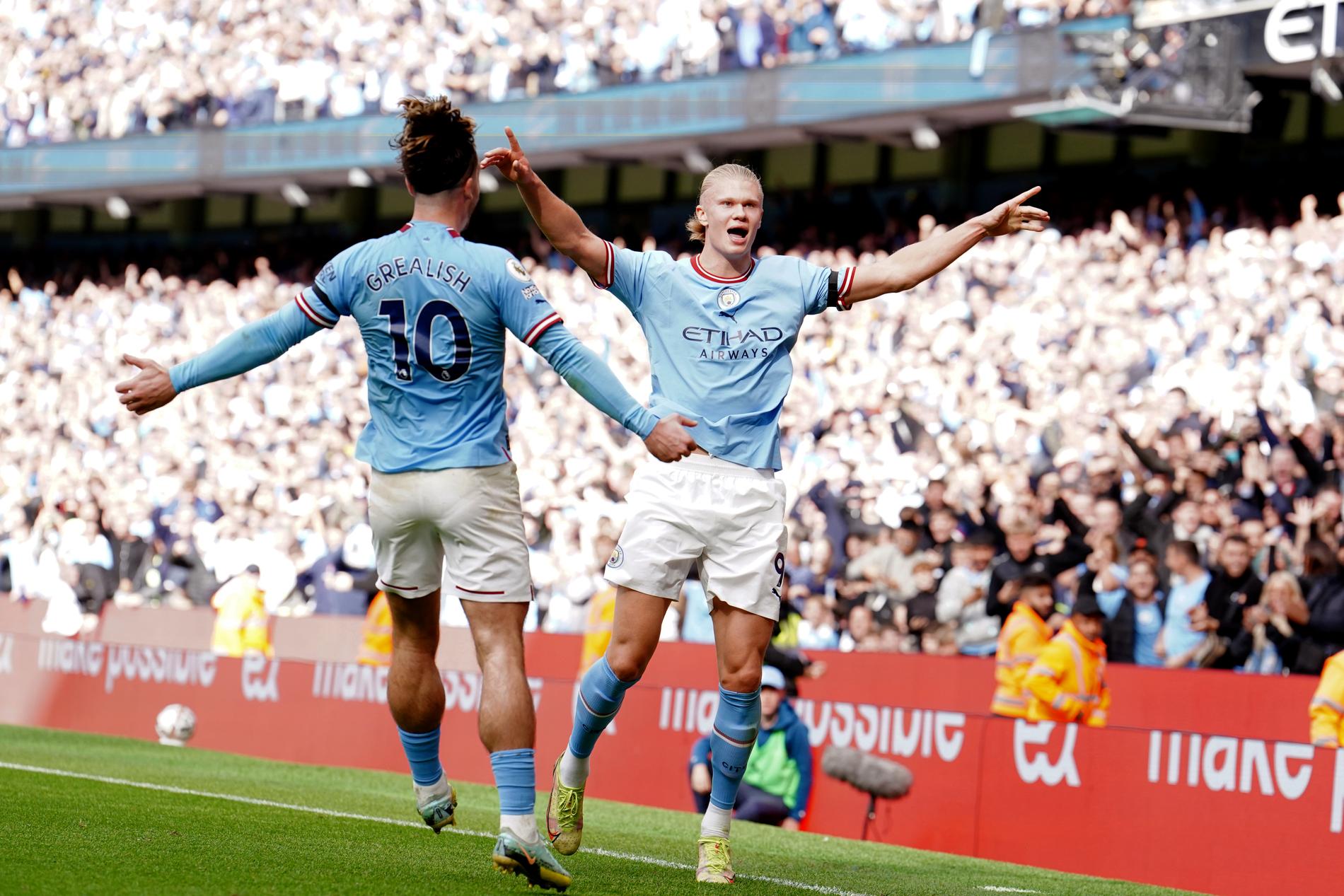 On Sunday, Haaland never got to respond to the statement Guardiola made at the press conference after the match, but the old man has told several times of his admiration for the coach.
The feeling is mutual. The City manager has said that he is almost in love with Haaland. In front of Viaplay, the Norwegian also expresses in a way that is played at United.
– This is how it should be in a fight like this. You feel it from the first second – that it was a blow today. Isn't it better than this? No, it's not really that, Haaland says and smiles.
– It's obviously big, says the 22-year-old in this interview:
On Wednesday evening, Haaland will be in action again. Then FC Copenhagen will come to Manchester, and the Champions League anthem will resound throughout the Etihad Stadium before kick-off.
One question is whether Haaland will start the match or be rested. City have won the first two games in the group stage.
– He will get breaks. We have a match every third day. But we are lucky. Last season he could not play in many games for Dortmund. He was injured all the time. Here we have incredibly good physiotherapists who help with both hands and knowledge. It's fantastic for us, says Guardiola.