We are going through a period marked by many challenges. This was stated by the Acting Minister of Foreign Affairs Nikolay Milkov during the 77th session of the UN General Assembly in New York, BNR reported.
Regarding the Russian aggression in Ukraine and the referendums held in occupied territories, he also expresses the Bulgarian position:
"This illegal military aggression, which is being waged by a permanent member of the Security Council, not only supports global security, but also endangers the entire rules-based international order."
Milkov emphasized that Bulgaria is seriously disturbed by the escalation of the conflict and from the partial mobilization announced in Russia.
What is happening on the frontline in Ukraine while referendums are being held
For the Ukrainian side, from a legal point of view, nothing will change after the "referendums"
He adds that our country condemns referendawhich take place in the occupied Ukrainian territories.
We believe that they are not free and fair and that it has no binding force, the minister pointed out.
We remind you, the third day in four territories of Ukrainesome of them partially occupied by the Russian army, referendums started to be held, hastily organized by the occupation authorities – this Luhansk, Donetsk, Kherson and Zaporozhye. The announcement is made in the homes, and only on the last day of the term, September 27, people will be allowed to vote at the ballot boxes in the organized precincts.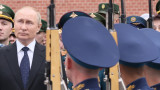 After the partial mobilization, Putin is thinking of introducing martial law
The Kremlin will probably ban people from traveling abroad
Kyiv, USA and the countries of low union already warnedthat the organization of such a "plebiscite" will be ruled out at a point of no returnafter which there will be no negotiations for a peaceful resolution of the military conflict and the return of the parties to their pre-February 24 positions.
In 2014, after the referendum was organized in just such a way, Russia annexed Crimea and Sevastopol. Before invading Ukraine on February 24, the Russian president Vladimir Putin recognizes two "republics" in Donbass – Donetsk and Luhansk.