The Skyliners Frankfurt won the first test match of the preparation. New coach Geert Hammink sees room for improvement, especially defensively, but is satisfied with the development overall.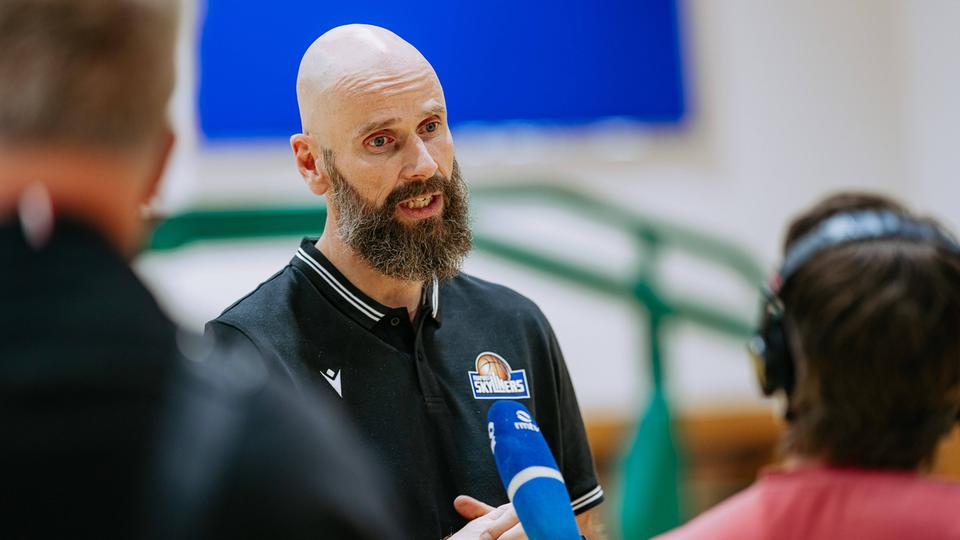 The Skyliners Frankfurt celebrated the first friendly win of the pre-season. The Hessians prevailed against the second division team Trier on Friday evening with 113:57. The top scorer for the hosts was guard Laurynas Beliauskas with 23 points. The eye-catching Joshua Obies contributed 18 points to the win.
For coach Geert Hammink, looking at the statistics sheet was not decisive at all. The Dutchman didn't applaud a basket, but only when the "tasks" were right. If his players move and play freely as he imagines. Whether the ball found its way into the basket at the end was secondary.
Offensively, the philosophy is already recognizable
"It's not about winning or losing, but that we played together with so much energy," said Hammink, who was overall satisfied with his team's first appearance. "The first feeling is positive. We have been training a new system for two weeks, almost a new philosophy." It's normal for mistakes to happen.
Especially in the offensive it was already clear where Hammink wants to go with this young team. The Skyliners' game is fast-paced and – as the coach announced – sometimes chaotic. Against Trier, however, the Hessians always manage to create free throws. A hit rate of 58 percent (48 percent threesomes) is impressive.
Rebound work can be improved
Of course, the coach didn't like everything his team did on the court, but they just haven't trained together that often. There was still room for improvement, especially on the defensive end. The rebounding in the first quarter was not to Hammink's taste at all, and the defensive allocation was not always right throughout the game. "We defended maybe 70 times and there were 15 that were really good. And then another 20 that were okay. The rest was a bit chaotic," says Hammink.
The ex-NBA player is confident that the interaction will continue to grind in the coming weeks. "The longer we work together, the better our decisions will be and the better our game will look," Hammink is sure. If you want to get an idea: On September 10 (6 p.m.) the Skyliners will play a benefit game against Bonn. It is the first public test match in preparation.