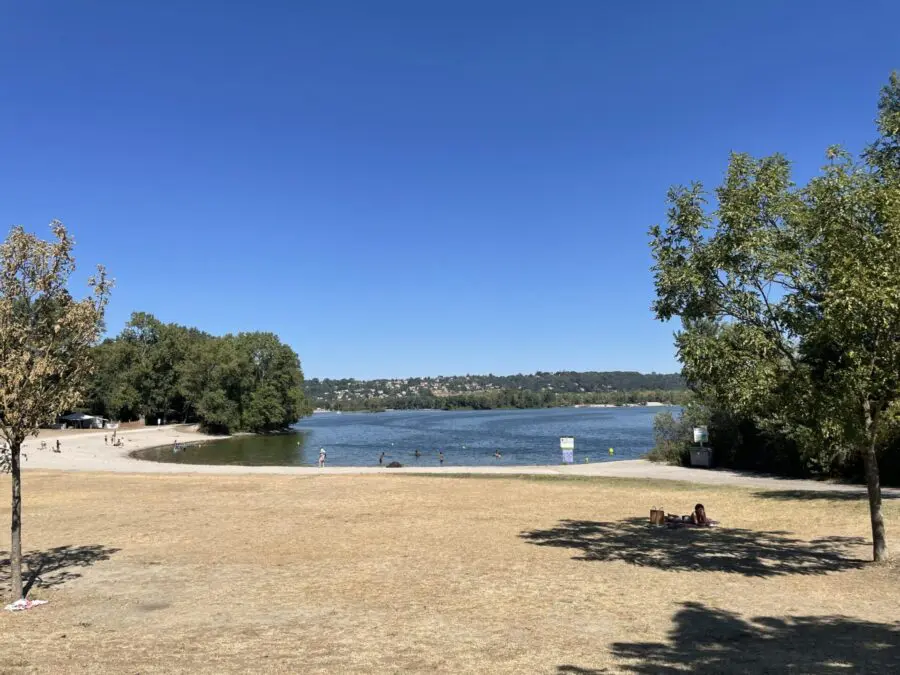 A few minutes from Lyon it is possible to swim at Lake Miribel Jonage. (Photo Hadrian James)
To spend the month of August in the cool and refresh yourself when the sun is at its zenith, Lyon Capitale invites you to discover its selection of free bathing places near Lyon to escape the heat of the city.
It is the only spot where swimming is authorized and supervised in the metropolis of Lyon. Around Lake Grand Parc, three beaches are public and one is private. It is also possible to rent canoes, paddles or pedal boats. On the Grand-Large lake, sailing clubs also offer initiations. Like last summer, Sytral is increasing the timetables, during the summer period, for line 83.
In Anse, the Colombier lake covers 64 hectares. Swimming is supervised from 1 p.m. to 7 p.m. and prohibited outside the surveillance perimeter. Parking is free.
More than an hour from Lyon
Moving away from Lyon and towards the Alps, you can find many supervised lakes such as the lakes of Aiguebelette, Nantua, Paladru or Le Bourget. It is also possible to swim in the Ain river in certain places even if swimming is not supervised around Saint-Vulbas. The Qualité Rivière smartphone application, developed by the Rhône-Méditerranée-Corse water agency, compiles the sites where swimming is possible.
Suspended swimming at Lac des Sapins
Around the Lac des Sapins in Cublize, one hour from Lyon, a real leisure center has developed with an organic swimming pool that can accommodate up to 2,500 people, a tree climbing course and water activities.
In parallel with these facilities, in normal times it is possible to swim in the lake, where a public and supervised beach is accessible to visitors. However, since July 19, swimming is temporarily prohibited in the lake due to the presence of cyanobacteria in the water, revealed by samples from the Regional Health Agency. It is an algae which develops when there is little water and oxygenation and which proliferates with the heat. It generated dangerous toxins for humans and animals warns the ARS.