The widow of Zsazsa Gábor, who was staying in the Hungarian capital a few days ago, was attacked on the banks of the Danube by a gang of five people who took all her valuables. Even though the 79-year-old man only looked like a pensioner walking on the street one night, as he was wearing plain leisure pants, a T-shirt and a sweater, the robbers could see him when his luxury watch flashed from under the sleeve of the sweater. The Patek Phillipe, worth more than HUF 11 million, is not a big loss for Von Anhalt because of its price.
– Even though this watch is worth $30,000, I don't usually flash it because I didn't wear it for its value. I loved that watch because it was a gift from Zsássa – sighed Prince Frédéric von Anhalt, who at first did not understand what was happening to him.
– I like walking along the Danube bank, because it evoked many minds, it was my wife's favorite place in Budapest. I was almost at the Elizabeth Bridge when I was surrounded by five people – recalled the prince, who avoided the tragedy precisely because he did not resist.
– They didn't talk, they attacked right away. They beat me down and twisted my hand, but I didn't resist. If I did, it might have been worse – told Blikk the details, the prince, who after the attack crawled back to the hotel and went to sleep, but in the morning, when the adrenaline left his body, he felt that the problem was much more serious than he thought.
– I woke up to terrible pain, my hand and side hurt a lot, the pillow was also covered in blood because of my head wound. I asked the hotel receptionist to call an ambulance, who took me to the emergency department of the Honvéd hospital – revealed the German businessman, who eventually had to have stitches in his head.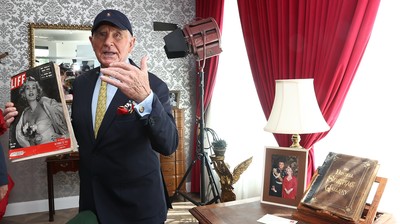 She faced death again: the widow of Zsazsa Gábor underwent life-saving surgery
Von Anhalt stated that he would like to wait to receive compensation, so he would file a complaint and get back the memento he had received from his wife.
– I am confident that there were security cameras on the board, I also saw two attackers clearly, I would recognize them from a photograph said the prince.