Partly cloudy in the northern, inner and western parts of the country, Marmara, the inner parts of the North Aegean, the Western Black Sea, the Eastern Black Sea coasts and Eskişehir, the north of Adana, Osmaniye, Kahramanmaraş, the coasts of Hatay, the Taurus region of the Mediterranean Local showers and thunderstorms are expected in the northwest districts of Ankara and Çankırı, "it is estimated that places will be less cloudy and clear.
According to the forecasts from the General Directorate of Meteorology, the seasonal normals of the weather will be above the seasonal normals at birth and place. The wind will blow from the north-north, the Mediterranean coasts and the southeast parts from the west and southwest directions, light, occasionally medium strength.
WARNING FOR MONDAY
According to the estimation made by the General Directorate, the estimation of Istanbul, Kocaeli, Sakarya, Yalova, Bilecik, Bursa, Balıkesir, Çanakkale in the south of Marmara and the end of the day, Bolu in the Western Black Sea region, Düzce, Zonguldak, It is expected to occur intermittently and locally in Bartın, Karabük, Kastamonu, Eskişehir and Çankırı environs, and northern and western districts of Ankara.
WARNING FROM ISTANBUL AND ANKARA GOVERNORSHIP
Istanbul Governor's Office issued a warning message from its social media account:
"According to Meteorology, from the first hour tomorrow, showers and skies are expected in Istanbul.
Istanbul Municipality (Istanbul Municipality) According to the AK meteorological satellite and meteorological evaluations, the first high precipitations of Monday are expected in Istanbul.
Forecasts of intermittent showers and thunderstorms rain transitions from tonight (03.00) across the province. Rainfall is expected to increase until 06:00 tomorrow morning.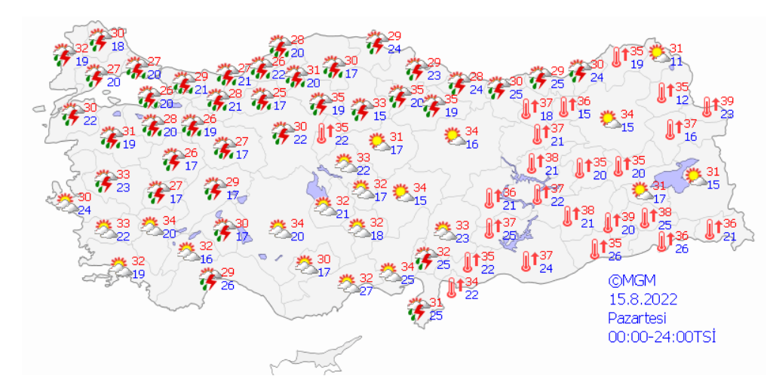 Map showing the weather conditions across the country for Monday…
IT WILL BE SEEING FROM THE FIRST HOURS ON MONDAY
The Ankara Governor's Office believed day and night for 15 days in the northern and western districts of the meteorological assessment center.
The changes made by the Ankara Governor's Office said, "From the first hour on Monday, August 15th, it is expected to see intermittent and intermittent rainfall in the northern and western districts of Ankara, and flood, flood, lightning, local precipitation are expected. It is necessary to be careful and cautious about a subject that will be designed like the wind.
The expected weather conditions in some provinces and the highest temperatures of the day are as follows:
Ankara: Partly cloudy, with local showers and thunderstorms in northwest districts in the afternoon 34
Istanbul: partly cloudy in the afternoon, Üsküdar, Kadıköy, Maltepe districts in the afternoon, short-term local limited and night reading from the sky 30
Izmir: Partly cloudy 32
Adana: cloudy with heavy rain 33
Antalya: Partly cloudy 30
Samsun: Partly cloudy 28
Trabzon: Mostly cloudy 29
Erzurum: Partly cloudy and clear 33
Diyarbakir: Partly cloudy and clear 41