It doesn't matter if you always bet on classic flavors or choose to taste the most daring ones. It doesn't even matter if you prefer them in a glass, in a cone or on bread — yes, it's possible — with more or less toppings. The truth is that, if there's one thing you want all year round, it's ice cream, although in the hot season they still know.
To the delight of all friends who are in love with this one, around and in Porto, new ice cream parlors all over the country, but especially in Lisbon and Porto. When we don't open new spaces, we see the emblematic ones updated their offer, so each summer has been unprecedented to try.
To make life easier, NiT has selected five places where ice cream is a specialty, and which you should visit before the end of the hot season. One of them is the Mu Gelato & Caffe who, after the success in Campo de Santana, in Lisbon, decided to open another store, this time in the iconic neighborhood of Graça. The brand promise will extend to the new location: to feature more engineered and engineered fruit, with less sugar. As novelties, exclusive for the season, they include kombutcha, lime and ginger ice cream and a Berlin ball filled with pistachio, chocolate or strawberry ice cream (€3.50).
In addition to these new proposals and the star flavors of Mú — Sicilian bronte pistachio, extra dark chocolate and Palmer mango — all the traditional ice creams and ice creams from the ice cream shop are available at the new Graça store, as well as a selection of ice creams from UAO, the brand vegan and sugar free from the family. A small ice cream (two flavors) costs €3.70, a medium one (three flavors) costs €4.70 and a large one (four flavors) costs €5.70. If you're brave, you can order the giant (five flavors) for €6.70.
also the La Romana, which arrived in Lisbon, coming directly from Italy, in June, deserves a visit. In the suitcase, the brand with 75 years of history brought some of its iconic flavors, such as Crema dal 1947 (a delicate cream flavored with vanilla extract and natural lemon peel), Zabaione Come una Volta, made from zabaione and Marsala wine. , the Pesto di Pistacchio, cream with a delicious pistachio pesto, or the Croccante della Nonna, a caramel cream with crunchy almonds. To celebrate Portuguese culture, create a pastel de nata ice cream.
In July, the brand surprises with an innovative suggestion, which in a cold and hot delicacy. We're talking about ice cream, where the creaminess of the ice cream meets the crispiness of the toasted wholemeal brioche bread — an unlikely contrast that is being a success. There are three flavors to choose from between two slices of toasted bread. You can enjoy dessert using a waiter and knife or taking a bite of bread directly, as if it were a mixed toast. It's up to you. It costs 5€.
On a less eccentric note, the ice cream shop presents Cremolatas, creamy drinks with fruit to cool off on hot days. They are thicker than a traditional slush, and their texture is guaranteed by the quality of the fruit used in the preparation. It can be the drink with a spoon or a straw, it's up to you. They are available in two flavors, lemon and mango available and in three sizes, medium (€3), medium (€3.50) and large (€4).
In Porto, more precisely in Vila do Conde, is the Licious that you have to know. Jennifer Satzger's project opened in December 2021 and since then, it hasn't stopped fans of fans. It presents products made with "natural, local and seasonal ingredients". So, in these parts, dyes and preservatives are at the door. "There is no room for anything that is not natural, so everything is produced from scratch by me, without pre-made mixes", outlines the person in charge.
Lotus cookie (house flavor), peanut butter, pastel de nata, Lindt 70 percent chocolate, salted caramel, vanilla, coconut, cappuccino and Greek yogurt are some of the flavors that Jennifer offers. Fruit ice cream, which also coincide with a season. In an attempt to reduce waste, everything is edible, from the cones to the cups (freshly made) to the spoon and straw. Up to two, three or four flavors cost, respectively, €3.20, €4.60 and €5.60.
Still to the north, but in Matosinhos, you can now find ice cream in Nivathat the guide gastronomy Gambero Rosso distinguished as one of the best Italian ice cream parlors in Europe. as proposalsThey are always served with a spatula — not in balls — and with the right to a cookie and a topping as a gift. Ice cream on site, but you can also order them home from takeaway boxes.
Seasonal fruit is one of Nivà's most used bases. Peach, pear, plums and strawberries are some of the options available. Not to mention the more classic hazelnut, pine nut, chocolate or pistachio. A small cream cone €3.50. The medium one is €4.50 and the large one is €6.50. For those with a sweet tooth there is also the maxi which costs €8.50. A composite menu includes coffee or hot chocolate affogatos (€5), ice cream shakes (€5), cappuccino (€1.60) and chocolate (€4.50). Another suggestion is the açaí bowls, which can be added cold, of course.
the newly renovated Icicle, in downtown Porto, is another space to (re)visit. It was closed for a month for works, but the emblematic ice cream shop opened better than ever, with new flavors and bowls, greater warmth and freshness (yes, the mission was not impossible). Speculoos biscuits, banoffe and guava ice cream with stevia, gluten-free, lactose-free or sugar-free, are among the novelties, which do not stop here.
With regard to toppings, for example, marshmallows, Oreo, Kit Kat, milk chocolate and salted caramel were added to the menu, in which a Do It Yourself (DIY) glass is fully customizable by the customer, with two flavors. also and three coverages (5.9€). Starting prices at €2.90 per cup or cone with a scoop of ice cream.
Click on the gallery to discover some of the delights you can try in these spaces.
">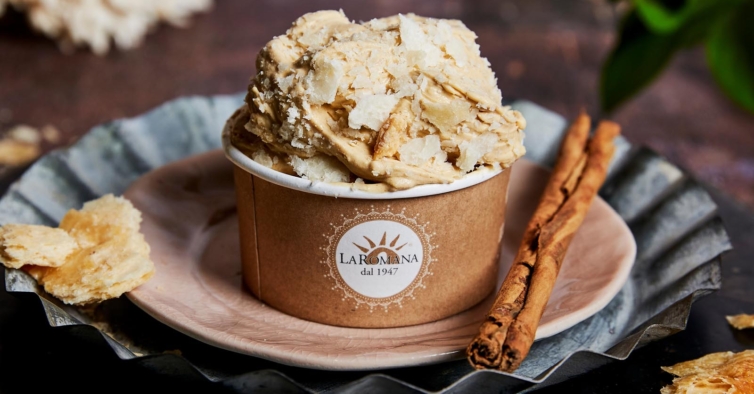 Niva.