News
RÅDHUSKAIA (Defence forum): The Nordic defense chiefs met in Oslo this week. Swedish and Finnish NATO membership can give them new tools.

– We need to talk further about how this can be done in a Nordic framework. That we not only practice in Norway, but also in Sweden, Finland and Denmark.
That's what defense chief Eirik Kristoffersen says. He is giving an interview to the Defense Forum at Rådhuskaia on Thursday, before going on a boat trip through the Oslo Fjord with Danish, Finnish and Swedish friends.
Sweden and Finland have formally applied for Nato membership and can thus soon move from being partners to also being allies. This opens up new opportunities for Nordic defense cooperation, according to Kristoffersen.
Read also: Norway must contribute to the training of Ukrainian soldiers in Great Britain
He says in the summer heat that the Nordic countries have specifically discussed that the Norwegian exercise Cold Response 2024 could become a Nordic exercise next year.
Kristoffersen points out that Denmark also includes Greenland and says:
– So in the Nordics it is not just the four nations, it is also Iceland, and Greenland on Denmark's side, which means that there are many things that we can practice, he says.
Cold Response is a Norwegian military exercise that has been organized since 2006, in which Norway invites allied and partner nations to participate. Over 30,000 soldiers from 27 countries and a number of civilian agencies have participated in the exercise, it says Defense website. Sweden and Finland have participated in the exercise in the past.
On Thursday, Kristoffersen met the Swedish Chief of Defense Micael Bydén, the Finnish Chief of Defense Timo Kivine and the deputy of the Danish Chief of Defense, Chief of Staff Kenneth Pedersen.
Read also: Minister of Defense Gram: The development in the Baltic Sea is becoming more important for Norway
With a rib, the defense chiefs were transported from Oslo to Horten by the Norwegian Armed Forces' special forces, where they discussed Swedish and Finnish Nato membership and Nordic defense cooperation.
Nordic defense concept
Kristoffersen says that with the entire Nordic region as a NATO country, Nordic defense cooperation will be completely different from before. He points to new opportunities such as sharing information, technology and joint planning.
– What we must agree on is a Nordic defense concept in the framework of NATO. If you look at the map, there are enormous opportunities for joint planning. We know that we are good at supporting each other, but we can also see how we can have more endurance and better security of supply in a Nordic framework, says Kristoffersen.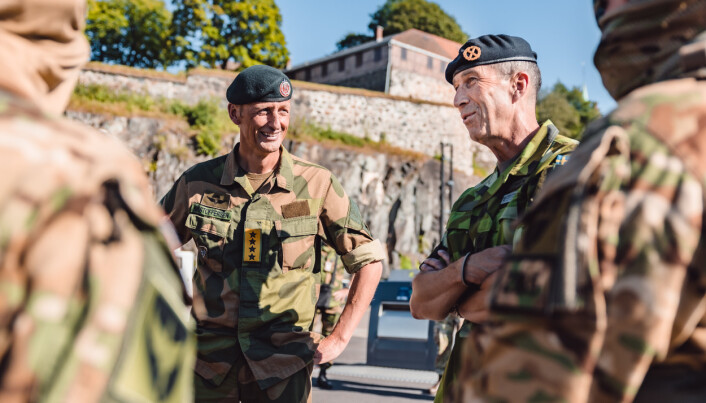 The concept is part of the Nato plan, but will have more detailed plans for how the Nordic countries are to defend the North, in the transition between peacetime and an Article 5 situation.
– Then we will look at what it means for us on a daily basis and in cases of crisis and war. We are also looking at what this means in terms of material cooperation, says Kristoffersen.
A strengthened alliance and new opportunities
– There are many possibilities, some that we see and some that we cannot see yet. It's just about starting, and that's why we're here now, says the Danish chief of staff, Kenneth Pedersen.
Nordic defense cooperation in the NATO framework will provide smarter solutions, Pedersen believes.
– The countries are not the same, but they complement each other, he says.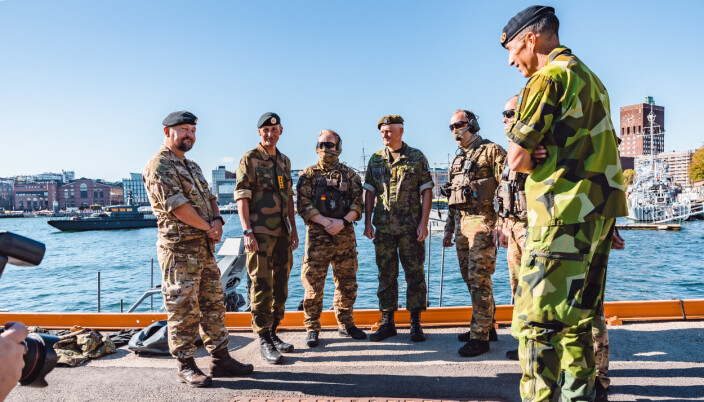 Pedersen, like Kristoffersen, points out that Greenland belongs to Denmark, and says that the country is therefore an Arctic nation.
Read also: Correct premises for Nordic defense cooperation
Bydén says that with Sweden and Finland as NATO members, cooperation will be changed for the better. He points out that emphasis will be placed on operational issues in connection with the application further.
– This will improve prioritization and make us better as Nordic members. It will strengthen the alliance, he says and adds that the collaboration will become more intensive.
Chief of Defense Kivine adds that cooperation will accelerate to a new level if all the countries are members of Nato.
– We want to cover all sectors where we collaborate and share information, he says.