Investing in a second residence… In the context of still depressed interest rates, this can be an excellent way to grow your wealth or build one while offering yourself the house of your dreams to live regularly in a area we love. But where ? For many, Belgium remains the favorite destination.
The brick, in the belly of the Belgians, is obviously not limited to the walls of their home. They would be nearly a million, in fact, to have a second residence in Belgium or abroad, according to the most recent figures published by the FPS Financesin July 2021. Very precisely, 908,740 citizens declared at least one second property for the 2020 tax year. much lower than realityeven if it becomes more and more fiscally risky not to report it (read more)… At ING, for example, it is estimated that one out of five Belgians owns real estate in addition to their main residence, located abroad for 150,000 of them.
The context of the coronavirus even seems to have stimulated this type of investment, as if it had encouraged more people to enjoy life.
For many, buying what is called a "vacation home" is first and foremost a crush. For the good itself, its environment or the destination, a place where you can perfectly see yourself spending a few days of relaxation with family or friends, once or several times a year. The investment can also provide permanent rental returns or when it is not occupied, acquire value over time and constitute an excellent means of passing on part of one's heritage. Or of oneself build a comfortable retreat: according to a survey carried out by ING in 2020, 57% of respondents are convinced that the price of real estate is only increasing. It is clear that they have been largely right in recent years, despite the crisis and the pandemic. For Belgian residential real estate, the increase still reached 7.1%, on average, in 2021 compared to 2020, according to Belfius, and could still soar by 2.2% in 2022. A slowdown, of course, that confirms the latest barometer of notaries published in early July, but still an increase.
Be careful, however, warns the National Bank. In its latest annual report, the institution considers the Belgian market overvalued by twenty percent. A catch-up could therefore begin (rather than a collapse) in the coming years, stimulated by the inflationary context (decline in household purchasing power) and the recovery of long-term rates (rise in mortgage rates) .
A majority of investors
In the meantime, in the current context of rates which remain historically low, despite a slight rise in recent weeks, most buyers don't mind saving up on borrowing, at least to finance part of the acquisition. The 2022 edition of the Barometer of second homes, published each year by BNP Paribas Fortis, confirms the constant growth in outstanding loans granted for the purchase of a second property. Last year, 28% of mortgage loans taken out with the national leader in the specialty were intended for the purchase of a second home, whatever the purpose (holiday home or apartment).
In number, it is an increase of 27% compared to 2020 and in volume (amounts borrowed), the increase reaches 37%. The context of coronavirus even seems to have stimulated this type of investment, as if he had encouraged more people to enjoy life by buying a vacation home or investing for their old age. However, exoticism is not – or no longer – present: 95% of the loans granted by BNP Paribas Fortis to finance a second residence relate to a property located in Belgium. The proportion reached 80% in 2017. "Several factors can justify this choice, comments the institution: travel constraints linked to health restrictions, the new freedoms offered by teleworking, a more regular enjoyment of the good but also more ease for obtain a mortgage from his banker for the purchase of a second home in Belgium."
The bank also points to "the greatest simplicity for the management of a rental property". Indeed, the majority of second homes held in Belgium are, in reality, "income" goods (62% in 2021 compared to 56% in 2019): their aim to releaser of rental income for their owner. At least some of the time. "A reality that has its source in the low mortgage and savings rates, and the fact that the stock market is still too uncertain for many Belgians, while real estate represents a safe bet in their eyes. Most borrowers therefore have an investor profile.
Last year, the average amount borrowed was around 221,000 euros, up 4.5% compared to 2020. It amounts to 215,000 euros for a second leisure residence (206,000 in 2020) and 224,000 for an apartment building (215,000 in 2020). The borrowed portion is capped, on average, at 70% of the purchase price of the property.
In Belgium: the coast, the Ardennes and the university towns
Where do Belgians shop in their own country? If the objective of the investment is to generate income, they opt in priority for major urban centers well supplied with potential tenants, whether they are students, young workers, young families or seniors. Brussels, Antwerp, Louvain and Louvain-la-Neuve concentrate the majority of purchases of income properties. The student towns clearly keep the rating. Three secondary residences out of four (74%) financed in Brussels by BNP Paribas Fortis are thus intended for rental. In Liège and Louvain-la-Neuve, it is 70%, in Mons 60%.
If it is a pleasure investment, without surprise, the coast arrived first, followed by the Ardennes. At least, that was true until 2020, when the coast concentrated 8% of purchases and the Ardennes 3.5%, at the height of the Covid. But in 2021, these destinations have been abandoned. At the North Sea, the goods purchased represent only 4% of the total. Favorite destinations: Knokke-Heist, Ostend and Koksijde. In the Ardennes, they capped at 1.3% of loans granted. There is also a big gap between the North and the South, since in the Ardennes 60% of goods purchased are intended for rental, while on the coast 70% of second residences are intended for recreational purposes.
Italy and Greece are the only EU countries where average prices are lower today than ten years ago.
Most loans granted for a secondary residence in Belgium are intended for the purchase of houses up to 62%, against 27% for apartments and 11% for commercial real estate or land, for example. Average duration: 16.5 years. Monthly payment: 1,038 euros. As for the average age of buyers in Belgium and abroad, it is 44 years old. Note that the age group under 40 represents more than one borrower in three (35%).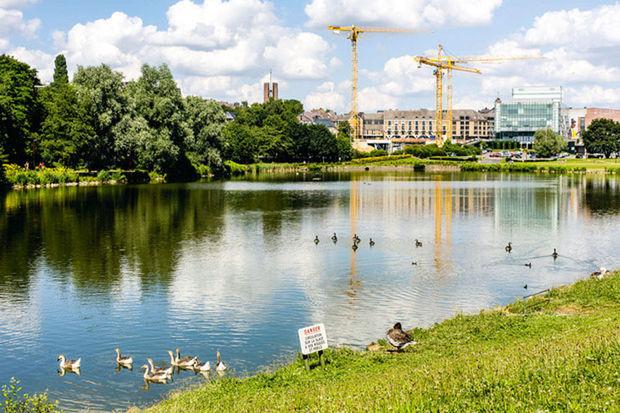 The key argument for favoring Belgium is proximity. Those who occupy their second home can go there regularly, even for a weekend or to telecommute there; those who rent it can take care of it easily without having to go through an agency for management. No need to trust a notary either. abroad… nor to own a mortgage-free property in Belgium to guarantee the credit intended for the purchase of a property abroad. Buying nearby also seems to provide more security.
Second residence abroad: Spain, France and the Netherlands
According to the BNP Paribas Fortis barometer, 5% of borrowers nevertheless chose to buy in another country in 2021 and the trend continues to grow since, according to ING, the number of declarations of property abroad has increased by 56% over the past five years, despite a slight decline in 2020, for the reasons we know. Here, the objective remains primarily recreational, even if the share of second residences acquired for rental purposes is increasing: 13% of purchases financed by BNP in 2021 compared to 8% in 2017. The destinations favored by Belgians remain Spain, France, the Netherlands, Italy, Greece and Portugal, in this roughly immutable order. Relative proximity and ease of access (thanks Ryanair!) remain major arguments.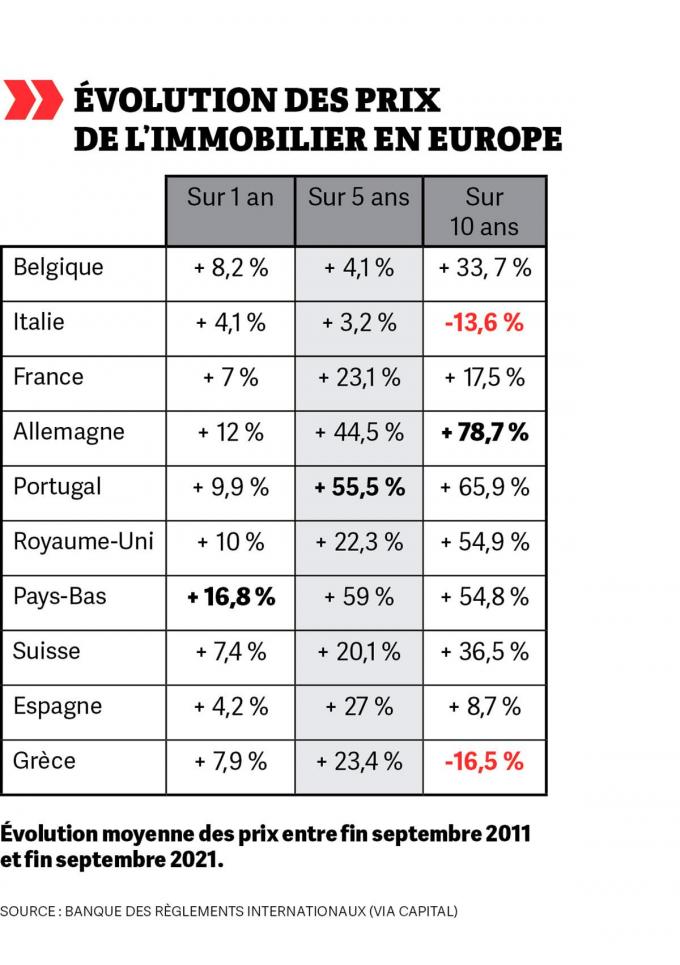 They are mainly people over 50 who invest in a second home abroad. This segment of the population represents 77% of buyers. The share of under 45s has dropped: it only concerns one in five borrowers compared to one in two in 2020. Those under 35 have completely disappeared from the market when they weighed 20% in 2020. That year, the "digital nomad" effect against the backdrop of a pandemic had played out. As for the disbursed means borrowed for a property purchased for recreational purposes, they amount to 320,000 euros in the Netherlands, 235,000 euros in France and 179,000 euros in Spain. If the property is intended for rental, it is necessary to provide an average credit of 301,000 euros in France, 269,000 euros in the Netherlands and 228,000 euros in Spain.
The enthusiasm for Spain can be explained in particular by the relatively attractive prices of real estate. The post-2008 crisis caused a decline of around 40% which has not yet been caught up. area plan, Italy and Greece appear as master purchases: these are the only EU countries where average prices are lower today than ten years ago (see table above)! Better though don't hang around: they are again pointing upwards. With a margin of progress which could prove to be greater than elsewhere since they start from further away, which augurs well for comfortable capital gains in the long term. Except that, in the current economic context, with soaring inflation, rising rates and a looming regression, nothing is certain. Otherwise, those who can afford it will probably always enjoy taking advantage of their second home… even to go and work there remotely.